Regular price
Sale price
£19.95 GBP
Unit price
per
Sale
Sold out
Portable USB-powered Clip-On UV Nail Dryer for Perfect Gel Manicures and Pedicures
Achieve flawless gel manicures and pedicures in the comfort of your own home with our UV Nail Dryer.
Its mini size and flexible clip-on design make it convenient and easy to use, while the powerful LED lights ensure quick and efficient curing of your favorite gel polishes. Say goodbye to smudges and hello to salon-quality nails with our portable and versatile UV Nail Dryer.

View full details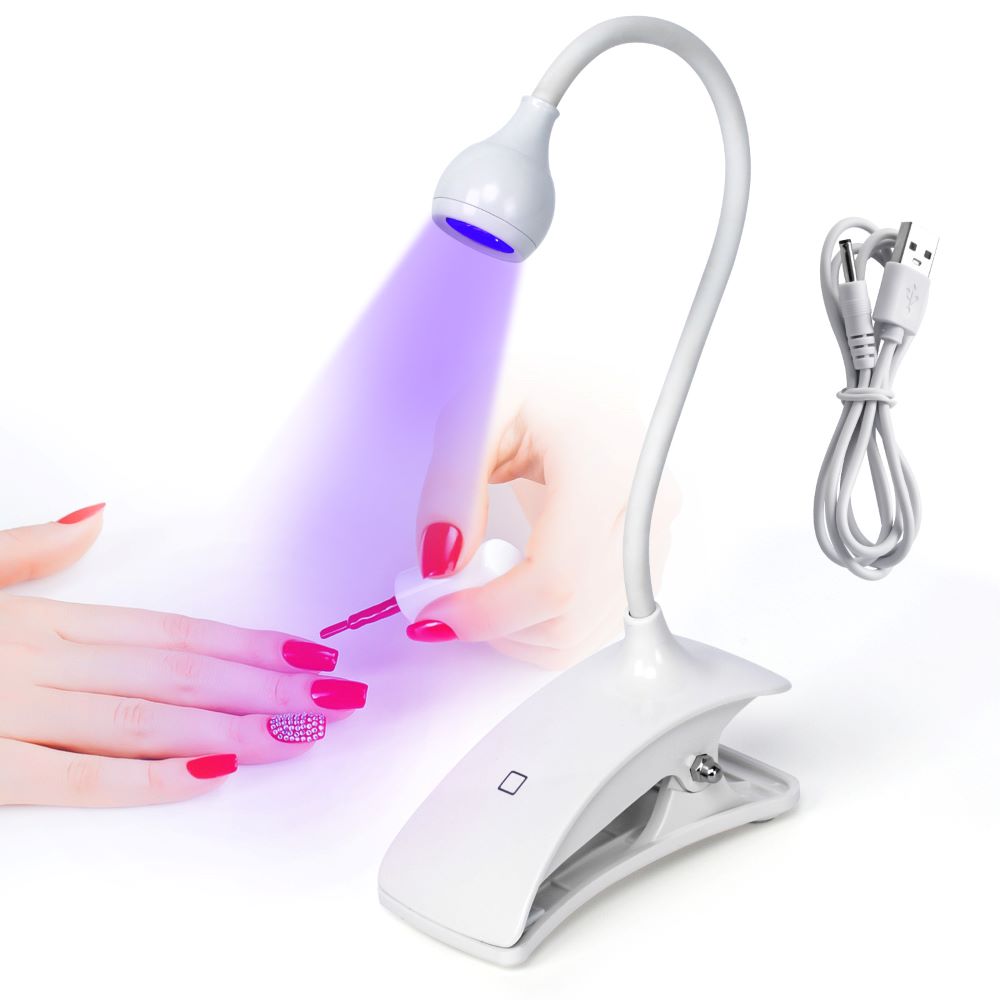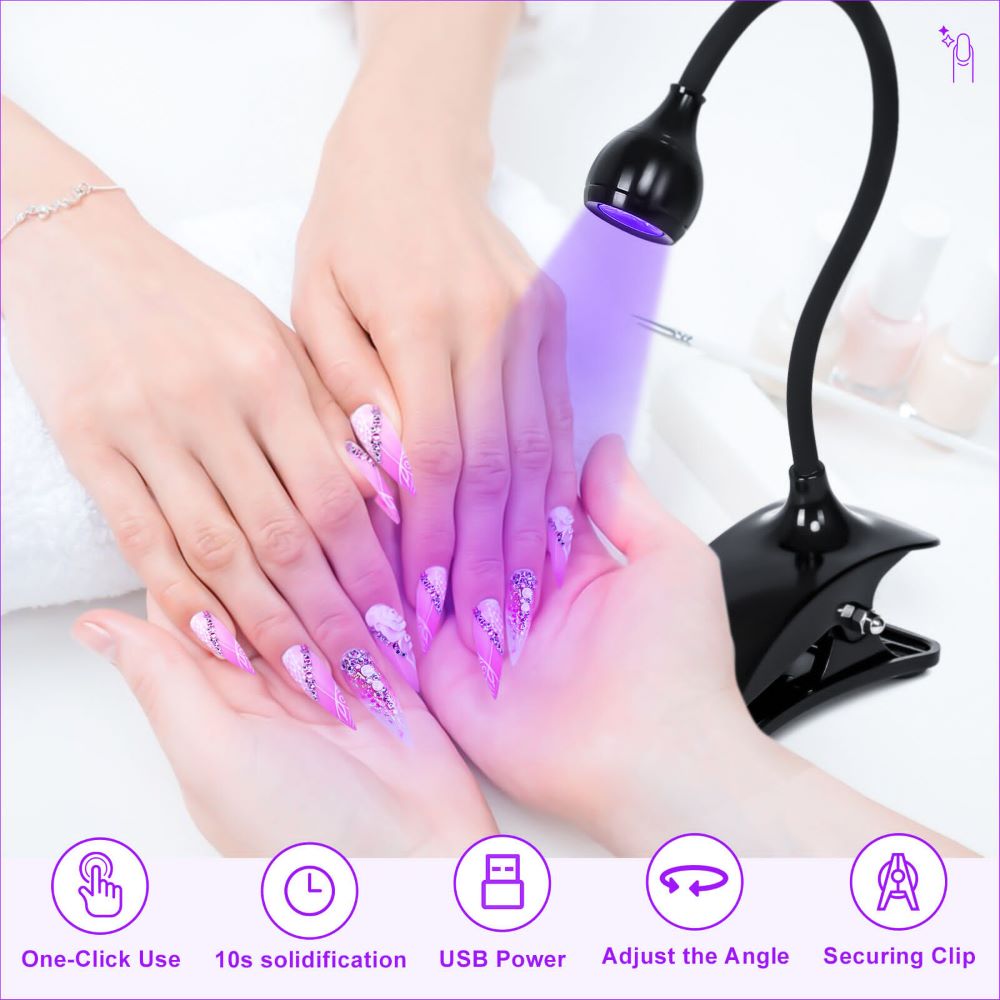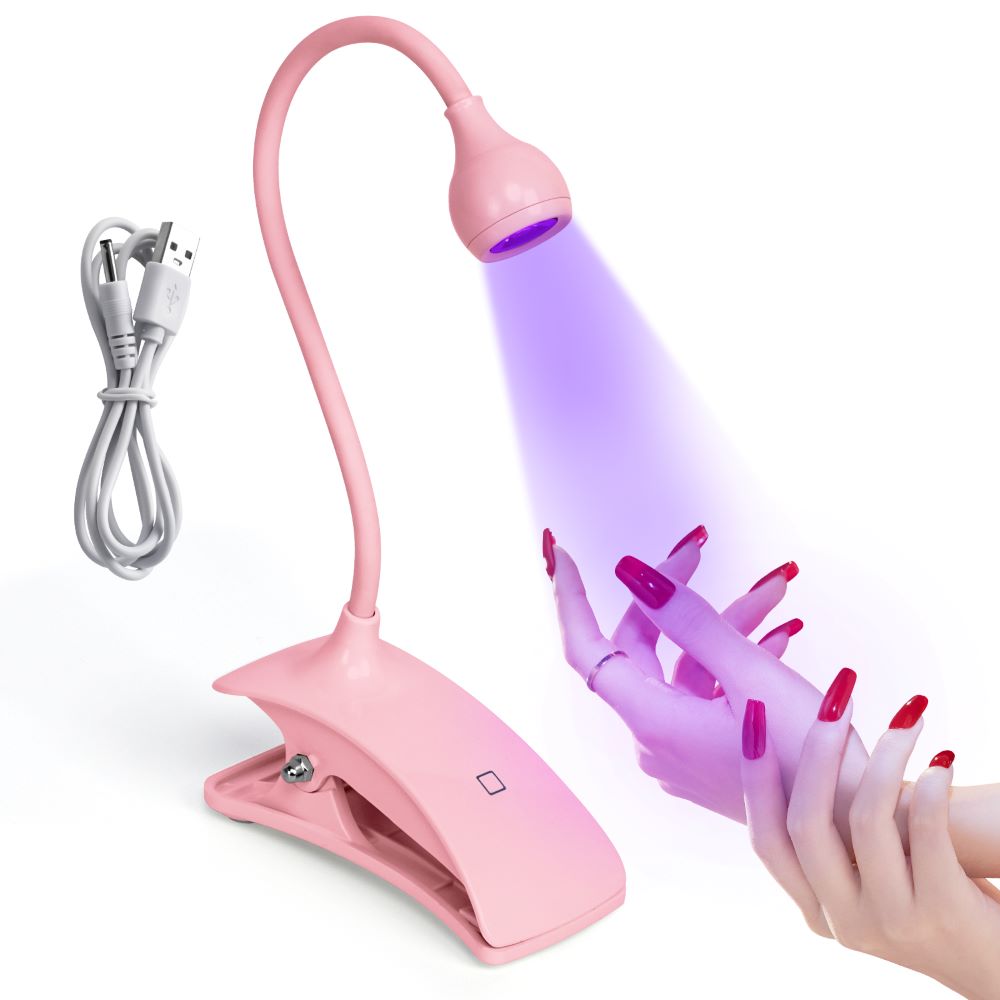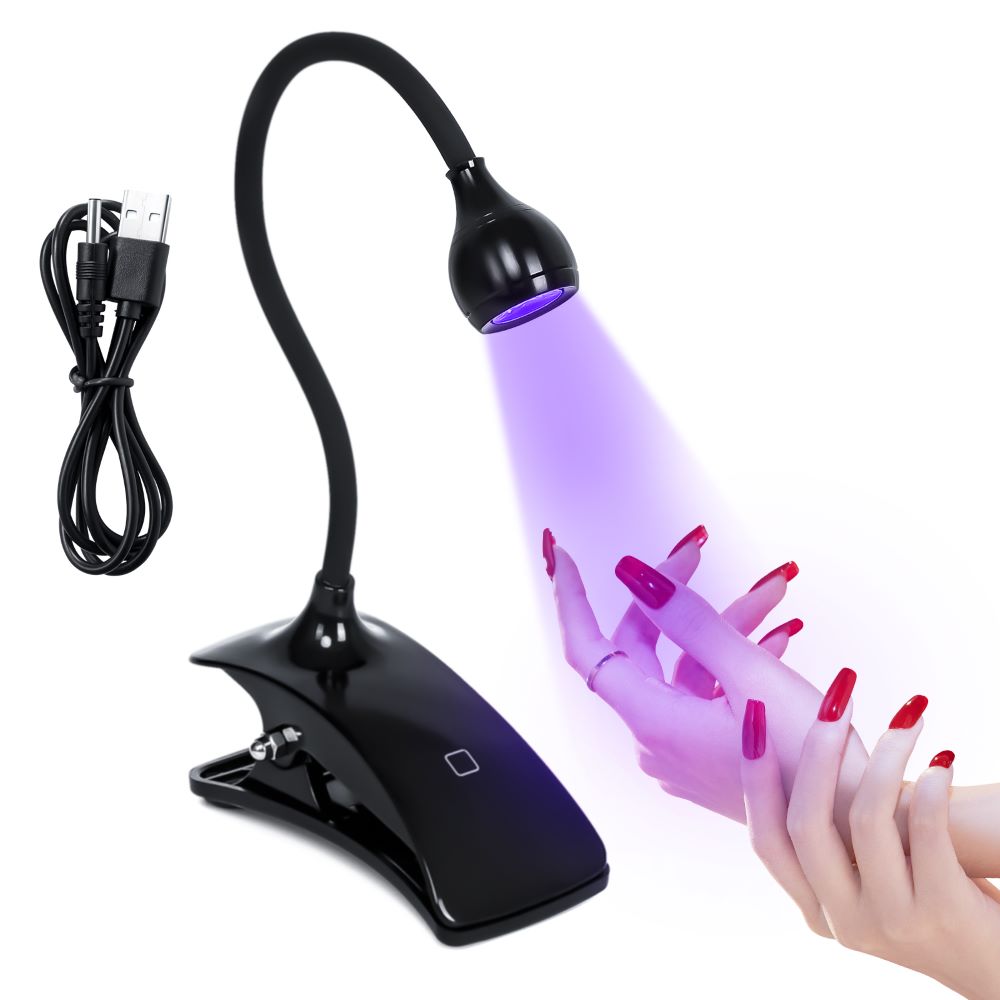 Experience the power of 10-second quick dry - no more waiting around for your nails to dry!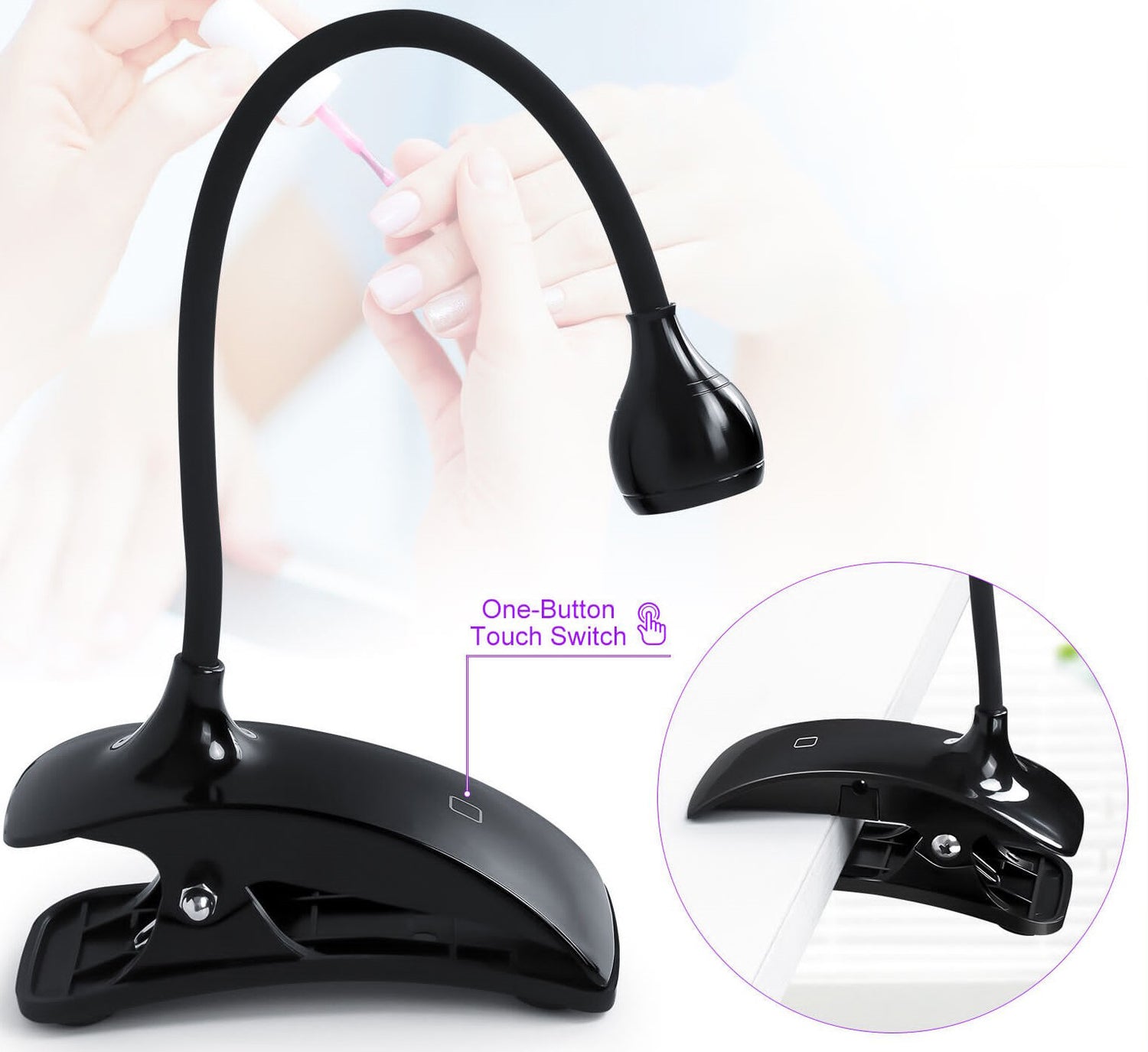 Our LED Nail Light Dryer utilizes ultraviolet (UV) lamp technology to quickly and efficiently cure gel manicures. Simply place your nails under the lamp, and its powerful LED lights provide adequate light exposure to dry the gel polish in just seconds, resulting in long-lasting, salon-quality nails.
The portable and flexible design ensures salon-quality nails on the go - perfect for busy lifestyles!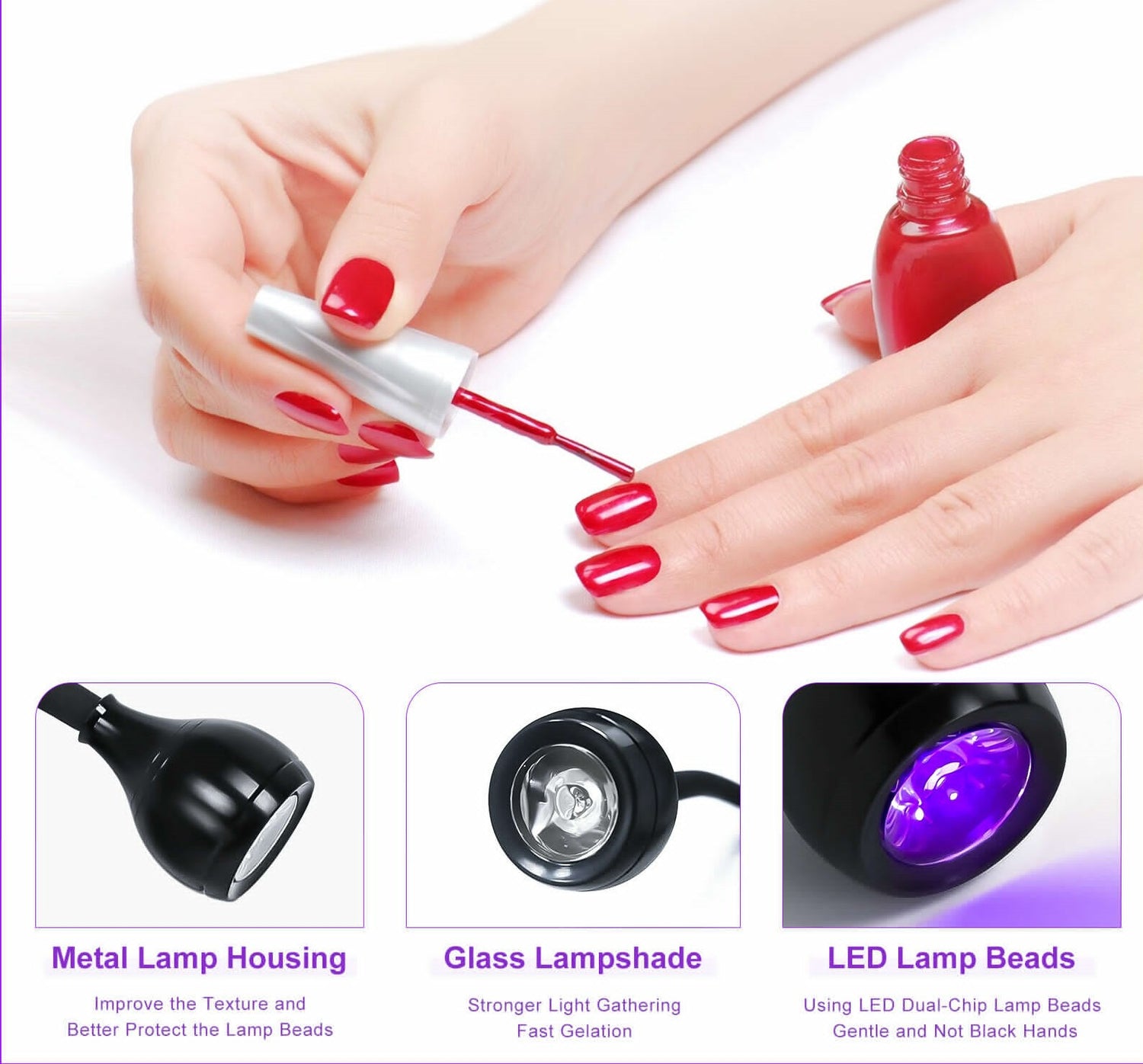 10s Quick Dry
Achieve salon-quality results in no time with our LED nail lamp. Its powerful light source shortens the curing time to just 10 seconds, saving you valuable time and ensuring a fast dry for all types of manicure gel. Experience flexible and efficient drying with no glaring or black hurting on your hands.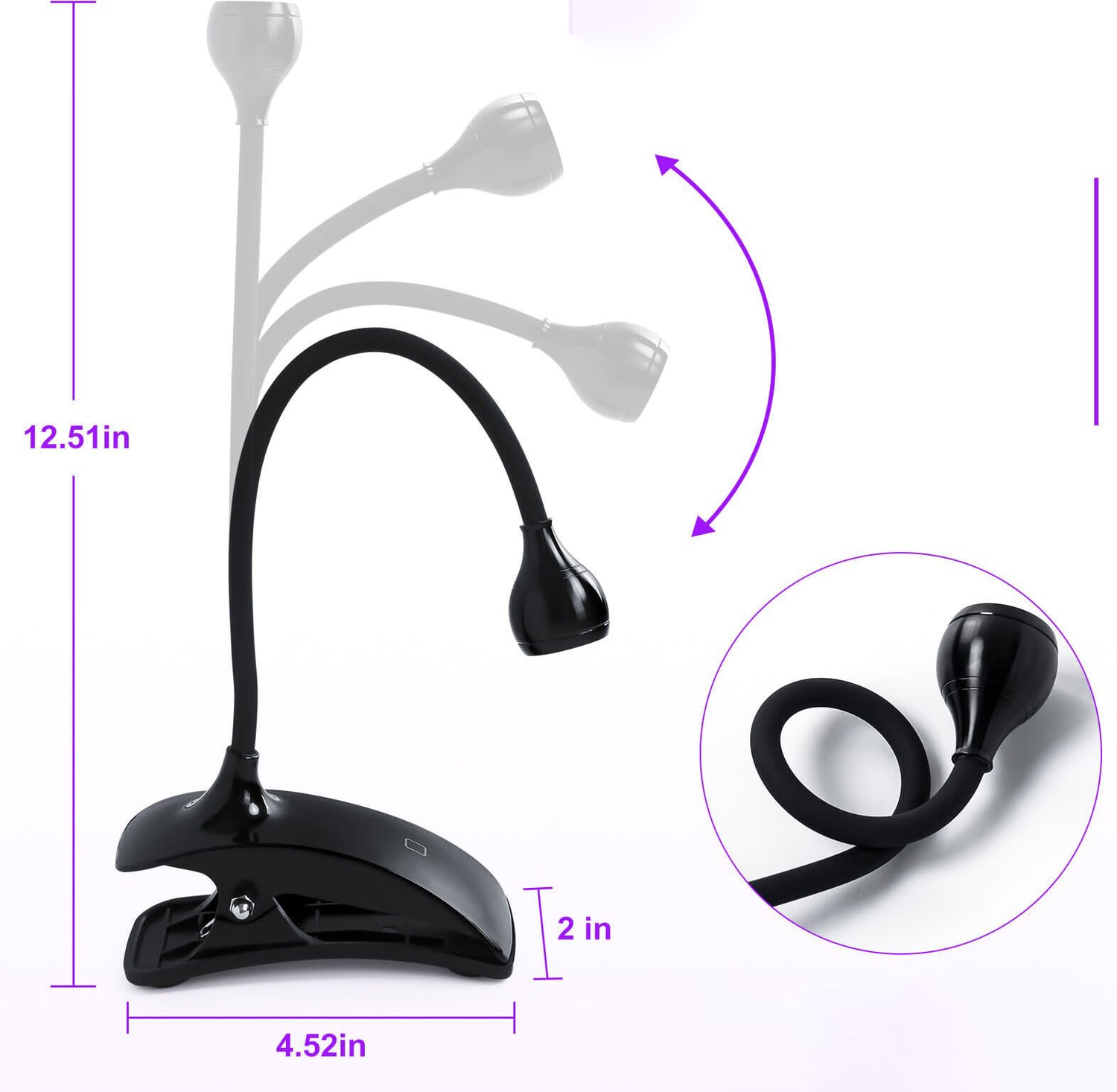 Portable Flexible
Our nail lamp for gel polish is designed with flexibility in mind. The 360° rotation and gooseneck design allow you to adjust the lamp to any position that suits your needs. The securing clip ensures stability and smooth operation throughout the curing process, giving you the ultimate convenience and control.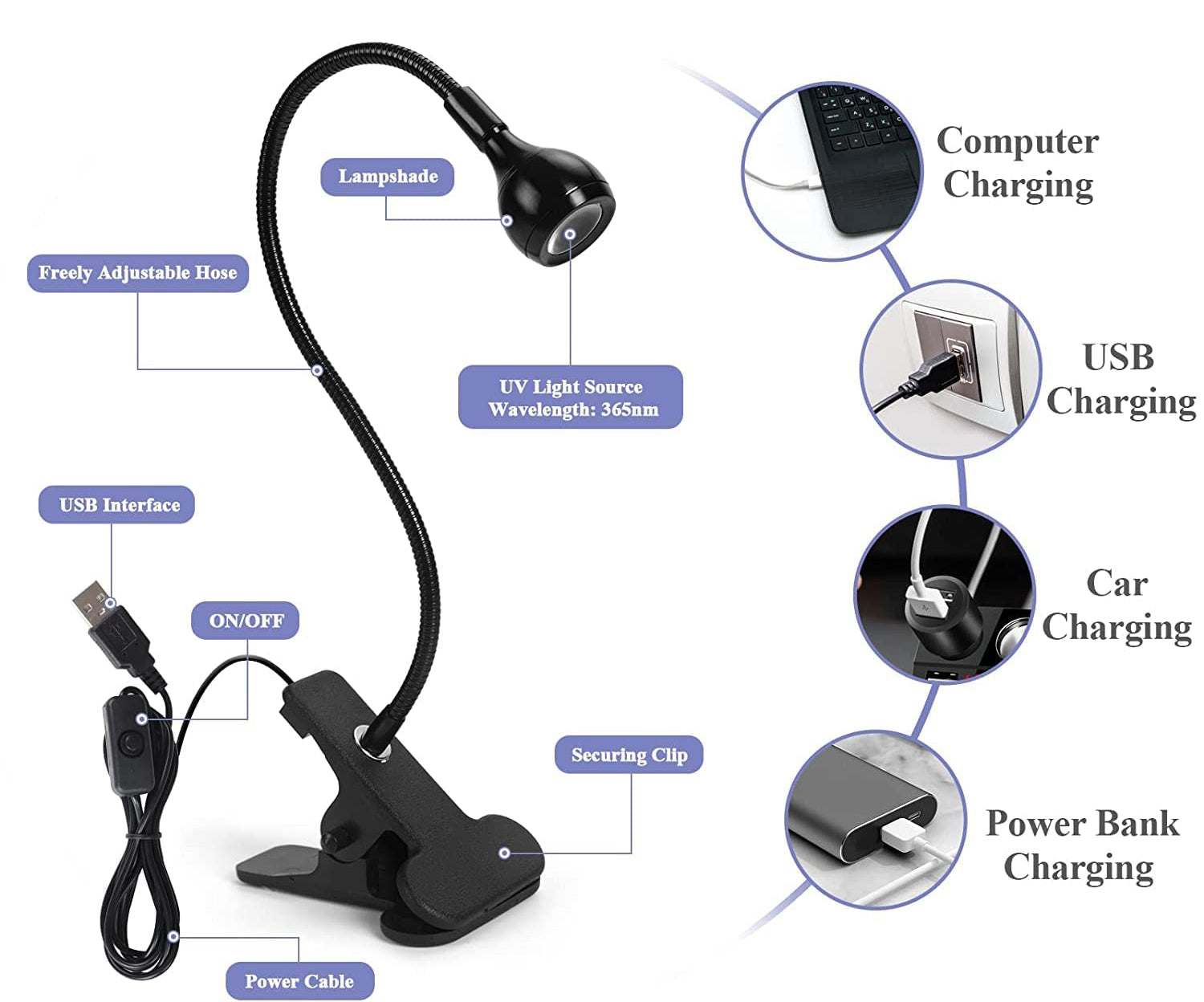 Plug and Play
Say goodbye to complicated setups. Our gel light for nails features a touch switch design and uses a USB charging cable for easy and hassle-free charging. Simply plug it into any USB device such as a power bank or phone adapter. Whether you're in a beauty salon, coffee shop, or office, our portable LED nail lamp lets you cure your nails anywhere, anytime.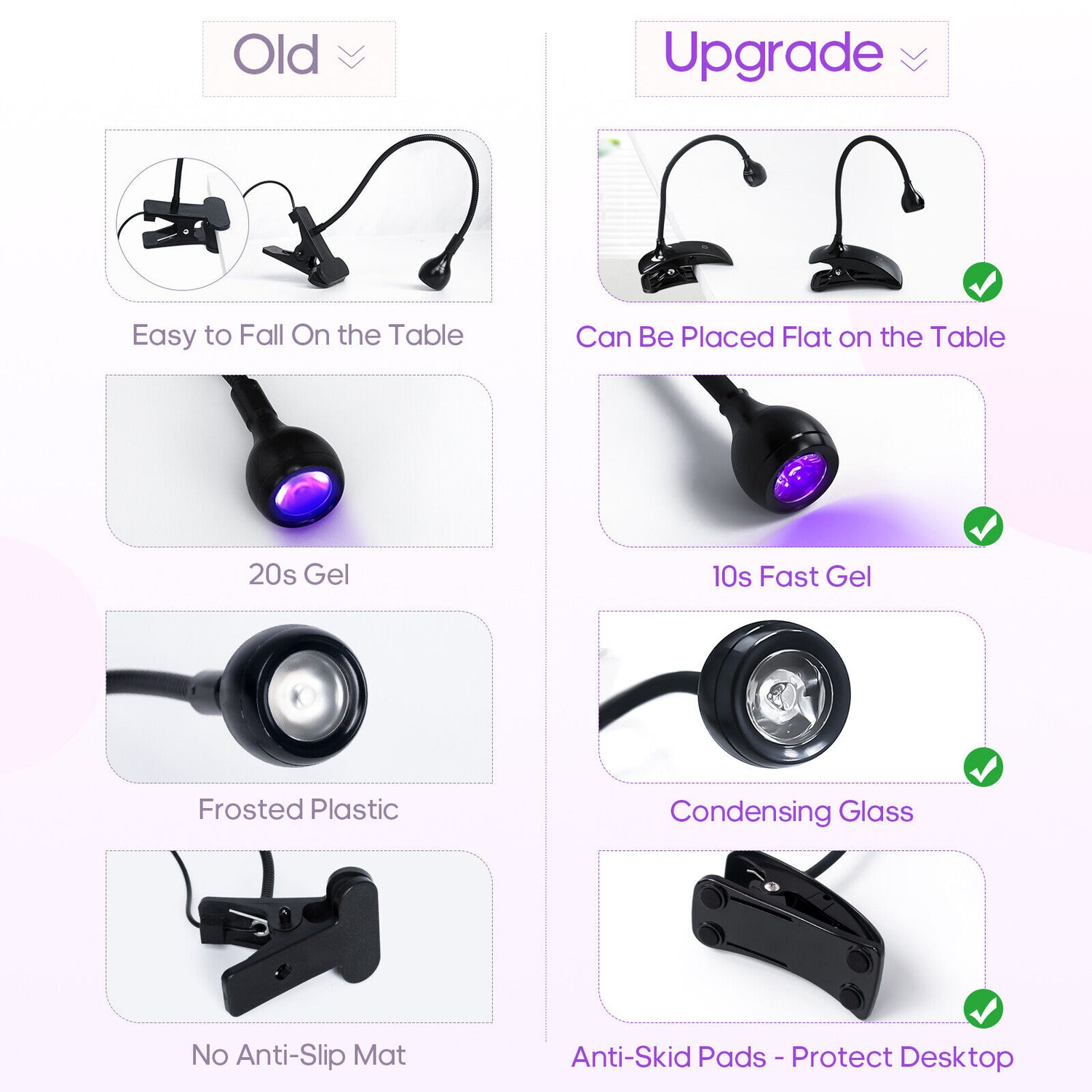 Freely Fixed
Enjoy versatility and stability with our flash cure light for nails. Thanks to the flexible clip, you can easily fix it to various surfaces like bedside tables, office desks, laptop desks, and headboards. The stable base ensures it stays in place, making it suitable for desktop use as well. With multiple fixing options, you can find the perfect setup to meet your different needs.
● Quick-Drying: 10-second cure.
● Portable: USB-powered convenience.
● Flexible: 360° rotation.
Ready to use anytime, anywhere!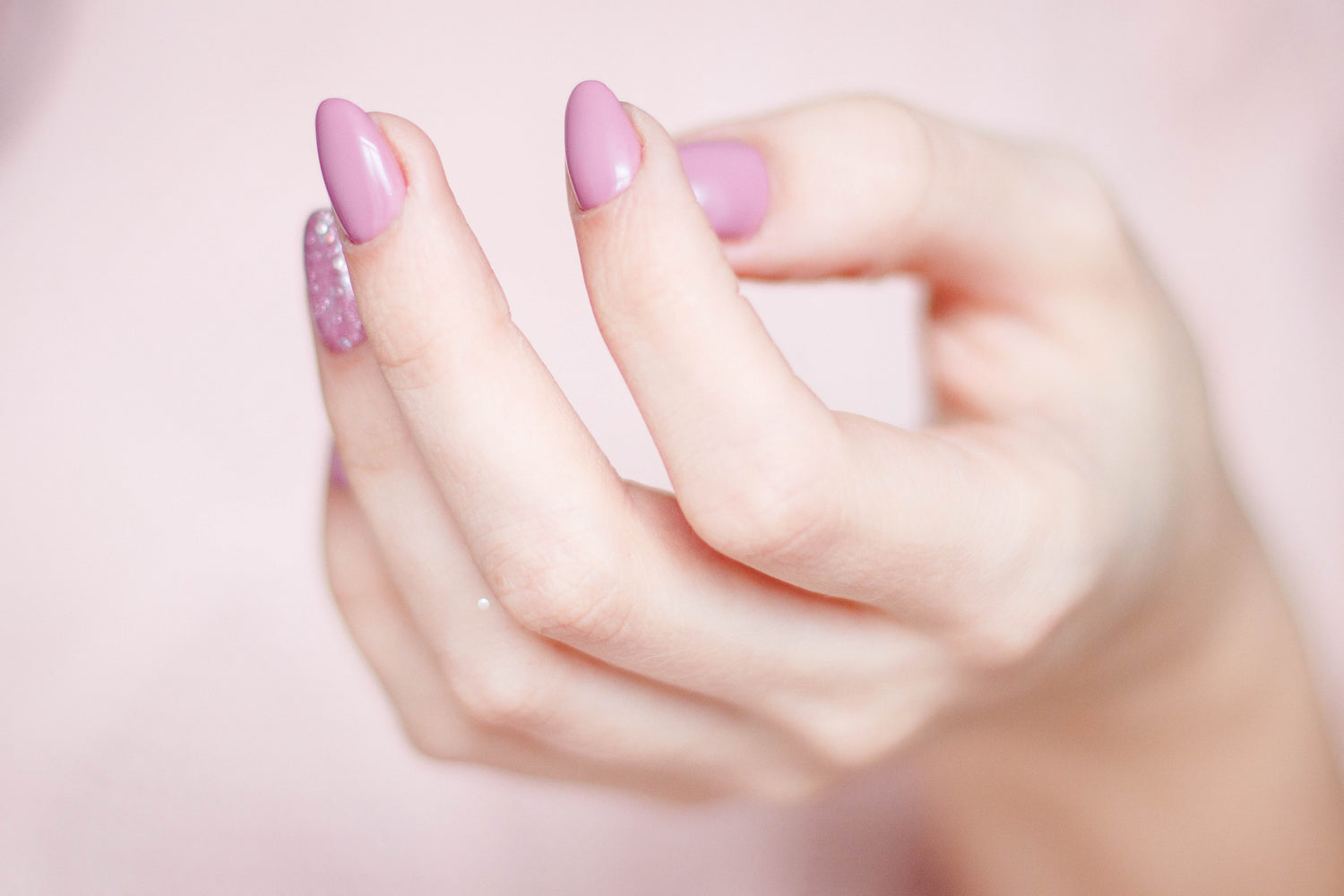 From beauty salons to coffee shops and even your office, our versatile and stable nail light can be fixed anywhere, giving you the ultimate freedom to cure your nails in style!
More info
Specifications

Lamp Beads: 1
Weight: 150g
Material: Metal and plastic
Power Source: Electric
Type: LED Lamps
Power: 3W
Item Type: nail dryer
What's in the box

1 * Led Nail Lights Dryer

FAQs

How long do I need to cure my gel polish using the LED Nail Light Dryer?
With our powerful UV lamp, you can achieve a quick dry in just 10 seconds!

Can I use the nail lamp while travelling?
Absolutely! Our portable LED nail light dryer is USB-powered, making it convenient to use with power banks or phone adapters while on the go.

Is the lamp adjustable to fit different angles?
Yes, our nail lamp features a flexible 360° rotation design, allowing you to adjust it to any position that suits your needs.

Can I use this lamp for both manicures and pedicures?
Certainly! The LED Nail Light Dryer is suitable for both manicures and pedicures, ensuring a professional and efficient curing process for all your gel polishes.

Does the lamp emit any harmful UV rays?
Our UV lamp is designed to emit a safe level of UV light for curing purposes. However, it is always recommended to avoid prolonged direct exposure to the light source.

Can I use this nail lamp with any brand of gel polish?
Yes, our LED Nail Light Dryer is compatible with most gel polish brands available on the market, allowing you to achieve perfect results with your favourite products.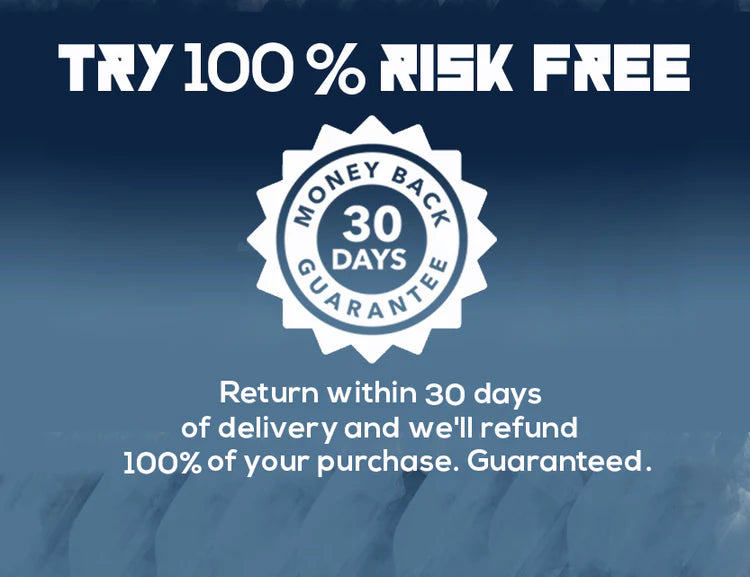 Didn't see the results you expected from our product?
You're covered by our 30 day money back guarantee. If you are unhappy with your purchase, please return merchandise and receive a full product refund for your order less any shipping and processing.