Regular price
Sale price
£23.95 GBP
Unit price
per
Sale
Sold out
Do you often spend extended periods of time sitting or in awkward positions? If you do, you most likely already feel tight and unpleasant in your back and waist region. Your neck could even feel the ache radiating up from your back. However, there is a rather simple approach to avoiding and handling unpleasant symptoms.
You will be able to get fantastic back massages with this back stretcher and massager, which will undoubtedly help with your back pain concerns. The 88 massagers on this back massager will help you feel very relaxed.
View full details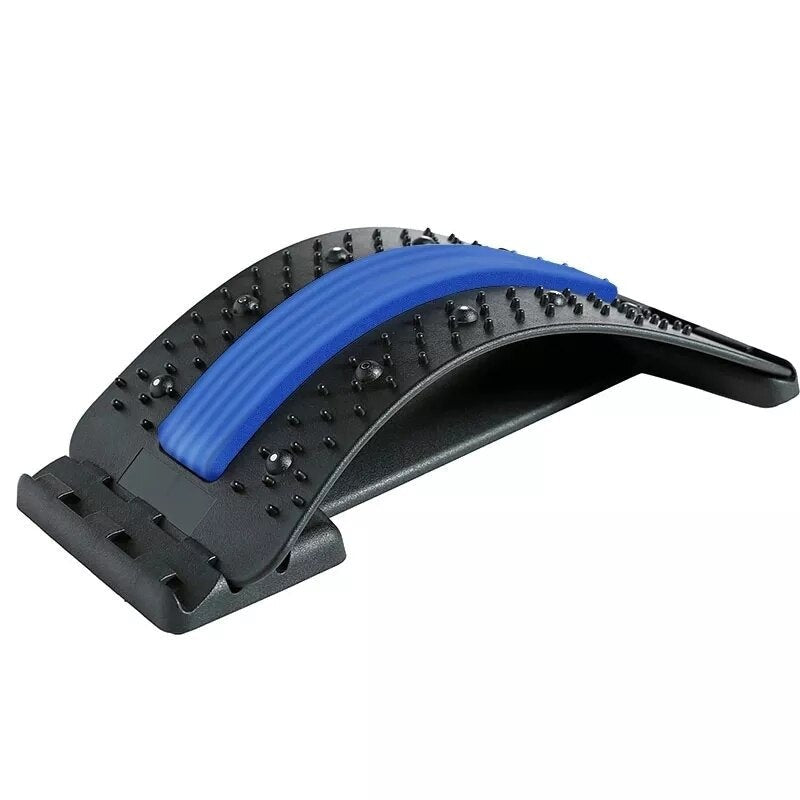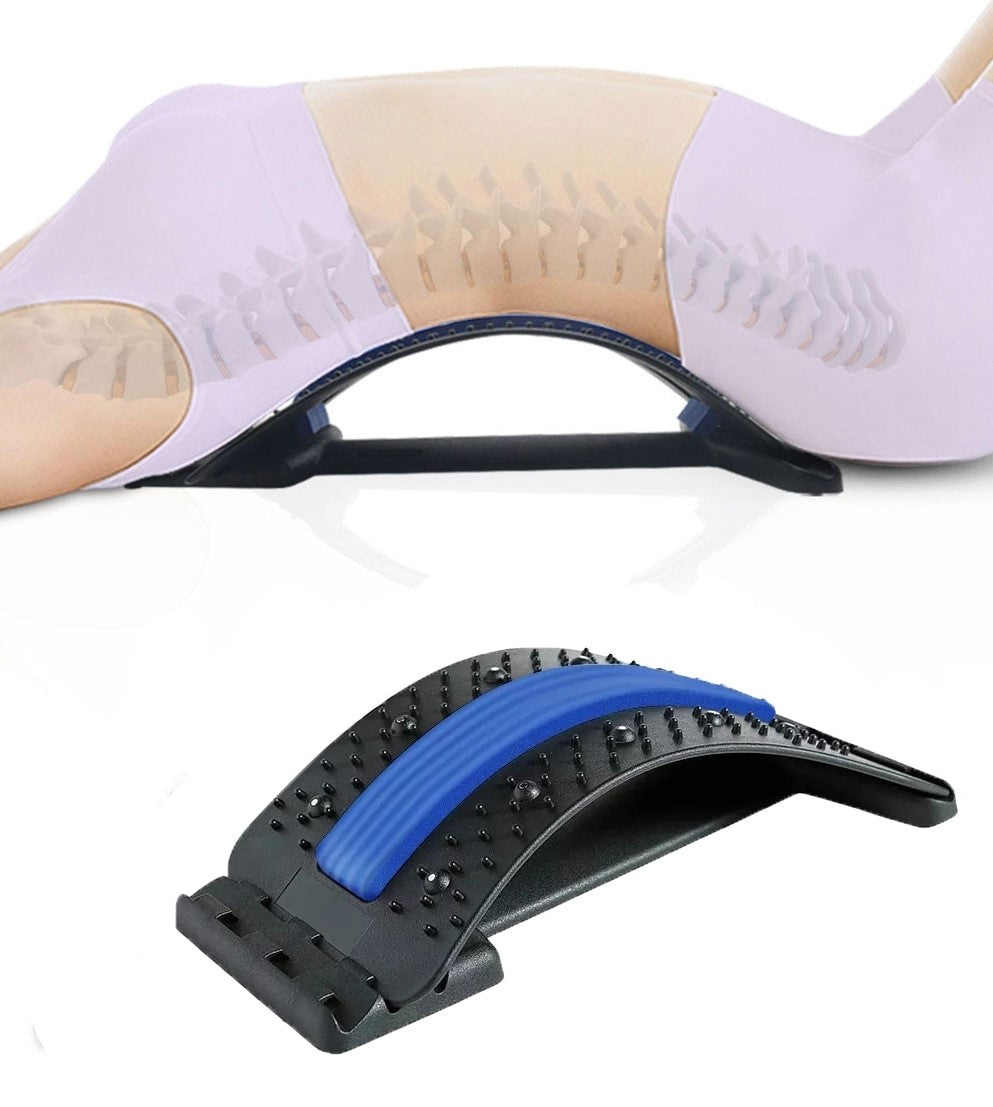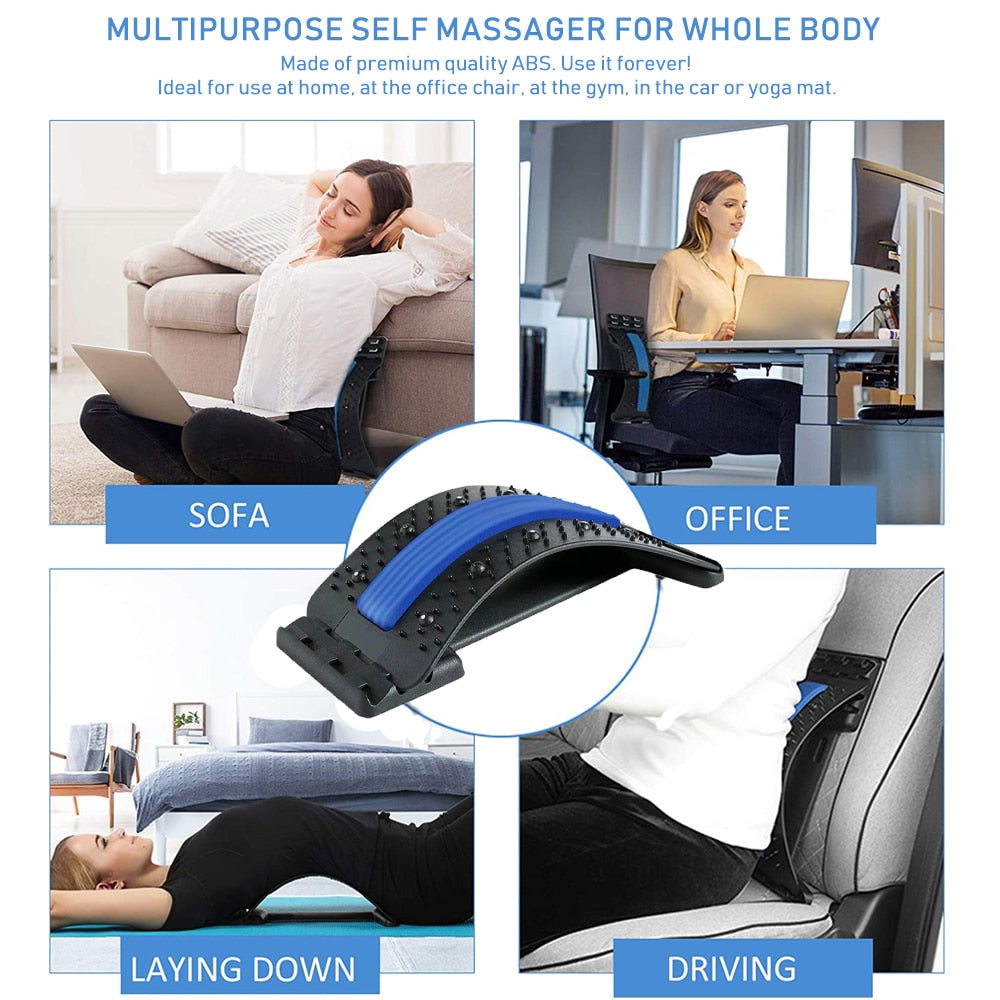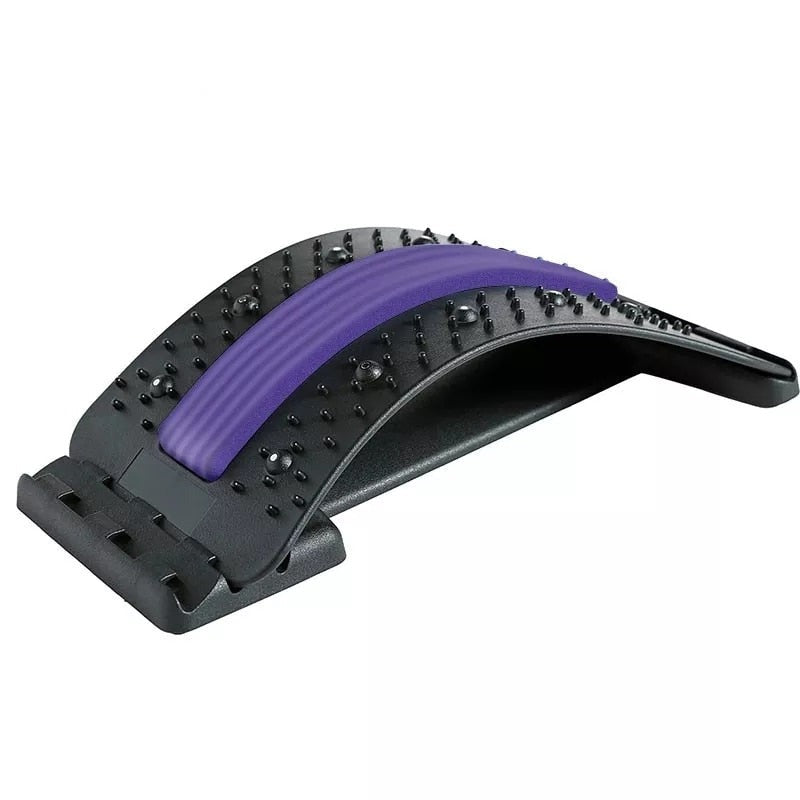 Based on the arc stretching theory, this device works by extending your waist muscle lines and relieving waist pain, tiredness, weakness, stiffness, and lumbar dysfunction issues.
What does it solve?
Some of the things our back stretcher can do for you are relieve back pain, fix posture problems, release muscle tension, relieve pressure, and lengthen your spine.
It is great for people who have hard jobs that require them to lift heavy things or drive for long hours.
You don't have to suffer from back pain anymore
For targeted spine decompression, our spine board has 88 massages that put pressure on different parts of your back to relieve stress and increase blood flow.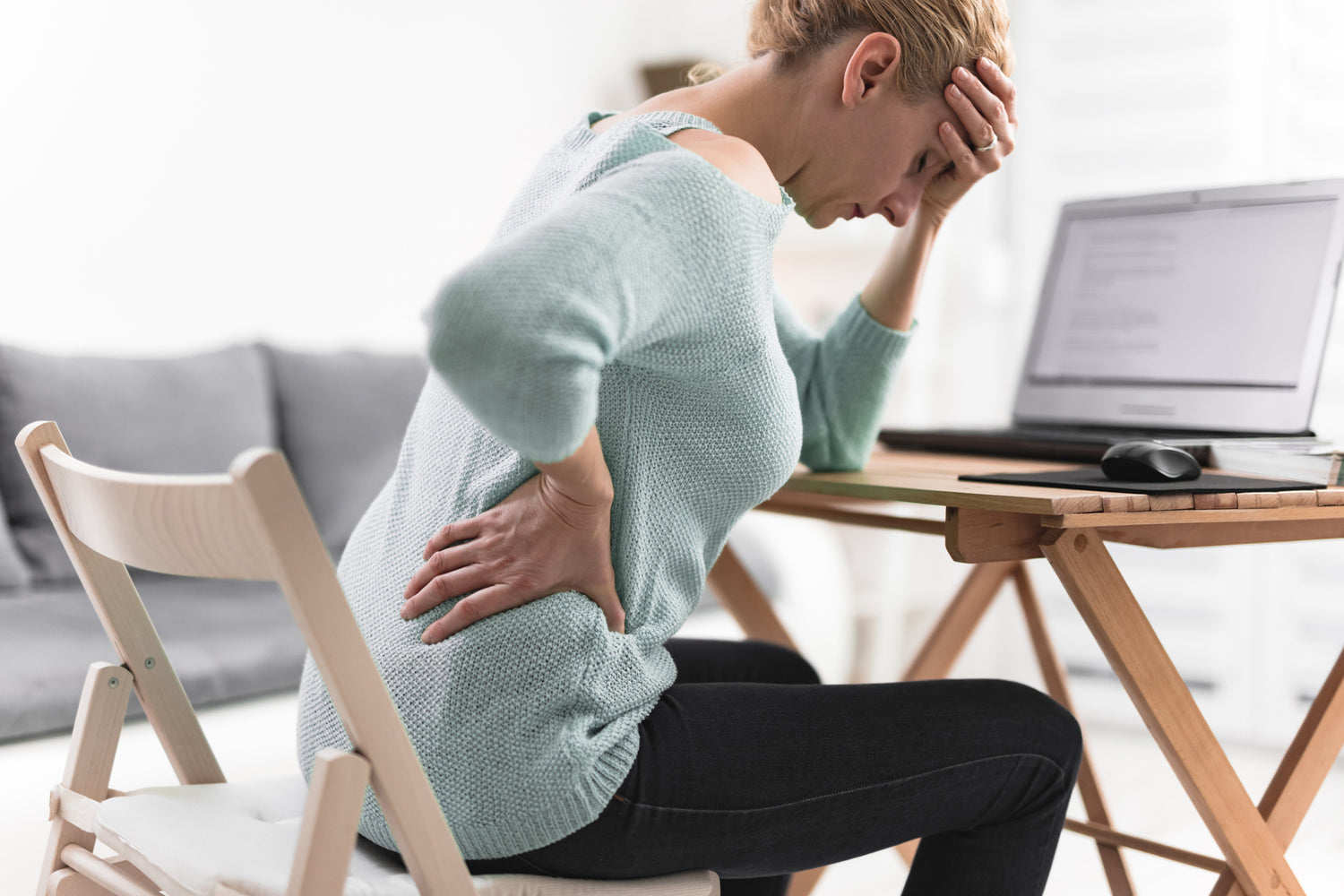 Imagine never having to use the phrase "my back hurts" again!
People with chronic back pain may find that our back stretcher helps them feel less tired and tense at work, on long walks, when gardening, or when doing other sedentary activities.
When you lie down on our back stretcher, gravity makes it easy to stretch the front of your body, and the muscles in the area start to relax. This lets the discs between your vertebrae slowly decompress, which realigns the spine and relieves tension and pain.
Reduces back pain and corrects posture
Spine and postural abnormalities may result from regular activities like prolonged computer usage, sitting all day, or physical activity. The back stretcher is specially made to assist in correcting and enhancing posture.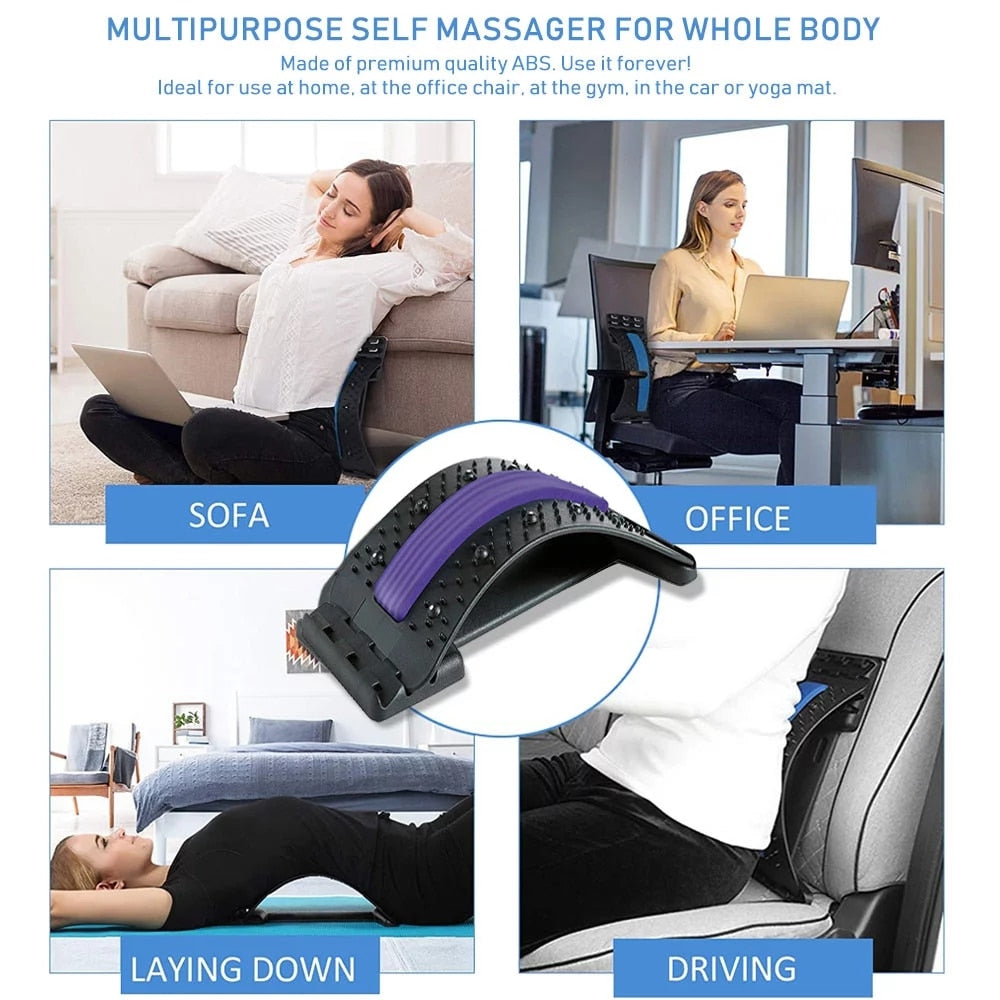 You can use it anytime and anywhere you want
It is both comfortable and simple to use.
This back stretcher may be used at home, work, and the gym. It is lightweight and convenient to carry. If you sometimes get back discomfort, you may simply carry it with you when you go out or even travel.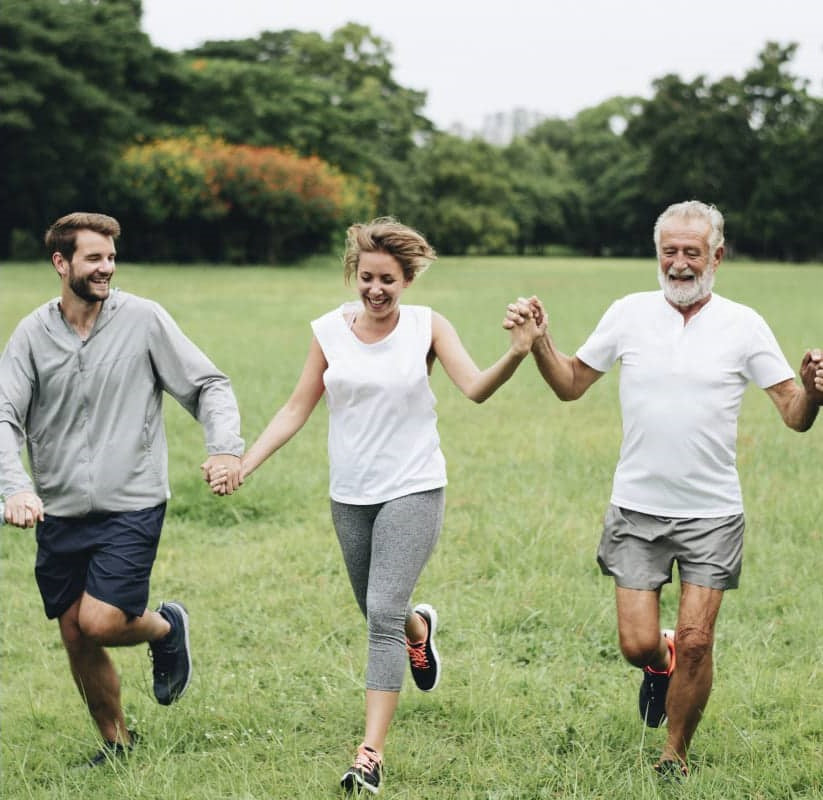 Living without pain is now possible
Enjoy your regular activities without feeling restricted anymore.
Within 10 minutes, you will notice a significant change! This back stretcher will immediately relieve unpleasant pressure for several hours or days after use, and will improve core strength to help keep your spine straight and healthy.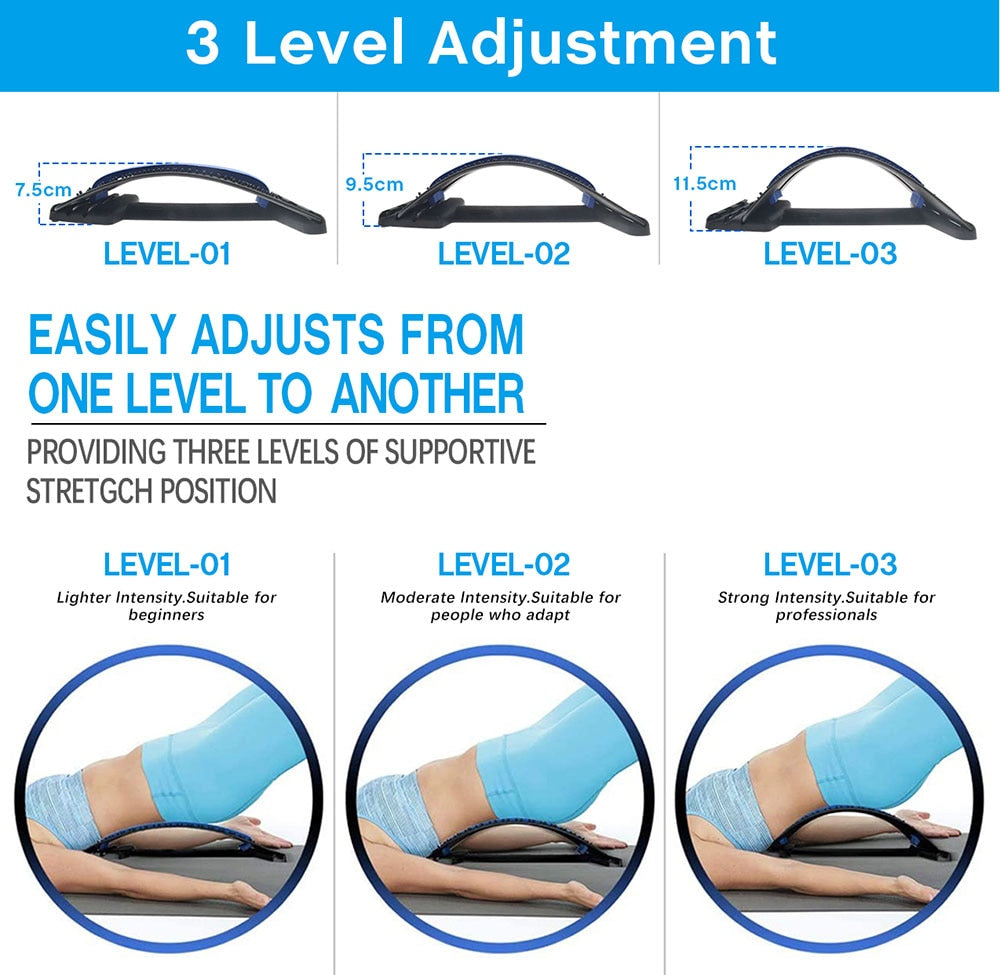 Has three adjustable levels
The three changeable settings of the spine stretcher may be utilised by most users. To relax and extend your back, you may choose the height that is most appropriate for you. The stretching power may be increased by setting the height higher.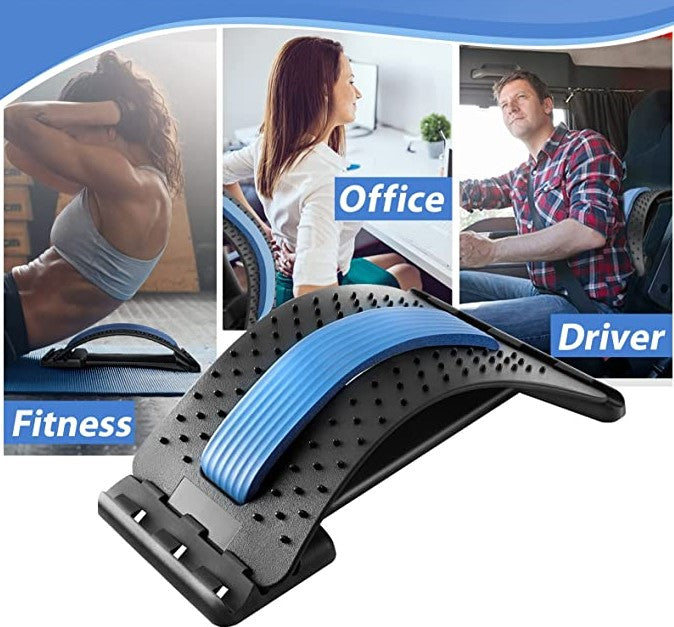 Lightweight and easy to carry
The Back Stretcher is strong and composed of ecologically safe ABS plastic. The back pain treatment tool is also portable and lightweight, making it easy to use on a yoga mat, in a chair, or even while driving.
Stop the pain with these easy steps
How to install
Prebend the arch support as illustrated in the picture for simple arch adjustment.
Lay the base and support arch with the broad ends closest to you on a stable mat, rug, or carpet.

Defend your knees with the base's broad end. Put the broad end of the support arch into the base's single slot by sliding it there.

For simple arch adjustment, place your hands in the position indicated in the picture.
Gently push the narrow end of the support arch into the level 1 position on the base by pressing down with your thumbs.
How to use
1.Take a seat facing the arch. Knees bent, slowly recline back into the support arch.

In order for the support arch to properly support your lumbar area of your back, the broad end of the device should be placed near to the base of your spine. Try to position your spine in the middle of the slot, which is intended to support it and give more comfort.

2.straightforward stretch Try to relax as much as you can, and breathe properly.

This posture is the simplest to do when just starting out and offers the least amount of stretch. To get a longer stretch, go to the following locations.

As a piece of advice, place a cushion under your head for additional comfort.

3.posture of moderate stretching

To get an extra stretch, raise your arms over your head and shoulders and lay them as near to the floor as you can. Over time, it will become easier, and you may even be able to completely stretch your arms and comfortably rest your elbows on the ground.

4.Roll off and recover

On your side, roll away from the magical back support. Gradually rise up after 30 seconds of resting.

Remember that you just had a significant stretch, and you should give your blood time to return from your head to your heart before doing anything else to avoid being lightheaded.
Safety Advice:
1. Acupuncture traction may be unpleasant at first, particularly for beginners. To increase comfort, you may wrap a soft cloth or towel around the lumbar plate.
2. It is better to start with a lower traction force, such as Level 1.
3. If your waist feels uncomfortable in the beginning, you may take a few days off and relax.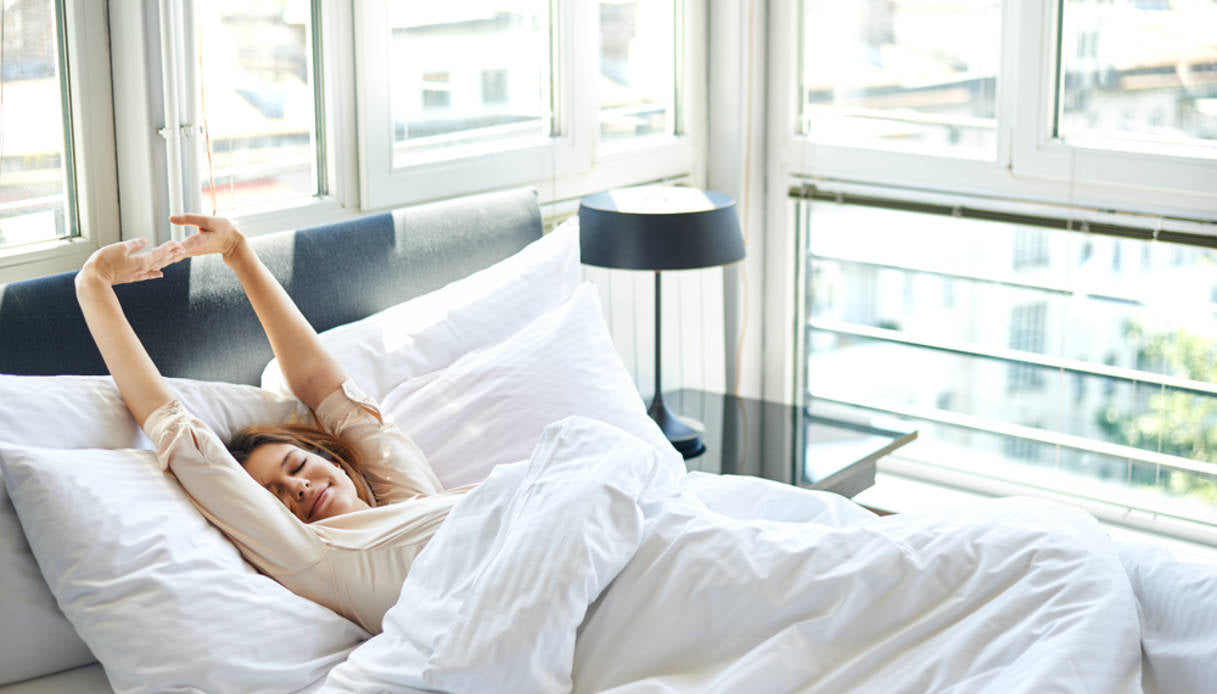 Say goodbye to the pain and welcome the comfort
89% of our customers stopped using our Pain Relief Back Massager after few uses; Not because it didn't work, but because it solved totaly their problem.
What Makes Us Different
At MyCosmeticsLondon, we care about our customers and want them to have comfort because we believe that every human should have the best life that he or she could have with the best possible version of themselves.
For this, we offer this fantastic solution that will definitely beat back pain.
This pain relief back massager, which is recommended by medical professionals, will help you enjoy your life. You may get posture treatment, back pain alleviation, better sleep, and greater mobility.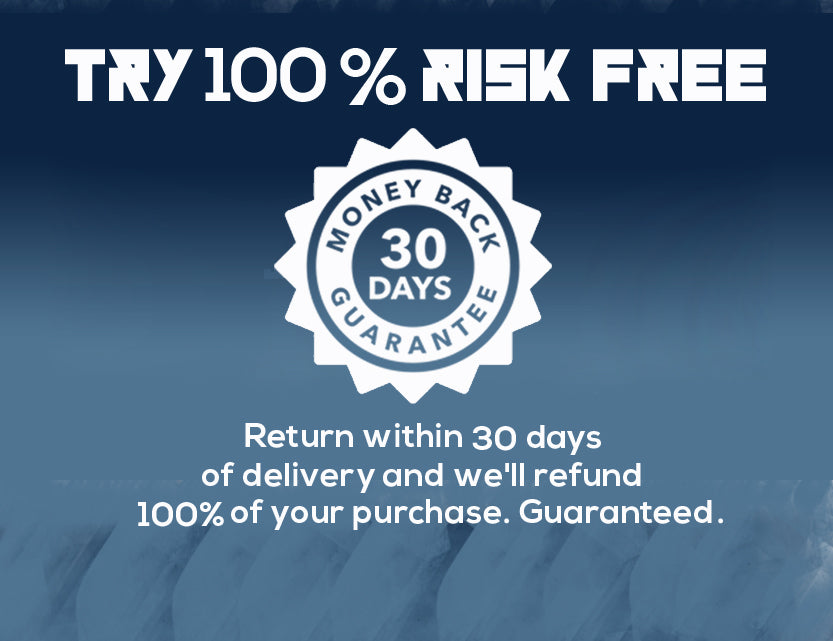 Didn't see the results you expected from This product?
You're covered by our 30 day money back guarantee. If you are unhappy with your purchase, please return merchandise and receive a full product refund for your order less any shipping and processing.
Common Questions
How long should I lay on a back stretcher?

Start with sessions that are limited to a few minutes each. Build up gradually minute by minute as you go along, no longer than 10 to 20 minutes. It's best to use it in the morning, just after you wake up.
Do back stretchers help sciatica?

Using a back stretcher helps you stand straighter by simultaneously releasing and strengthening your back muscles. It aids in preventing sciatica, slipped discs, and bulging discs, which are acute illnesses brought on by misalignment and persistent back pain.
Is the arc adjustable?

Level 1, Level 2, and Level 3 are the three locations in the card slot.
Arc amplitudes vary according to various height levels.
Does this work for costochondritis?
How long should i stay in level 1 before switching to the stretch posture at level 2?

After seven days of usage at the level 1 traction height, you may change the traction force of level 2.
How is it cleaned? Can it be taken apart and cleaned with water?

Complete disassembly and water washing are possible.
Can I use it for my neck?
What kind of material is this back massager made of?

It is made of advanced ABS that is hard to break and medical selicone grade.