Regular price
Sale price
£15.99 GBP
Unit price
per
Sale
Sold out
This multitalented cream reduces the appearance of fine lines and wrinkles, improves elasticity, and promotes healthy-looking skin.
Reduces Under Eye Bags, Dark Circles, and Wrinkles from View
the Best Anti-Aging Skincare for Men According To a Dermatologist
View full details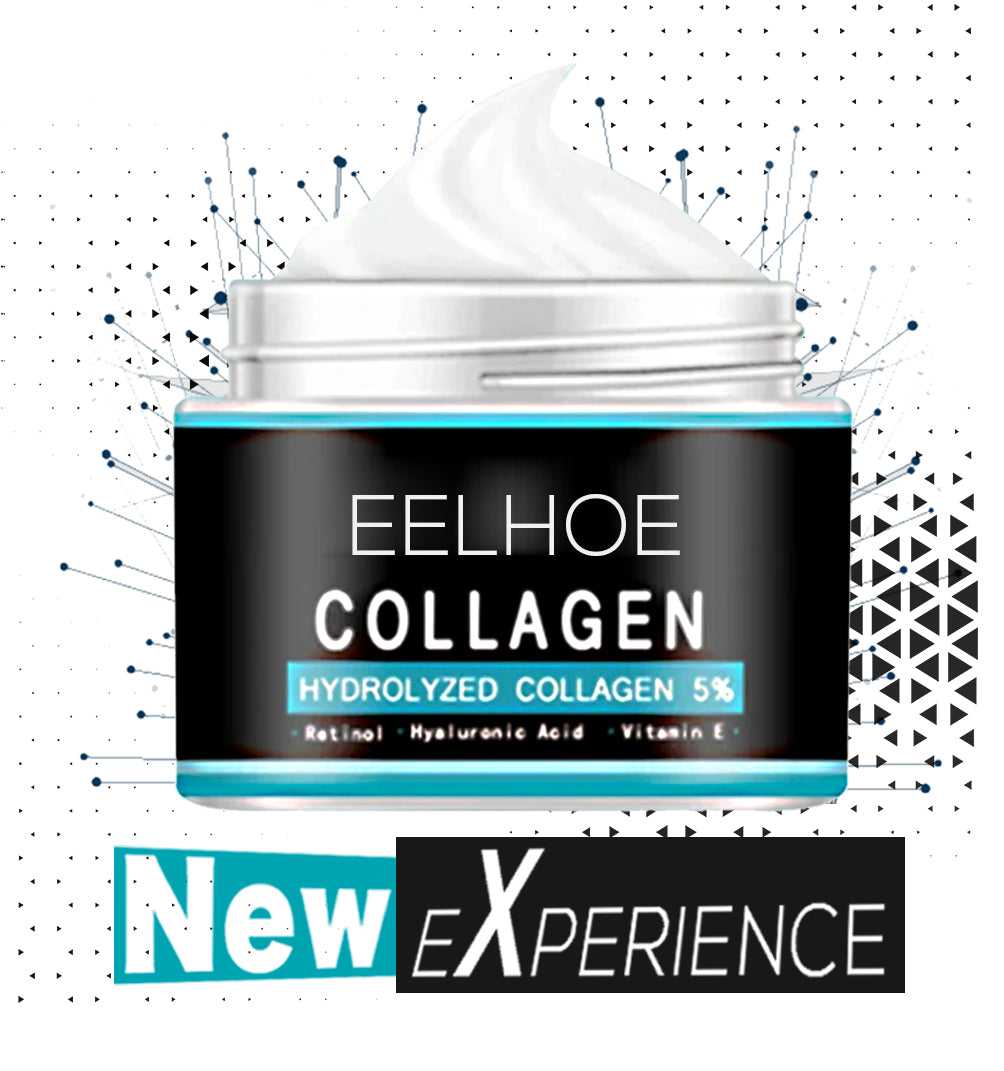 Reduces Under Eye Bags, Dark Circles, and Wrinkles from View
the Best Anti-Aging Skincare for Men According To a Dermatologist
How it Works?
The science behind our anti-aging skin care
Aging skin appearance

As skin ages, it begins to show signs of damage and naturally produces less collagen. This leads to the appearance of wrinkles, fine lines and dark spots on the surface.

Anti-aging Cream effect

Anti-aging Cream increases skin cell turnover and collagen production to give skin a smoother, firmer, younger-looking appearance.

Smoother, firmer results

The increased collagen production results in skin with a smoother-feeling texture and visibly fewer fine lines.
Want To Turn Back the Clock?
Don't fall into the trap of thinking anti-aging creams are only for women. Men need to look after their skin too. You deserve to look and feel your best, so make your skincare routine as much of a habit as brushing your teeth, and say goodbye to wrinkles for longer.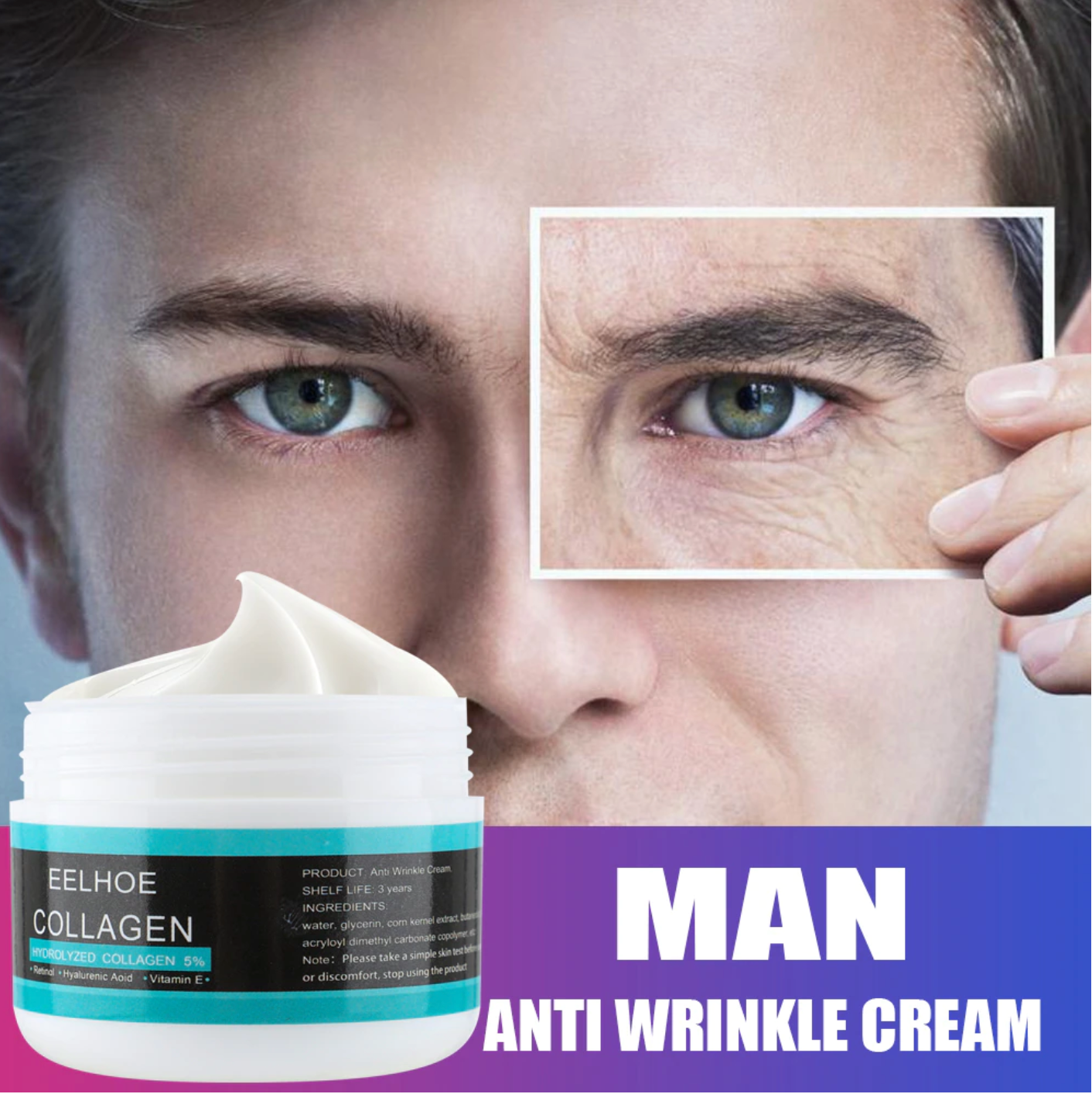 Feels like magic, works like a charm
Men's anti-aging face cream is a lightweight, non-greasy face cream that may be used on a regular basis. Our men's face moisturiser is ideal for all skin types, including sensitive, dry, aged, and troubled skin. This anti-wrinkle cream for men contains Hyaluronic Acid, Vitamins A and E and many other key components that nourish, smooth, and refresh the skin on your face and neck.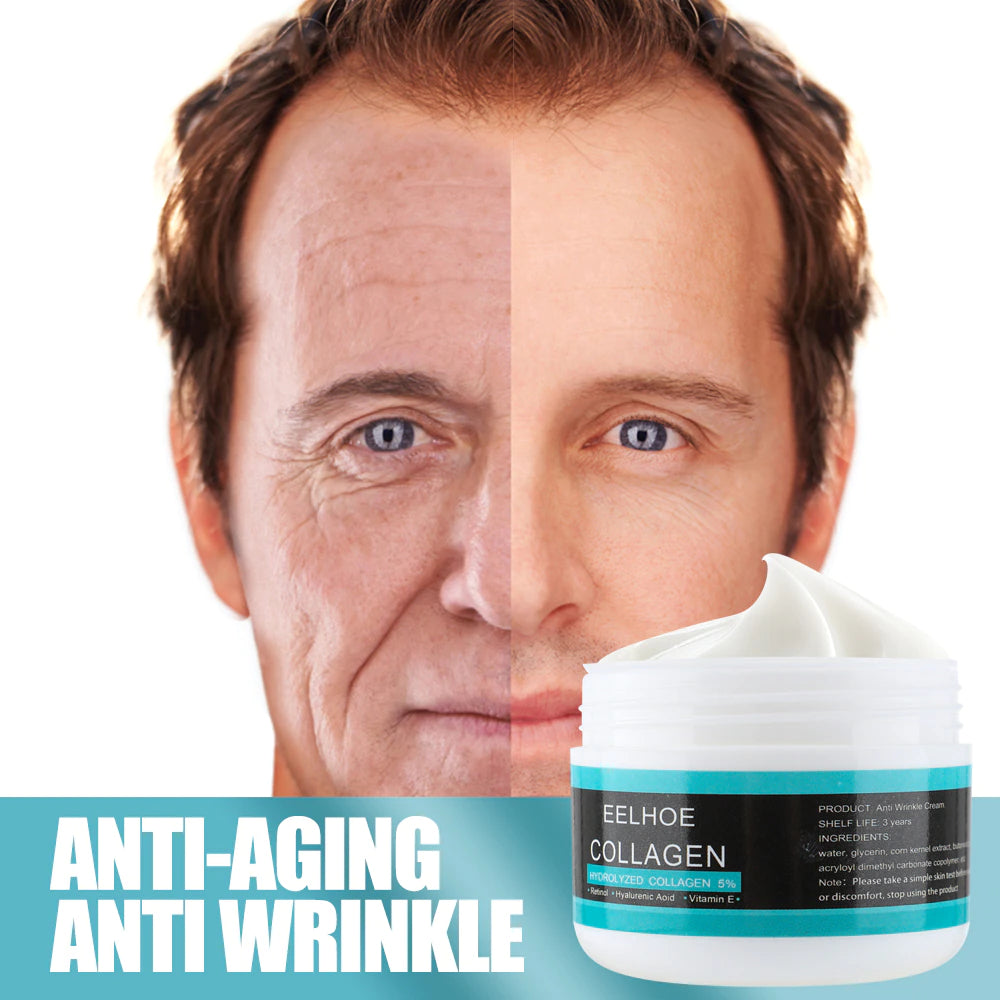 SEE THE INCREDIBLE TRANSFORMATION
Our men's anti-aging face cream moisturizer is for men who appreciate the value of appropriate skin care and wish to enhance their natural beauty.
Our face cream may be used as a daily moisturizer as well as an aftershave treatment. It will soothe rough skin and offer a beautiful smoothing and lifting effect, decreasing indications of age and assisting you in achieving a truly attractive face. 
Making your skin look its best in 3 steps
Easy and simple to use.
Step 1: Wash your face
Before bed, wash your face with a gentle cleanser of your choice and dab dry.
Step 2: Use your Custom amount
Start with a small amount on your fingertip (about half the size of a pea).
Step 3: Apply the cream
Gently apply a thin, even layer to targeted areas, being careful to avoid contact with eyes.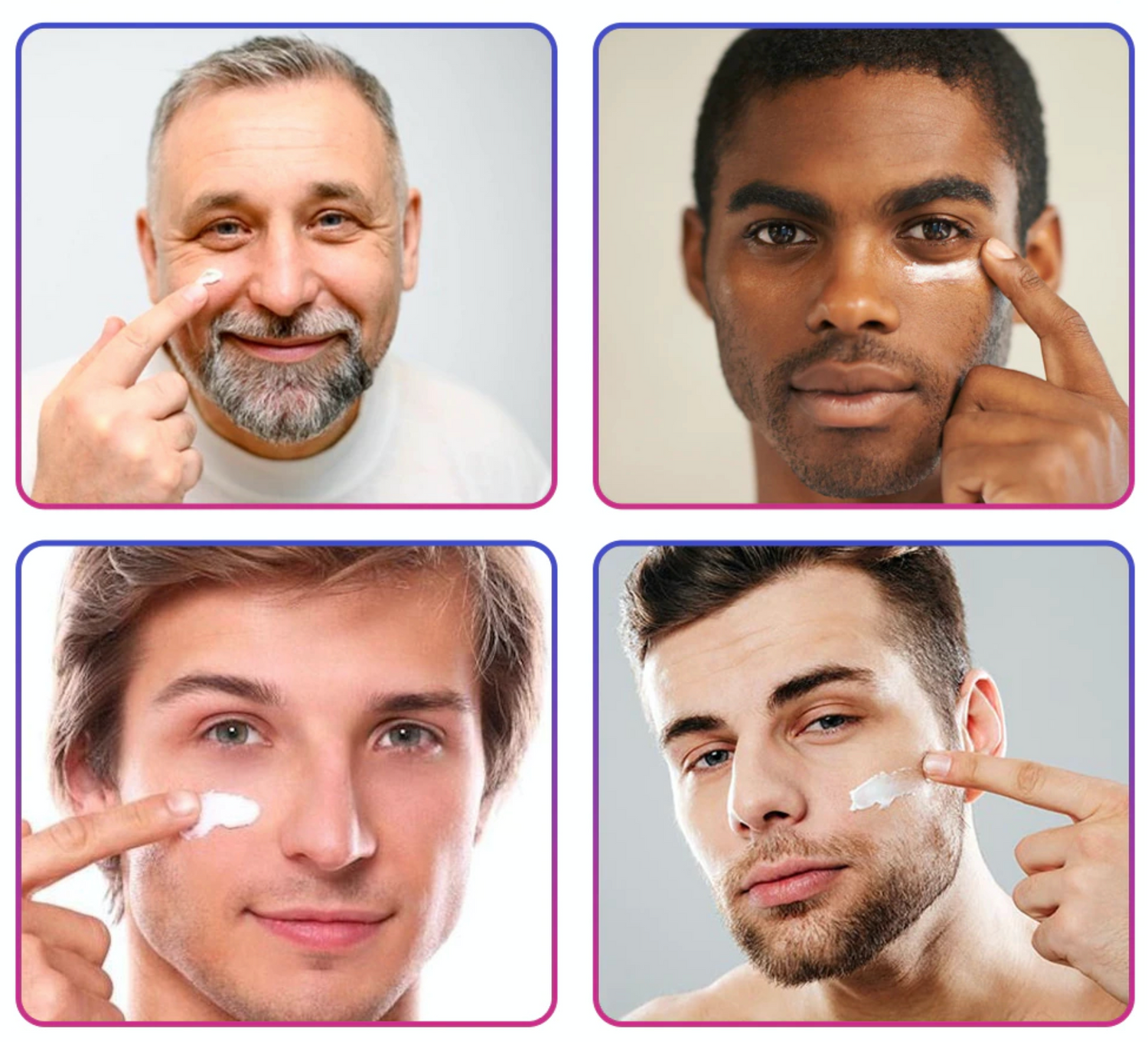 Join the league Now
Join the thousands who have used our anti aging cream today.
- Robbie, 37

- Christian, 40

- Andrew, 29

- Joseph, 55
What Makes Us Different
We are confident that real men deserve genuine results, which is why we incorporated only proven substances that are good for your skin. The effective recipe, which contains Hyaluronic Acid and Vitamins A and E, helps to keep your skin moisturized throughout the day and reduces the depth of wrinkles and fine lines. There's no need for many treatments when our cream is all you need for good-looking, healthy skin.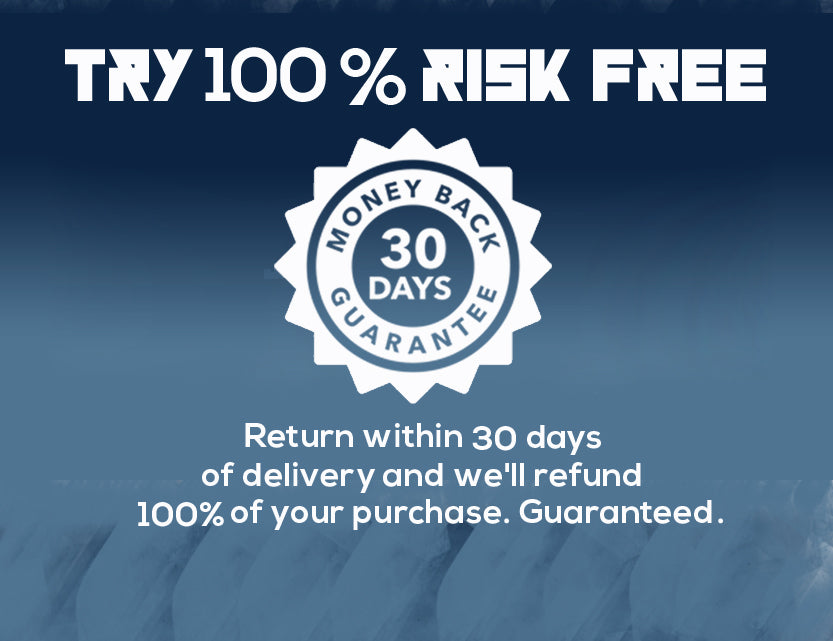 Didn't see the results you expected from The Cream?
You're covered by our 30 day money back guarantee. If you are unhappy with your purchase, please return merchandise and receive a full product refund for your order less any shipping and processing.
Common Questions
What is collagen?

Collagen is the most abundant protein in your body.

It's the main component of connective tissues that make up several body parts, including tendons, ligaments, skin, and muscles (1Trusted Source).

Collagen has many important functions, including providing your skin with structure and strengthening your bones (2Trusted Source).

There are 28 types of collagen, but here are the four most common (2Trusted Source):

Type I:the most common type, found in all connective tissue

Type ll:found in joints and intervertebral discs (the cushions that serve as your spine's shock absorbers)

Type lll:the main component of reticular fibers, which are found in your skin and blood vessels

Type lV:a component of your kidneys, inner ear, and eye lens
How long until I see results?

Our customers claim that they start to see results in the first week. On average under-eye bags, black spots, and wrinkles vanish within 4 to 12 weeks.
How long does Anti-aging Cream effect last?

You can stop using Anti-aging Cream when you are happy with the results.
The effect of the cream will last since you still protect your skin from the sun, and weather changes,...and make sure it is always hydrated.
What if I apply too much Anti-aging Cream onto my skin?

Because our Anti-aging Cream is made of natural ingredients, there is no harm in using it too much on the skin, but it is not recommended to overuse the appropriate amount of it.
Does Anti-aging Cream have any side effects?

Anti-aging Cream is a safe and harmless daily cream, and the majority of people will not suffer any negative side effects. Symptoms such as an unpleasant taste, feeling too full, or other gastrointestinal issues have been reported by a small number of people.
What type of skin can use this cream?

Anti-aging Cream is suitable for all types of skin, including sensitive, dry, aged, and troubled skin.
When and how to use this cream?

It is recommended to use Anti-aging Cream on cleansed face and neck in the morning and before going to sleep.
What are the Ingredients of Anti-aging Cream?

Collagen, Retinol Hyaluronic Acid, Vitamin E.