Regular price
£250.00 GBP
Sale price
£75.00 GBP
Unit price
per
Sale
Sold out
Look younger and more radiant with the LED Skin Revival Light Therapy Mask, which helps restore the freshness, smoothness, and vitality of your complexion in the comfort of your own home.
🔴 

 

Can reduce wrinkles & lines within 3 weeks
🔵  Also clears Acne, Eczema, Psoriasis & Rosacea 
🟠  Leaves you glowing inside and out

View full details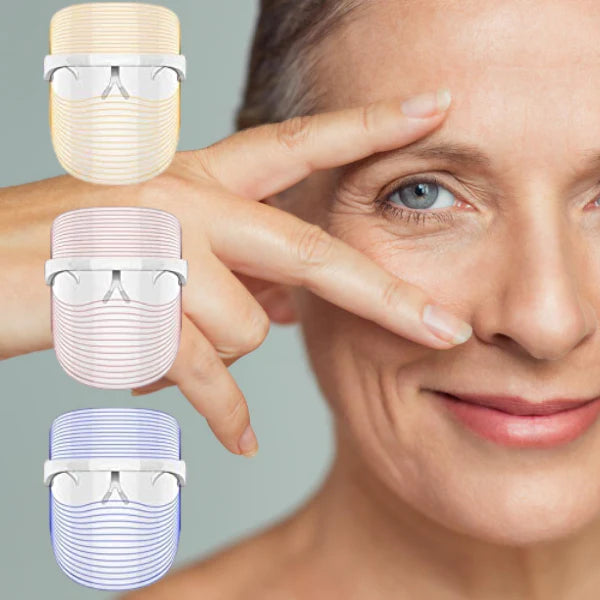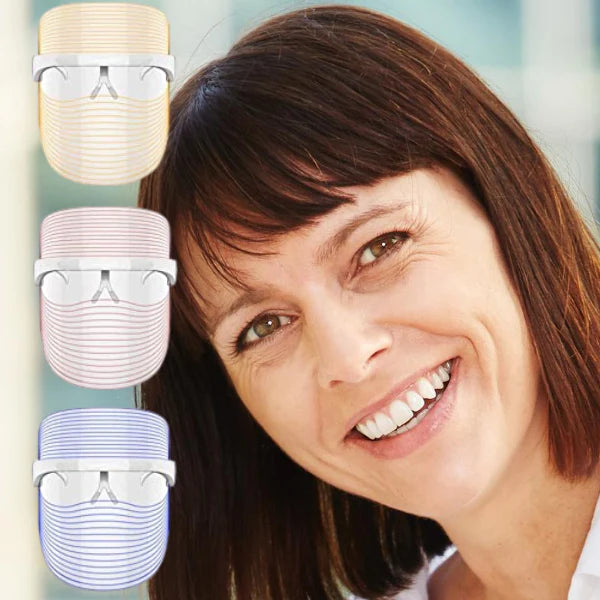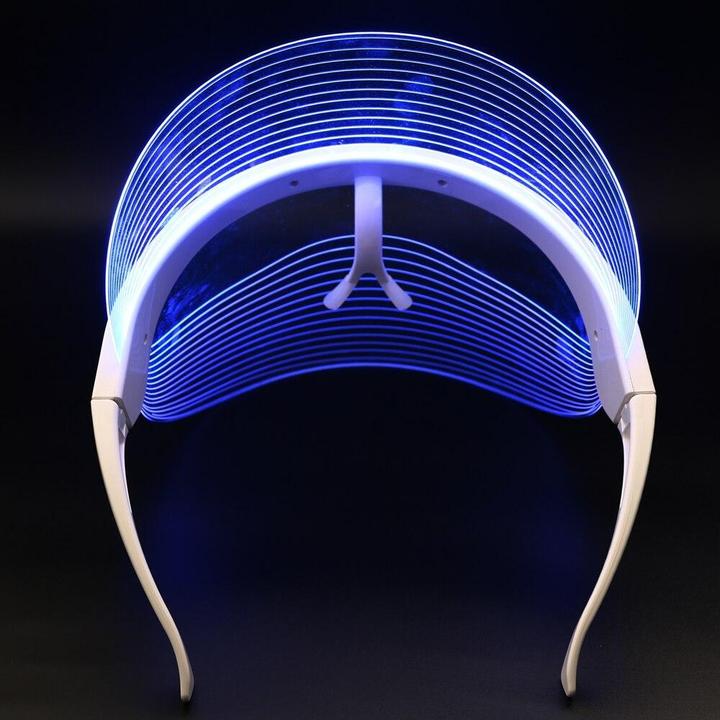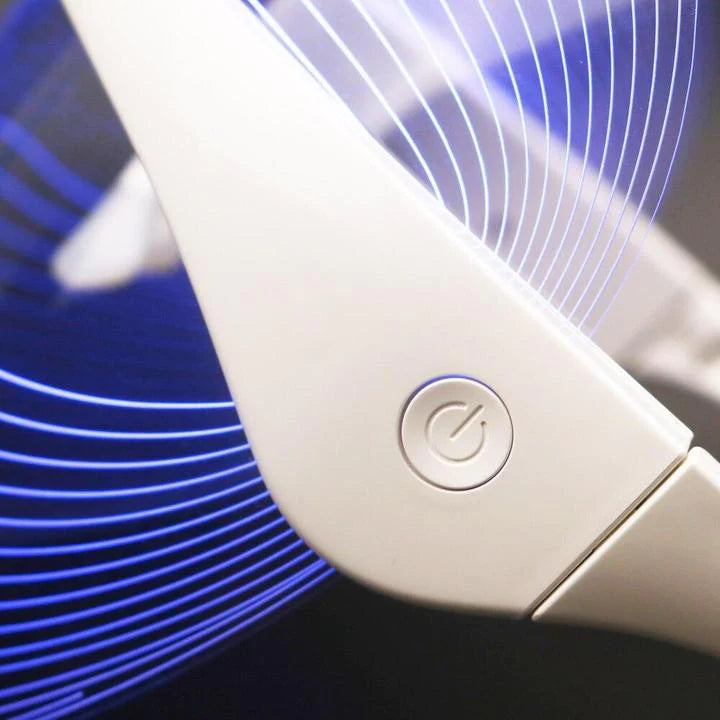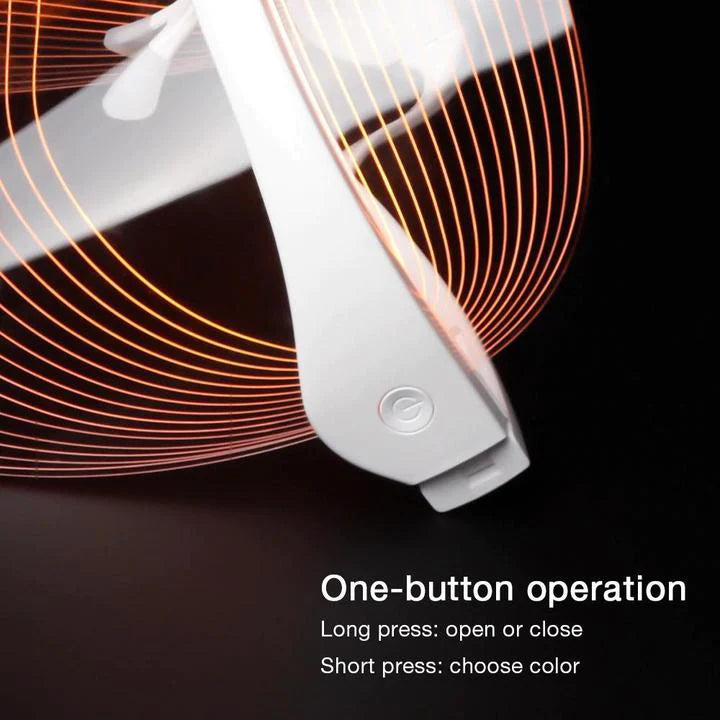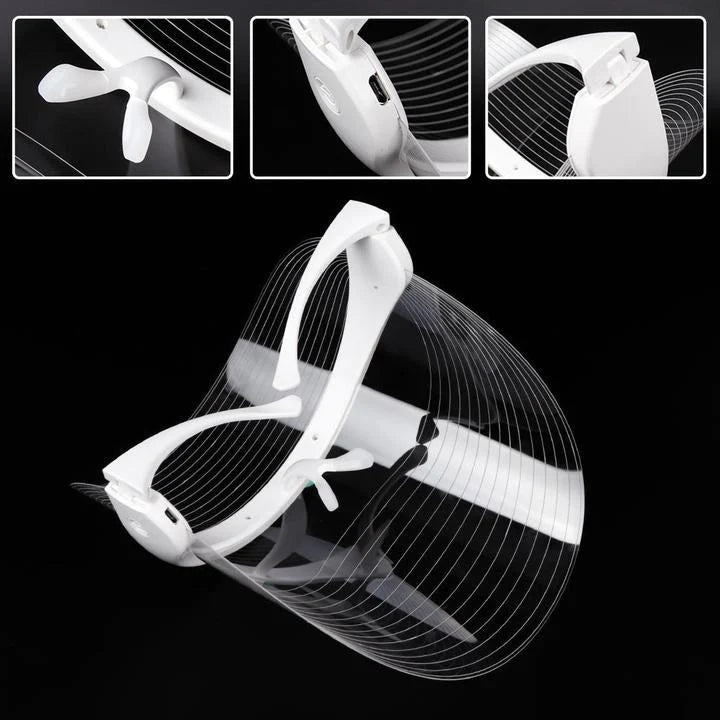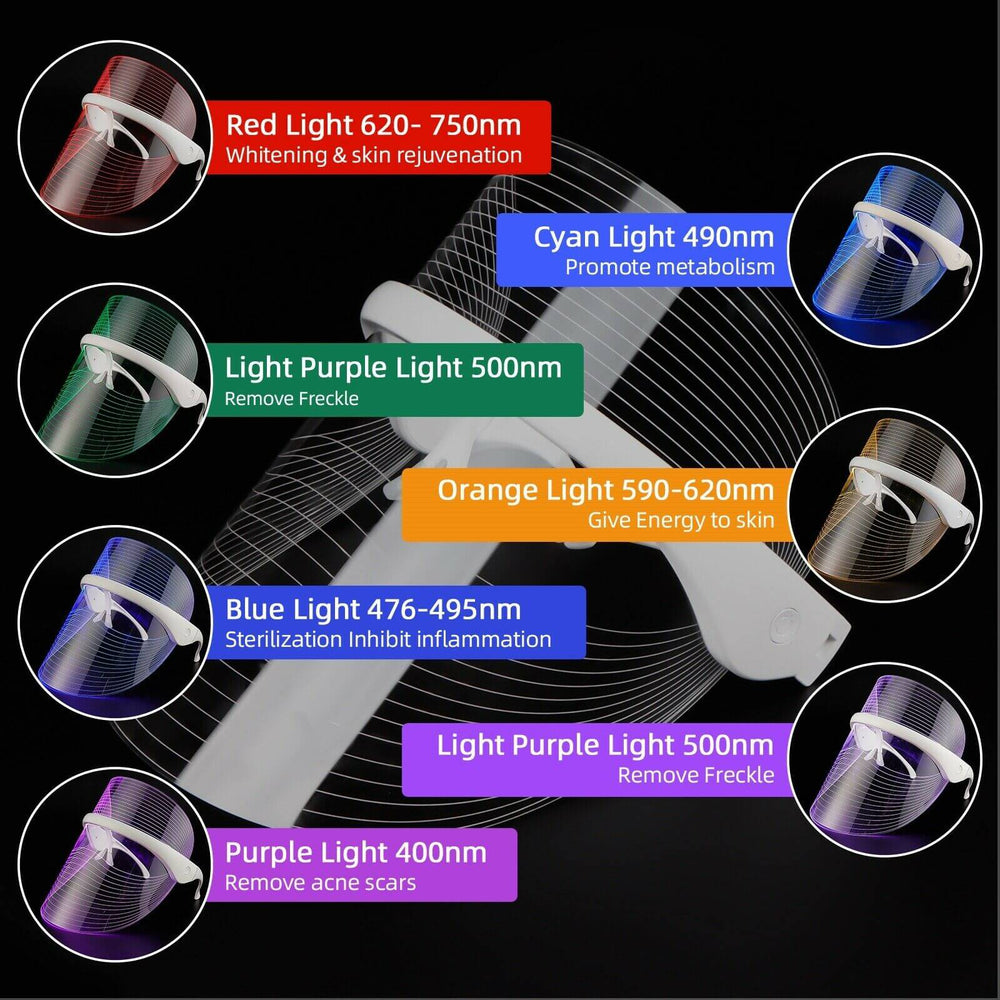 LED – Medical Grade Light Therapy
CONTINUALLY VOTED IN THE TOP 3 BEST LED MASKS IN UK.
Achieve professional results at home with this revolutionary hands-free, wearable device that will leave your skin glowing from the inside out. This NASA-developed technology is the ultimate secret weapon for combatting the signs of aging as well as a number of skin conditions including acne, eczema, rosacea and psoriasis.Each of the 7 clinically-proven wavelengths of light deliver safe, effective and noticeable results by stimulating a different response when absorbed by receptors in the skin.
HIGHLIGHTS:
FACIAL SKIN "REJUVENATOR": The LED Skin Revival Light Therapy Mask brings out the youthful beauty in you and gives you a firm, smooth and fresh face that others will compliment and you will be proud to flaunt, even without makeup.
COMFORTABLE TO USE: The ergonomic design of the LED Skin Revival Light Therapy Mask makes it easy to use with its one-touch operation and comfortable to wear for a long time. USB rechargeable and lasts long on a single charge.
SAFE TO USE: NASA-invented and FDA-Approved, the LED Skin Revival Light Therapy Mask uses a LED light technology that is safe for eyes and sensitive skin.
SEVEN LIGHT SETTINGS: Featuring red, amber, and blue light, the LED Skin Revival Plus Light Therapy Mask has different modes to meet your facial care needs.
SUITABLE FOR ALL SKIN TYPES: The LED Skin Revival Light Therapy Mask is effective and safe to use on all skin.
SUPPORTS THE FIGHT AGAINST BREAST CANCER: We donate 10% of the proceeds from the sale of this product and have so-far raised:
THE LIGHT THERAPY CHOICE OF THE STARS: Many celebrities including Serena Williams and Kourtney Kardashian (below) use this specific mask.
WHAT RESULTS SHOULD YOU EXPECT TO SEE?
After the first session, you will notice an improvement in hydration, smoothness and softness.
After four weeks, using 3 times a week for 10 minutes per session, 95% of customers report:
A 36% reduction in wrinkles and fine lines
An improvement in texture, firmness and skin tone
Brighter and plumper-looking skin
An improvement in redness and irritation
RESULTS ACHIEVED WITH THIS MASK (IN 90 DAYS)
THE LIGHT SETTINGS:
🔴  RED LIGHT (Anti-aging) - stimulates collagen production, helps shrink pores, helps reduce fine lines and wrinkles, gets rid of uneven textured skin, rejuvenates and reduces inflammation. Strength: 620-750nm

🔵  BLUE LIGHT (Anti-acne) - kills acne causing bacteria under the skin, prevents oily skin, helps reduce blackheads. Strength: 470-495nm

🟠  AMBER LIGHT(Brightening) - brightens the skin, treats hyperpigmentation , heals and improves dull skin, gives skin a healthier glow. Strength: 590-620nm
In addition to the main three settings above, the 7 color device has now been upgraded to offer four additional settings - green, purple, pink and cyan - extending the range of skincare benefits provided.
What makes our LED Mask different from others on the market?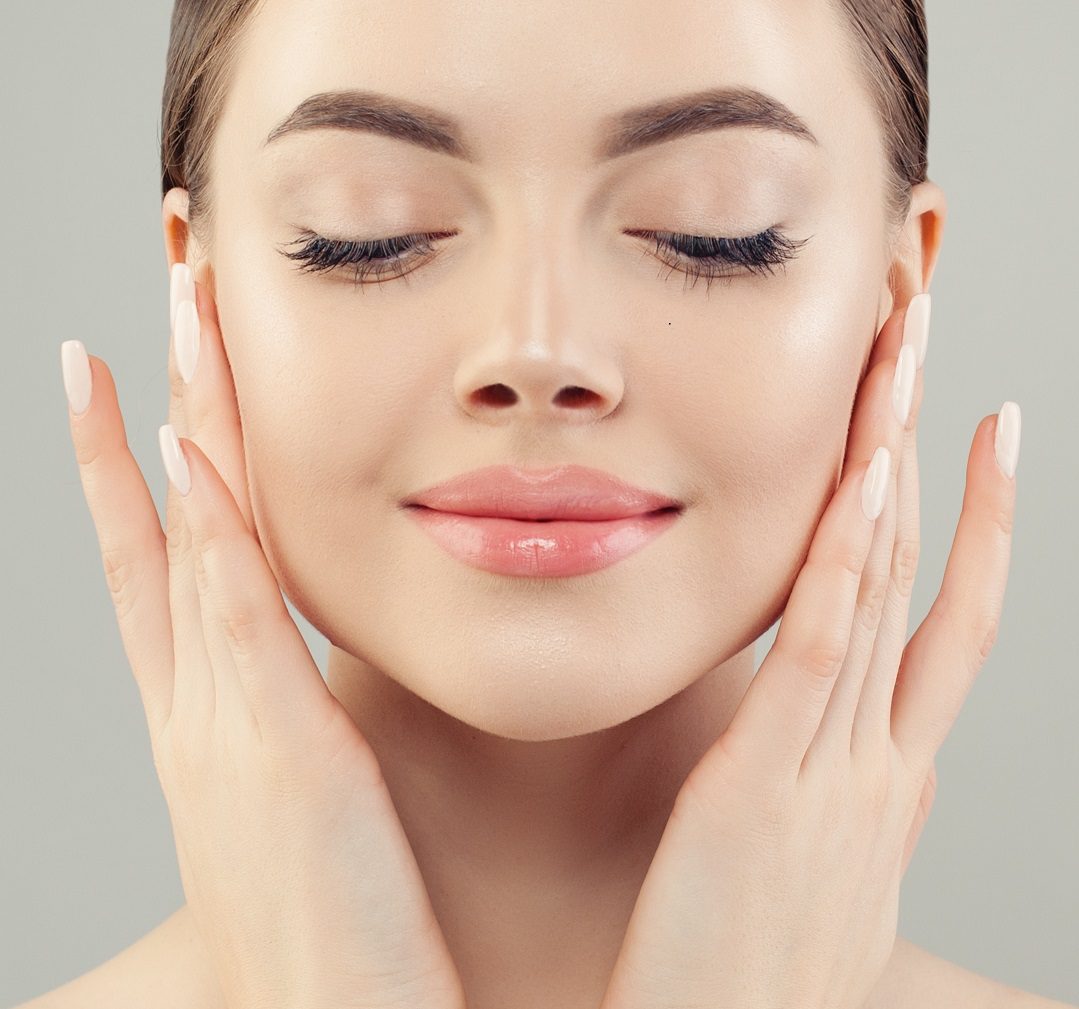 Our LED Mask is different to others on the market because it has a clear, sleek design which feels less claustrophobic on your face and allows you to multi-task whilst performing your treatment. Our mask has also been continually voted in the Top 3 best LED Masks in Australia and featured in British Vogue, Who Magazine, Glamour Magazine, BeautyCrew, Popsugar, SBS Online, Women's Health and more. Most importantly our Mask has proven results from our customers and is backed skin experts.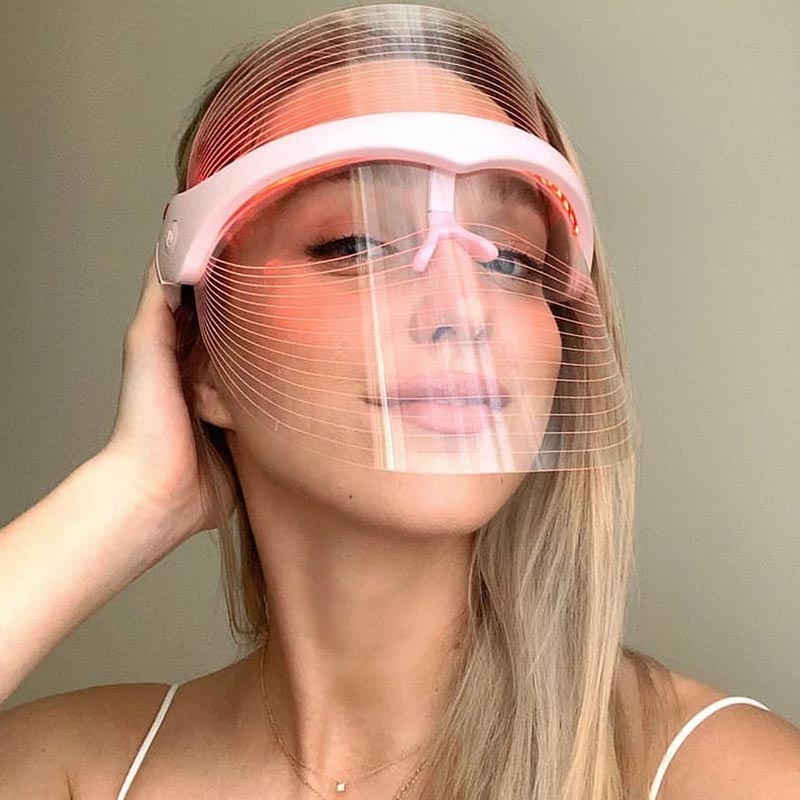 Save thousands on expensive LED skin treatments!
With its incredible skincare benefits, LED Light Therapy is now one of the most in-demand beauty treatments on the market. But visiting a skin clinic to have it done professionally regularly is both financially costly and time consuming as multiple session each week are required to get results.
Our Skin LED Light Therapy Mask was created to provide a cost-effective, convenient solution allowing users to reap the benefits of light therapy at home. It can be used from the comfort of your couch - at whatever time is convenient for you - and it has three different light settings to target a variety of complexion concerns. 
Simple to use with one-button operation
Step 3 :

Wear the mask and choose the color you want

Step 4 :

Finish and feel the soft baby skin
PRODUCT DETAILS
Comes with: LED Mask, presentation box, USB charging cable, instruction manual
Output: 5V 1A
Battery capacity:150mA
Weight:75g
Size: 20x17cm/ 7.87c6.69 inches
More Info
Wavelengths 

Our blue light wavelength is 476nm - 495nm and penetrates the skins surface tissue to target acne causing bacteria, prevent breakouts and reduces pore size.

Our amber light wavelength is 590nm - 620nm and penetrates the soft tissue to boost lymphatic flow which flushes toxins from the skin, helps to repair sun damage and pigmentation and revitalises the overall appearance of the skin.

Our red light wavelength is 620nm - 750nm and penetrates deeper into the soft tissue which increases collagen production, reduces the appearance of fine lines and wrinkles and works as an anti-inflammatory. 
What's in the box?

LED Light Therapy Mask
User Manual
USB Charging Cable
Did you know?

The BIGGEST celebs are now using LED light therapy as a part of their daily skincare routine!

Don't believe us? checkout:

Kourtney Kardashian
Chrissy Teagan
Serena Williams
Jessica Alba, and the list is growing!
FAQ's

What is LED Light Therapy?

Light emitting diode therapy is a treatment that uses a combination of light and energy to treat skin conditions including acne, psoriasis and more. The reason why LEDs are becoming more popular as a treatment method is because it has shown to be effective in treating certain skin conditions and to revitalise the appearance of your skin. It is a non-invasive treatment option for skin. LED light therapy has been in existence for over 30 years.

In the past, Navy SEALs used LED light therapy to help heal wounds. The treatment led to improvements in musculoskeletal injuries in team members. It also reduced wound healing time. It was used initially as a way to treat malignant tumors but has since been used to treat the skin. Treatment is also frequently prescribed by dermatologists due to its proven effectiveness in addressing a variety of skin issues.

How long will it take before I see results from using your LED mask?

We recommend to use our LED Mask as part of your weekly skincare routine, LED Light Therapy is something you need to be consistent with to see results. If you are using our mask consistently you should expect to see results within 2 - 6 weeks.

Can you use the different lights on the same day?

YES! You can use the different types of LED light therapies all in the one day.

How long should I use the LED Light Therapy Mask?

We recommend to use two to three times a week and for a minimum of 15 to 30 minutes each session, although it is safe to use each day. 

Our mask has a timer which means the mask will automatically shut off after 15 mins, if you would like to use for longer just switch back on.

How long does the LED Light Therapy Mask take to charge?

We recommend charging your mask for at least 1 hour upon first use to ensure maximum output. When charging your mask, the charge light will be RED, and once fully charged, it will turn BLUE.

Is it safe to use LED Light Therapy without eye protection?

Our LED Light Therapy Mask is designed so that the light does not shine directly into the eyes, the light is UV Free, and dispersed around the face avoiding the area of the eyes.

Is LED Light Therapy safe for pregnant and breastfeeding women?

There's not enough research done on the effects of LED light therapy on pregnant or breastfeeding women. Although our LED Mask is UV Free, we recommend consulting your doctor first.