Regular price
£29.99 GBP
Sale price
£18.95 GBP
Unit price
per
Sale
Sold out
Face massaging, wrinkle reduction, face slimming and lifting, and dark circle reduction are all possible with one tool.
This great Jade Face Roller is made of Natural Jade Stone, which can improve your inner and outer beauty.
Give your skin a break from chemical products and boost your natural beauty.
View full details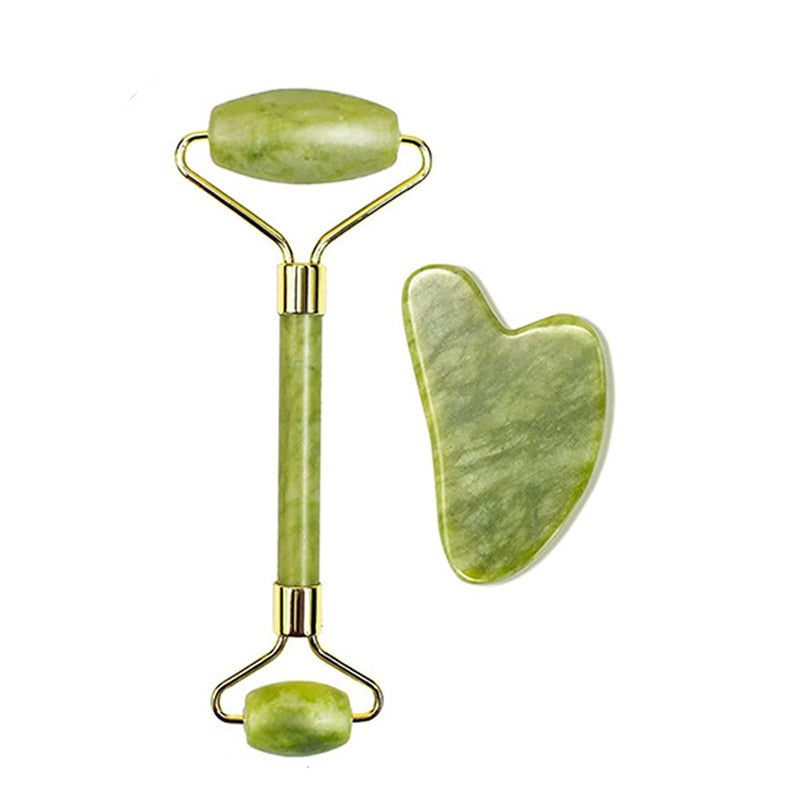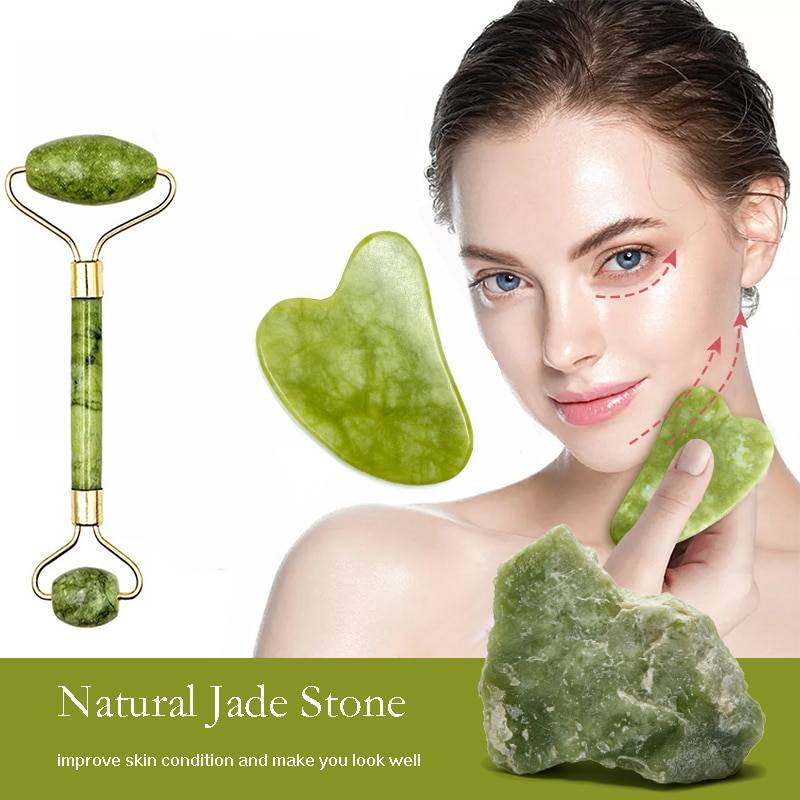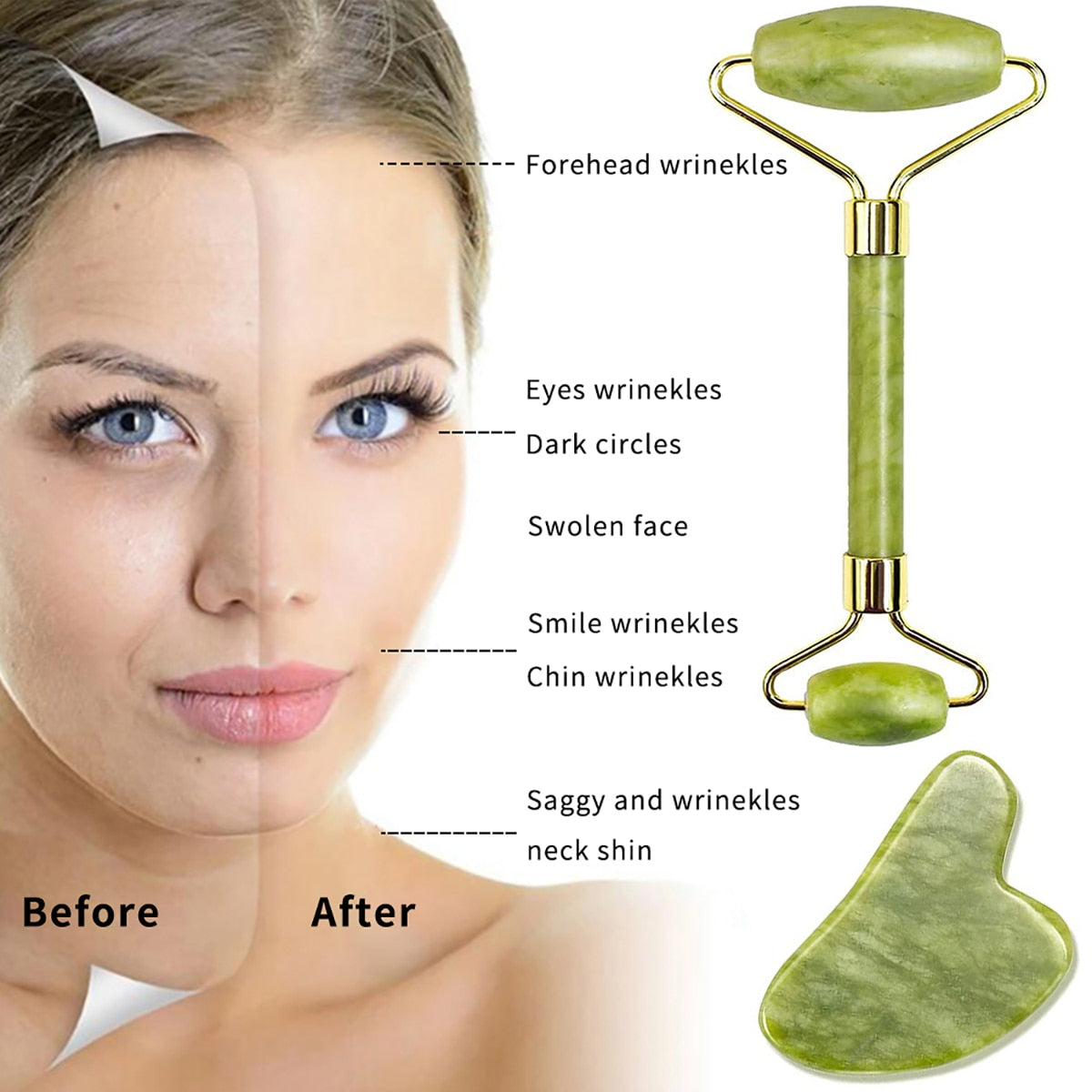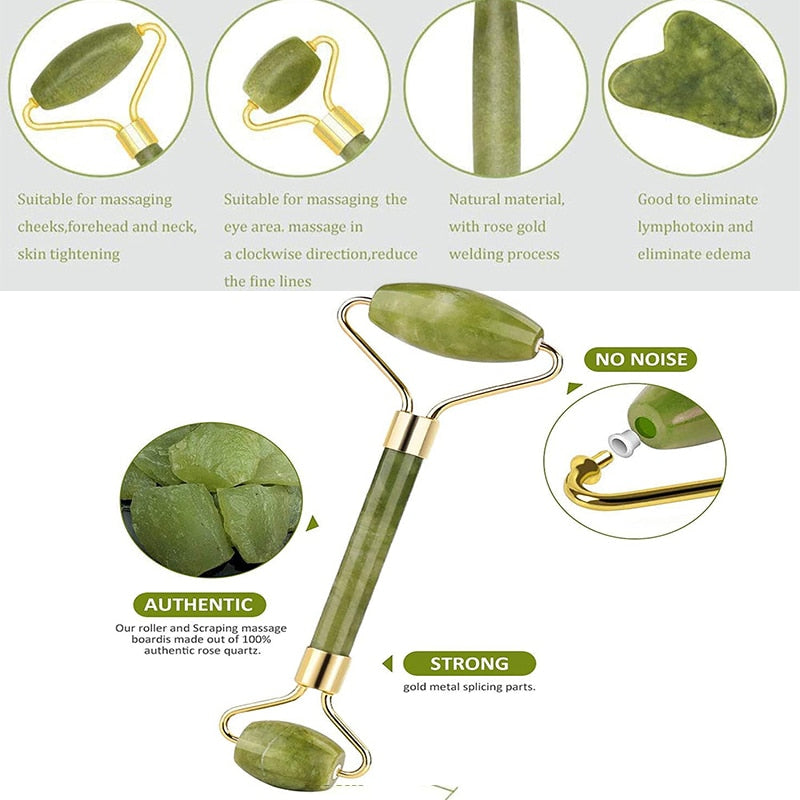 Our Jade Face Roller boosts blood circulation, reduces swelling, and can help products penetrate deeper into the skin. It is a quick and easy cure for daily skincare struggles like dark under-eye circles and puffiness.
The increase in circulation can also help smooth fine lines and wrinkles. Our jade face roller can be used at room temperature or chilled in the fridge.
The pressure and cold of the roller help to improve circulation and increase lymphatic drainage. They can also help to temporarily improve puffiness or help to rub in topical creams.
With low energy and cost, it naturally reduces puffiness, fine lines, and dark circles under your eyes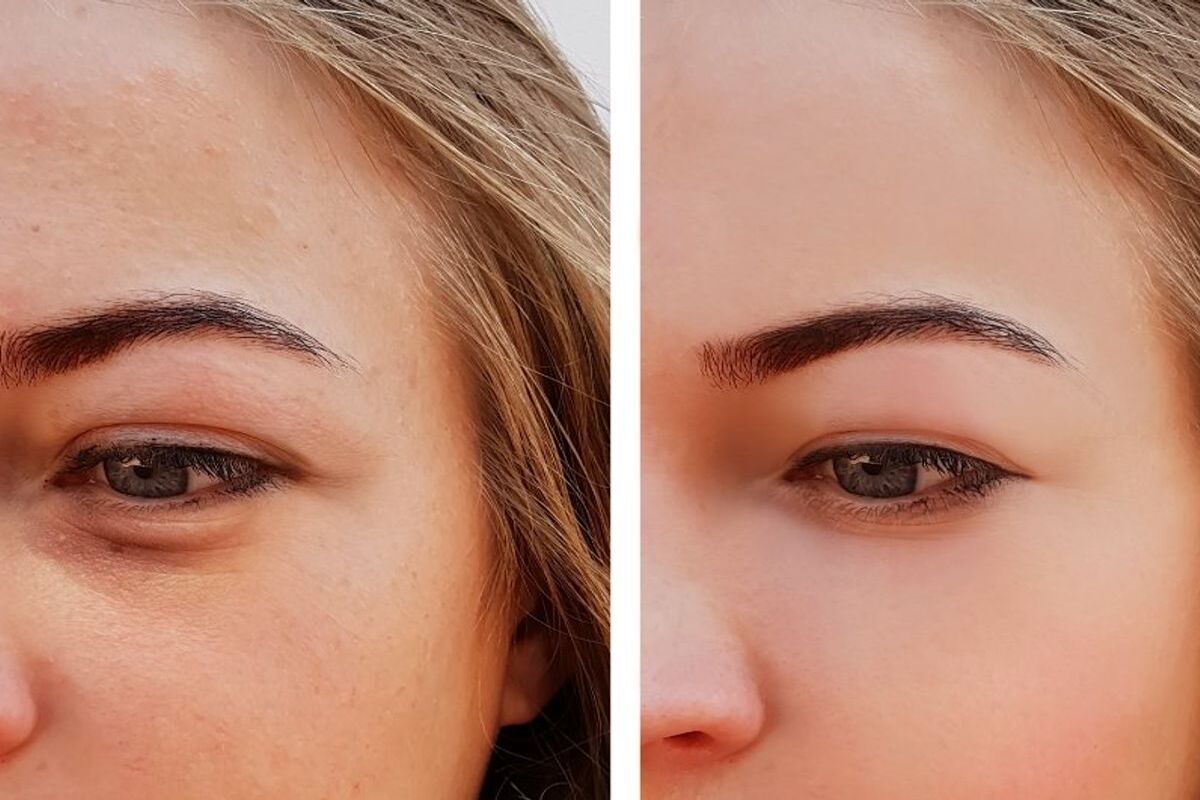 Reduces puffiness
By increasing blood flow to your face, using a face roller may help your skin seem more youthful. minimises puffiness By promoting lymphatic drainage, rolling may help reduce puffiness (such as under-eye bags). This kind of massage has typically been connected by certain research to reductions in edoema.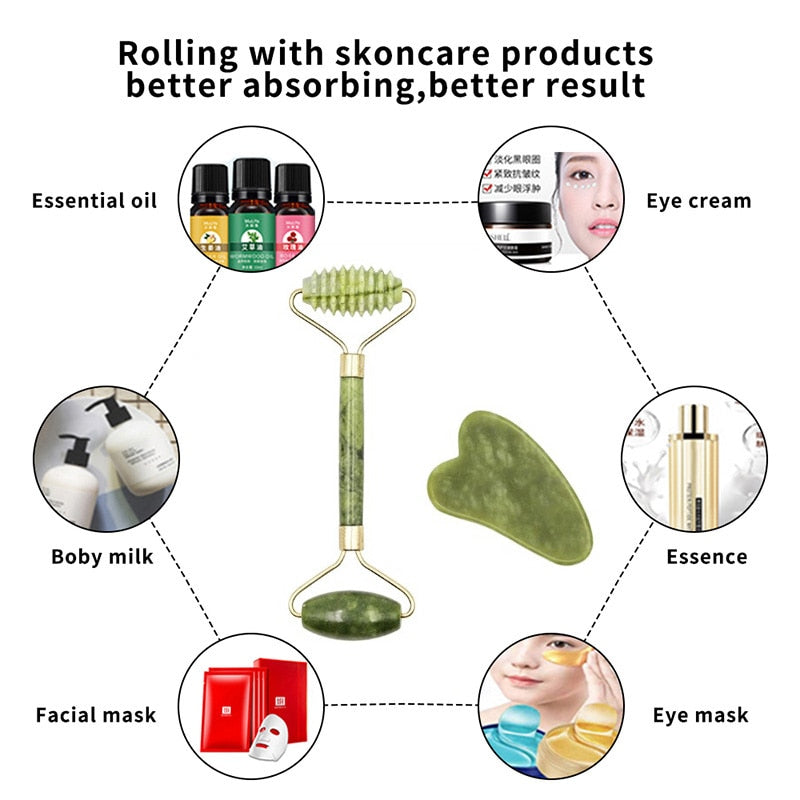 Improves product absorption
Combining a jade roller with a serum or face oil is effective. These items will make it easier for the facial massager to move around your face, and the instrument may also help their active substances penetrate your skin more deeply.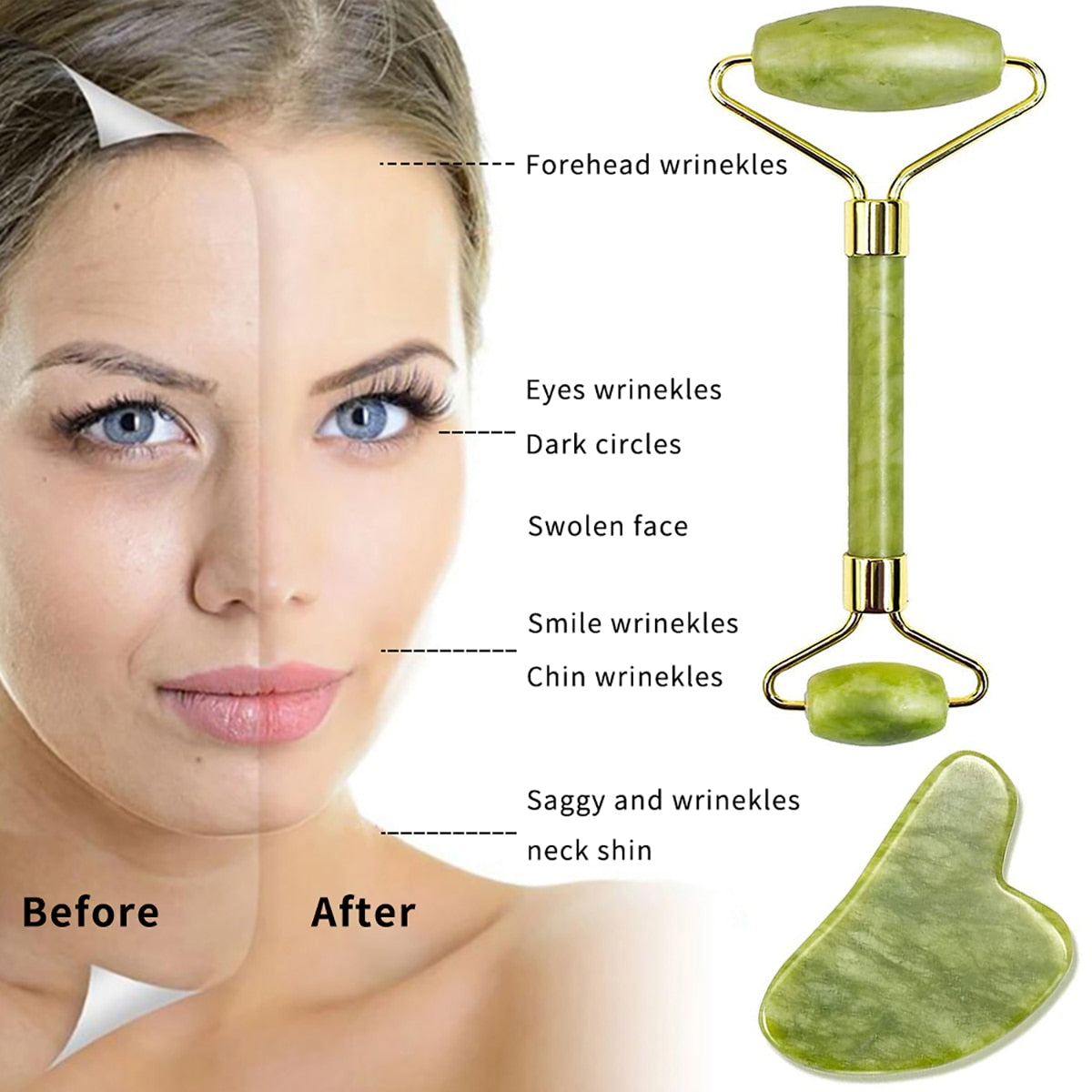 Reduces wrinkles and firms skin
By using light massage, it aids in firming the appearance of skin. The lymphatic system, the body's primary mechanism for detoxification, is also supported by it. In a metaphysical sense, jade promotes harmony and calm while also being known to ease stress.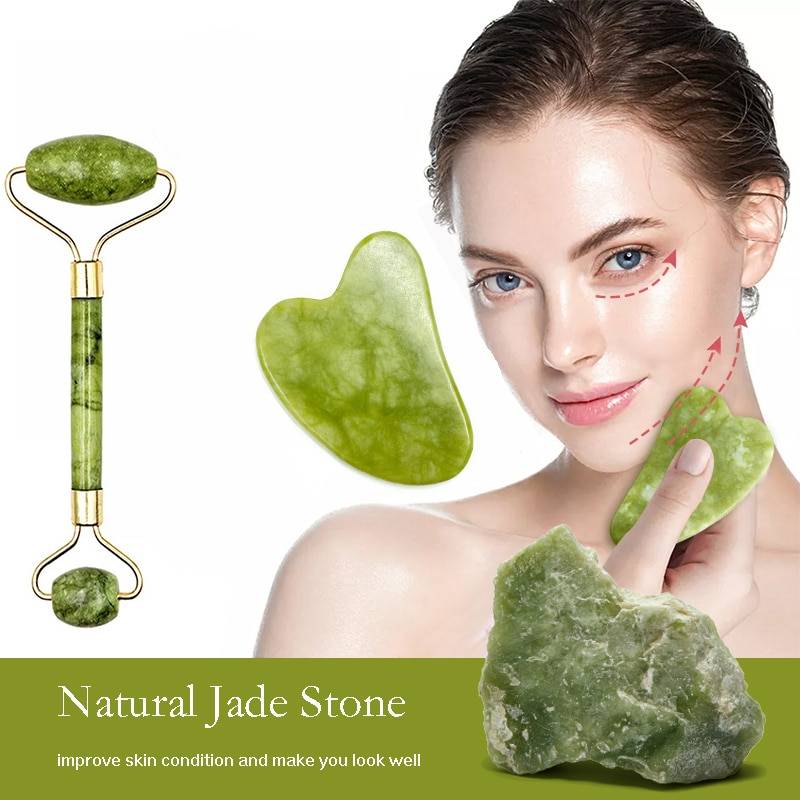 Boosts blood circulation and makes the skin glow
Your face and skin will shine and feel relaxed with each application of our Anti-Aging Jade Face Roller and Gua Sha. Both items promote blood flow while you massage your face and neck, which reduces puffiness and leaves you feeling rejuvenated and at ease.
Making your skin look its best in 3 steps
Big Roller Head

On your chin, forehead, cheeks, and neck using the large face roller.

Start rolling up and outward in the centre of the face.

Roll over the chin while starting at the neck.

Small Roller Head

The tiny roller component may go close to the eyes and the region surrounding the nose.

To reduce fine wrinkles, run the facial roller with essential oils upward along your eyes.

Use little pressure while rolling the roller over the area around your eyes.

Gua Sha

The jade stone with the curved sides should be held up to your face and gently moved upward and outward.


Guasha may also be applied to tight parts of your body, including your shoulders.

Use the flat stone to aid with pain and stiffness relief.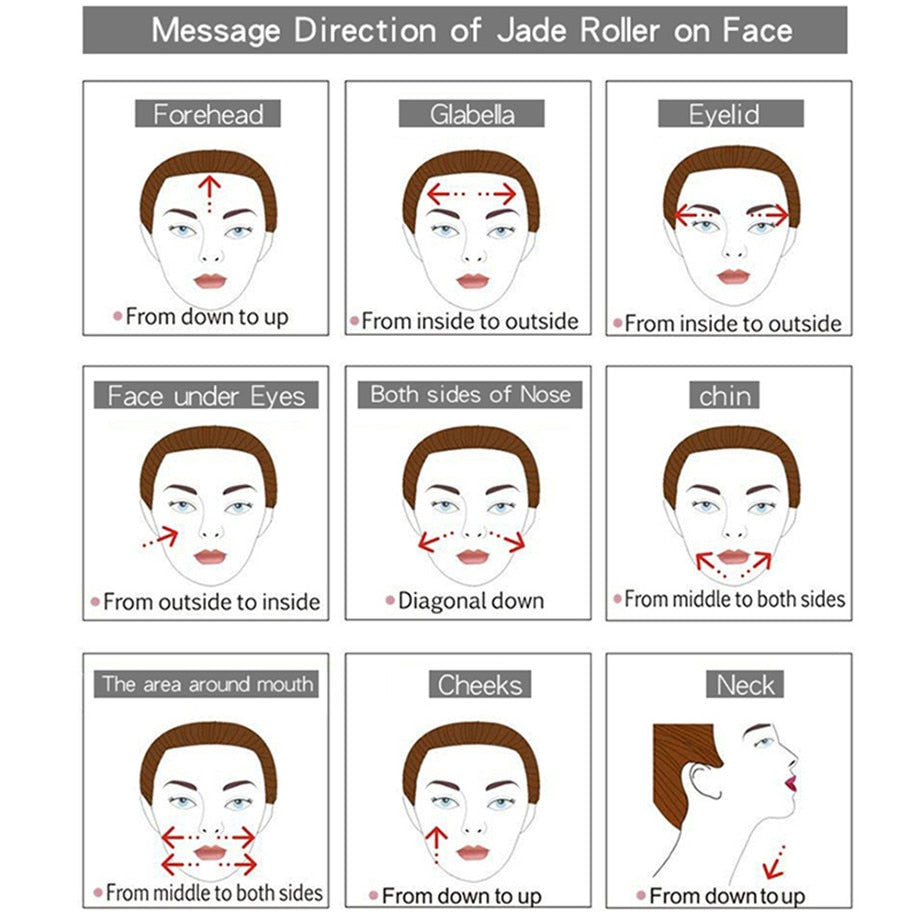 For best results, massage your face following these instructions.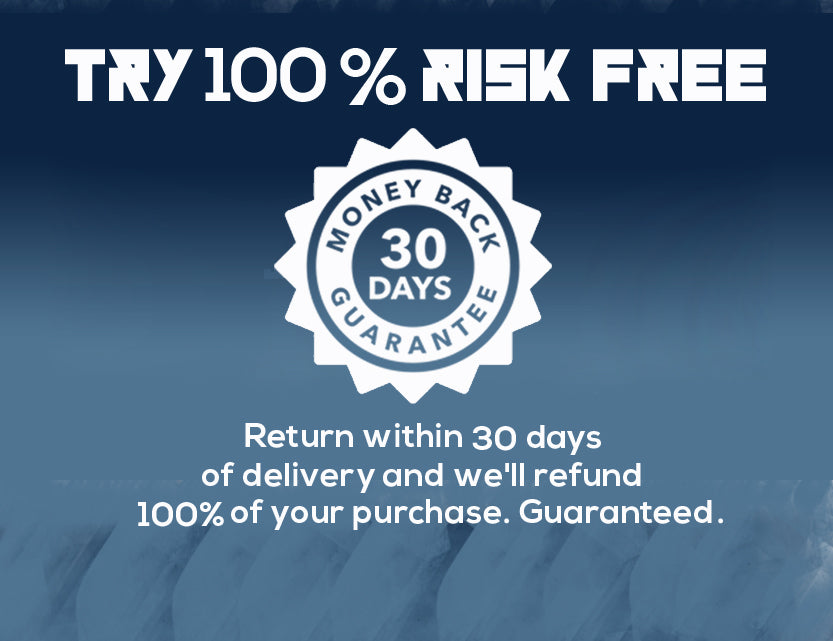 Didn't see the results you expected from The Jade Face Roller?
You're covered by our 30 day money back guarantee. If you are unhappy with your purchase, please return merchandise and receive a full product refund for your order less any shipping and processing.
Common Questions
Can I do jade roller everyday?

It's vital to remember that the benefits won't last forever, so you'll need to keep up your efforts if you want to see anything. We recommend using your jade roller every day and every time you do your skincare regimen.
How long does it take to see results from a jade roller?

Our customers claim that they start to see results in the first week. On average under-eye bags, black spots, and wrinkles vanish within 4 to 12 weeks.
How can I clean this jade roller?

Use a soft towel and warm, soapy water to clean the roller. For a more thorough cleaning and to assist in removing any lingering product buildup or grime, you may also let the roller soak in a bowl of warm water and soap for a short period of time.
When Should I use this Jade Roller?

This ritual's appeal is that it makes a wonderful complement to any morning or evening skincare regimen. A cold jade roller works wonders for refreshing tired, puffy eyes in the morning and for reducing skin irritation in the afternoon.
Do Jade Rollers Have Any Side Effects?

All skin types may safely use jade rollers on a daily basis. But if they aren't cleaned well, they might transmit bacteria.
Should I use jade roller before or after moisturizer?

We recommend using our Jade Face Roller after you put a topical treatment on your face.

Rolling or rubbing it might help your skin absorb the substance better.
Should I use a jade roller before or after cleansers?

Cleanse your skin well before using your roller. To prepare the skin, apply a serum or oil, but avoid rubbing it in completely so that the jade roller can glide over it without tugging.