Regular price
£99.95 GBP
Sale price
£49.95 GBP
Unit price
per
Sale
Sold out
Daily stress, environmental influences, dirt, and makeup all contribute to tired and dull eyes.
Combining thermal massage and vibration, this heated smart eye massager mask vibrating machine works on relieving your eye area of swelling and signs of tiredness, giving you eyes that are more awake and relaxed.
Relieving eye strain and fatigue caused by prolonged use of electronic devices or reading
Improving blood circulation to the eyes and face
Reducing dark circles and puffiness around the eyes
Alleviating symptoms of dry eyes, headaches, and insomnia
Helping to reduce stress and tension in the eye area
Improving sleep quality
View full details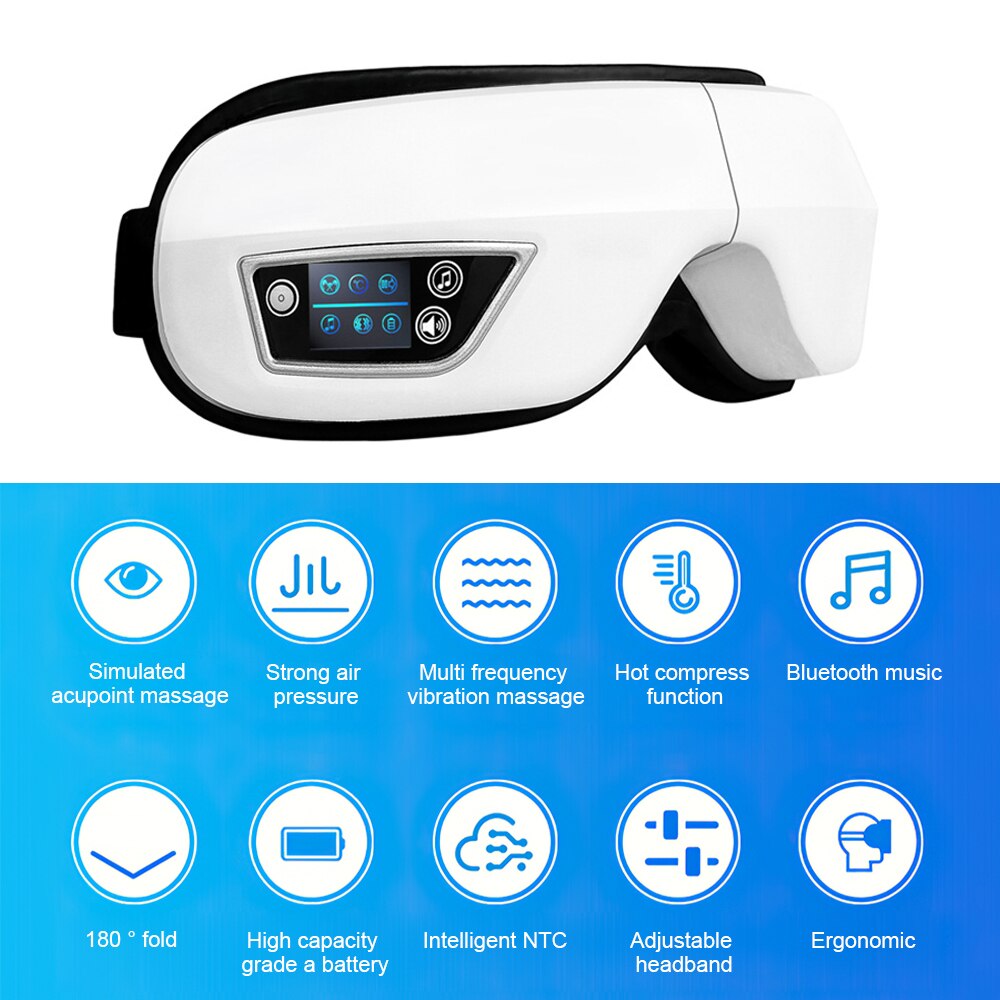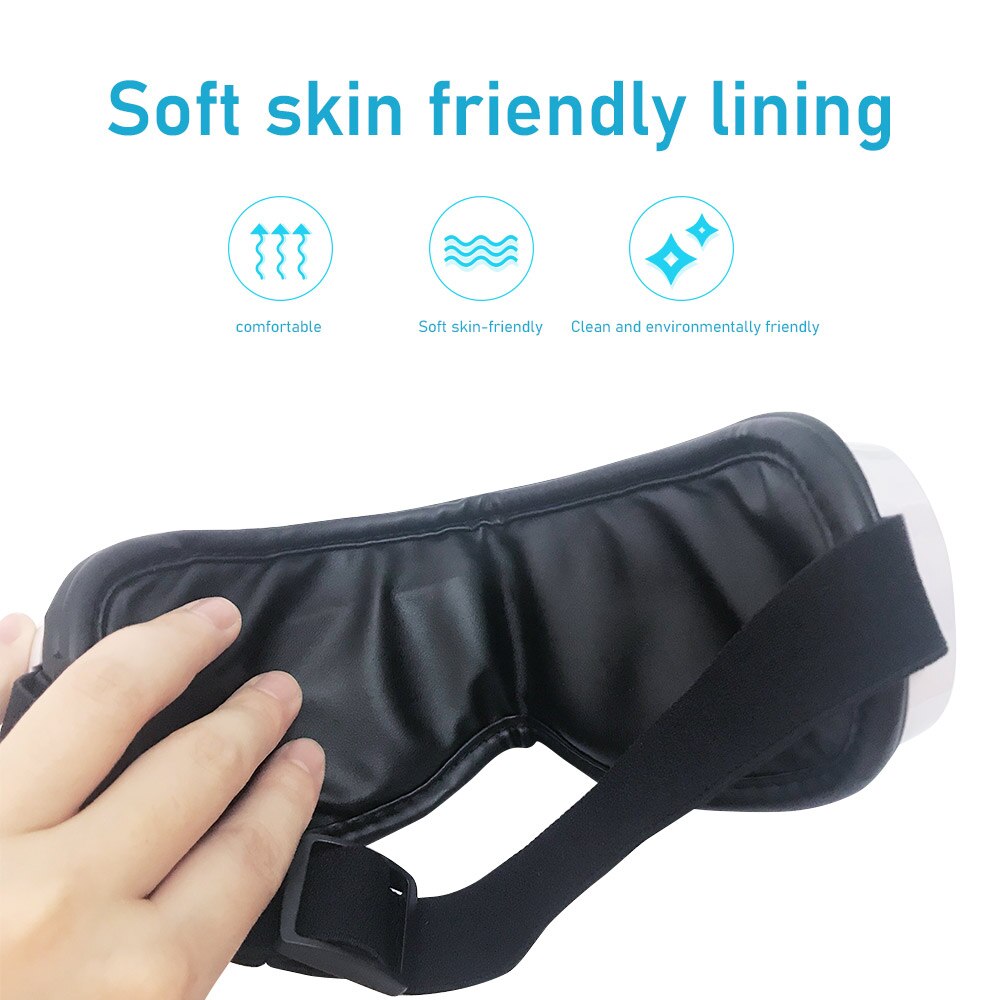 Designed with your well-being and eye-care in mind
Our eye massager pampers your eyes with gentle vibration massage for brighter looking eyes anytime, anywhere.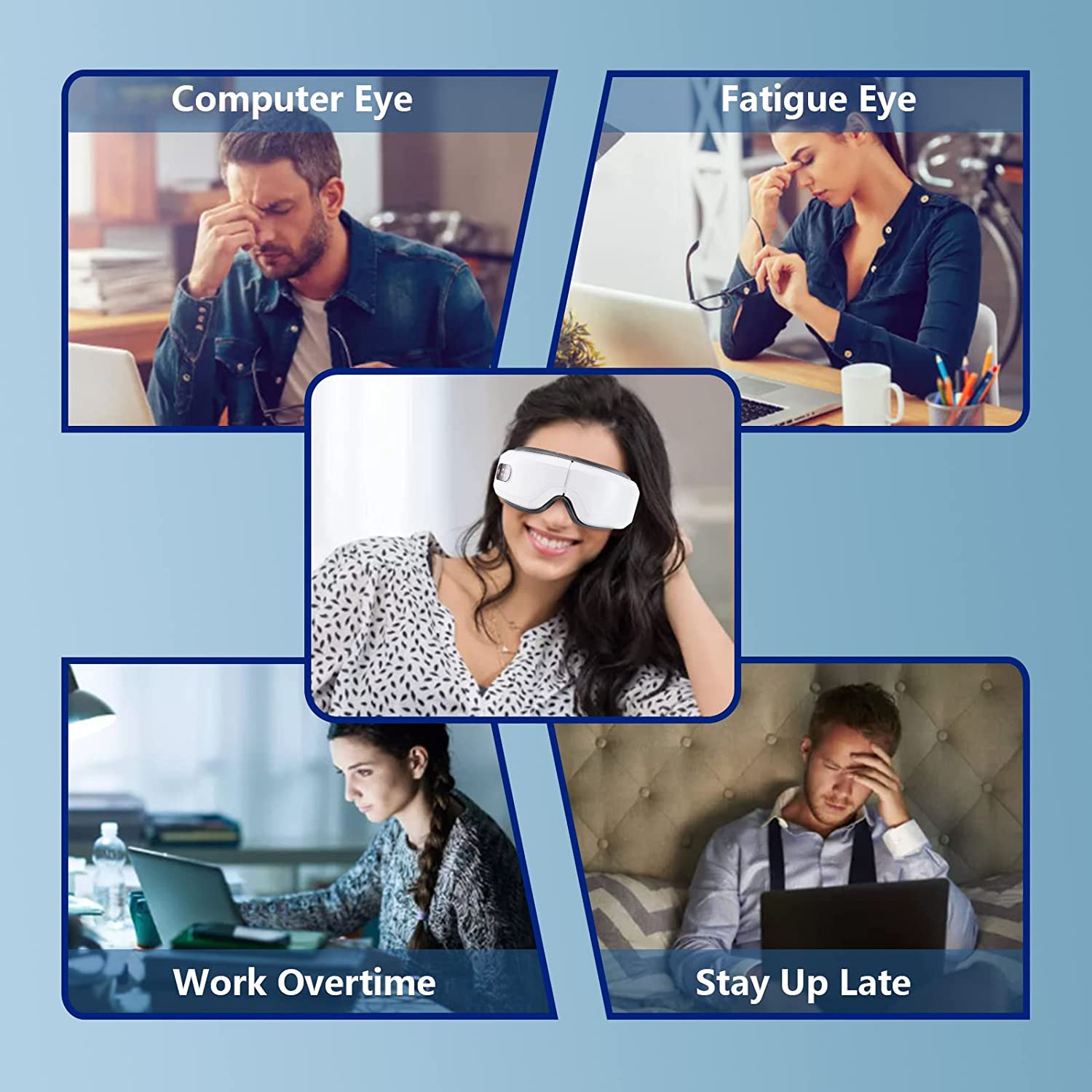 How does our product work?
The device simulates a manual massage around the eyes and temples by using a "push-squeeze-pinch-push" motion.
It also uses a hot compress to relax the eyes, and can play Bluetooth music to help alleviate fatigue. The device targets acupuncture points around the eyes to help relieve eye strain and tiredness.
What benefits can you get from our product?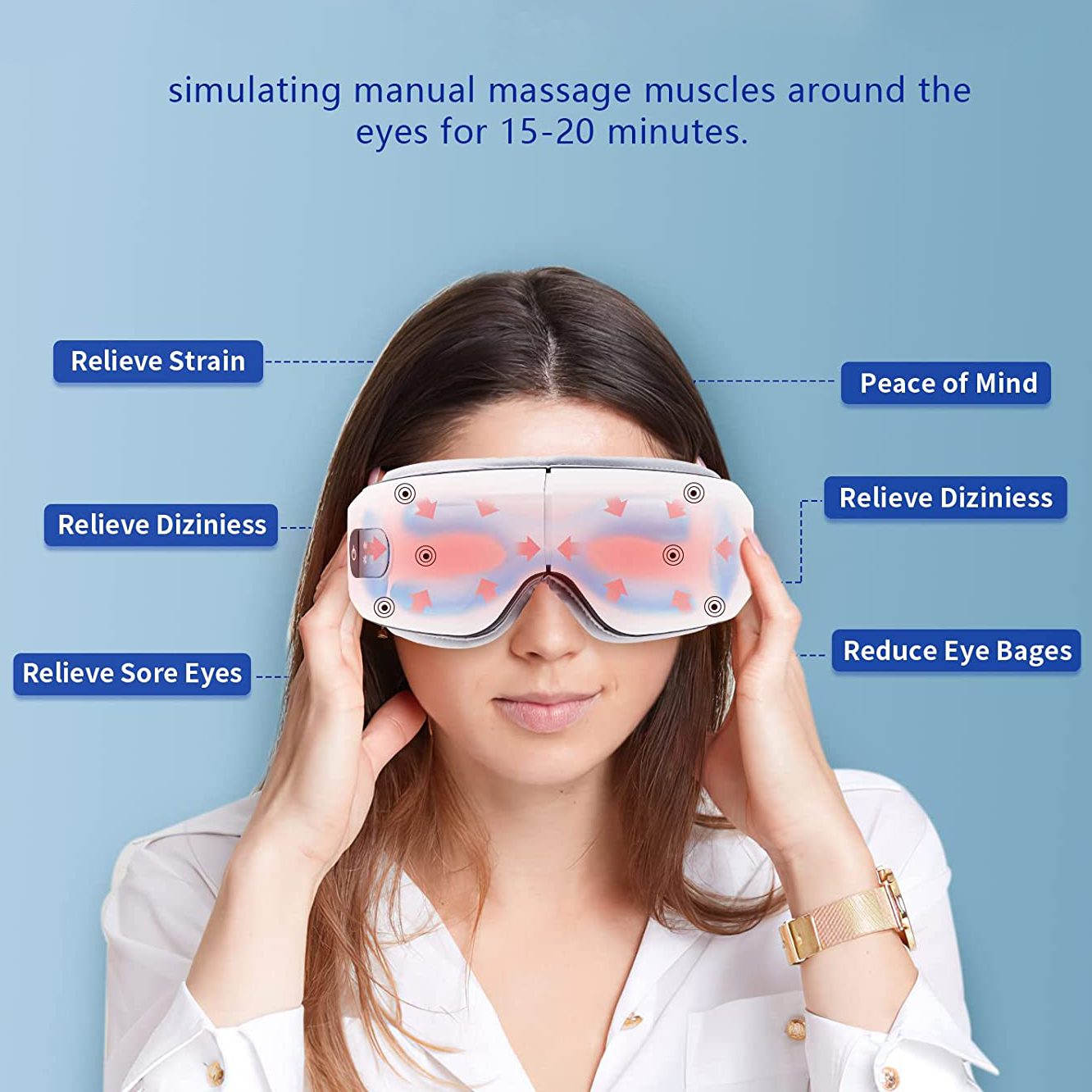 Eye relaxation with gentle vibrations
The smart eye massager's vibration massage helps to relieve tension and fatigue by relaxing your eye muscles and enhancing circulation around your eyes. It is especially useful while traveling.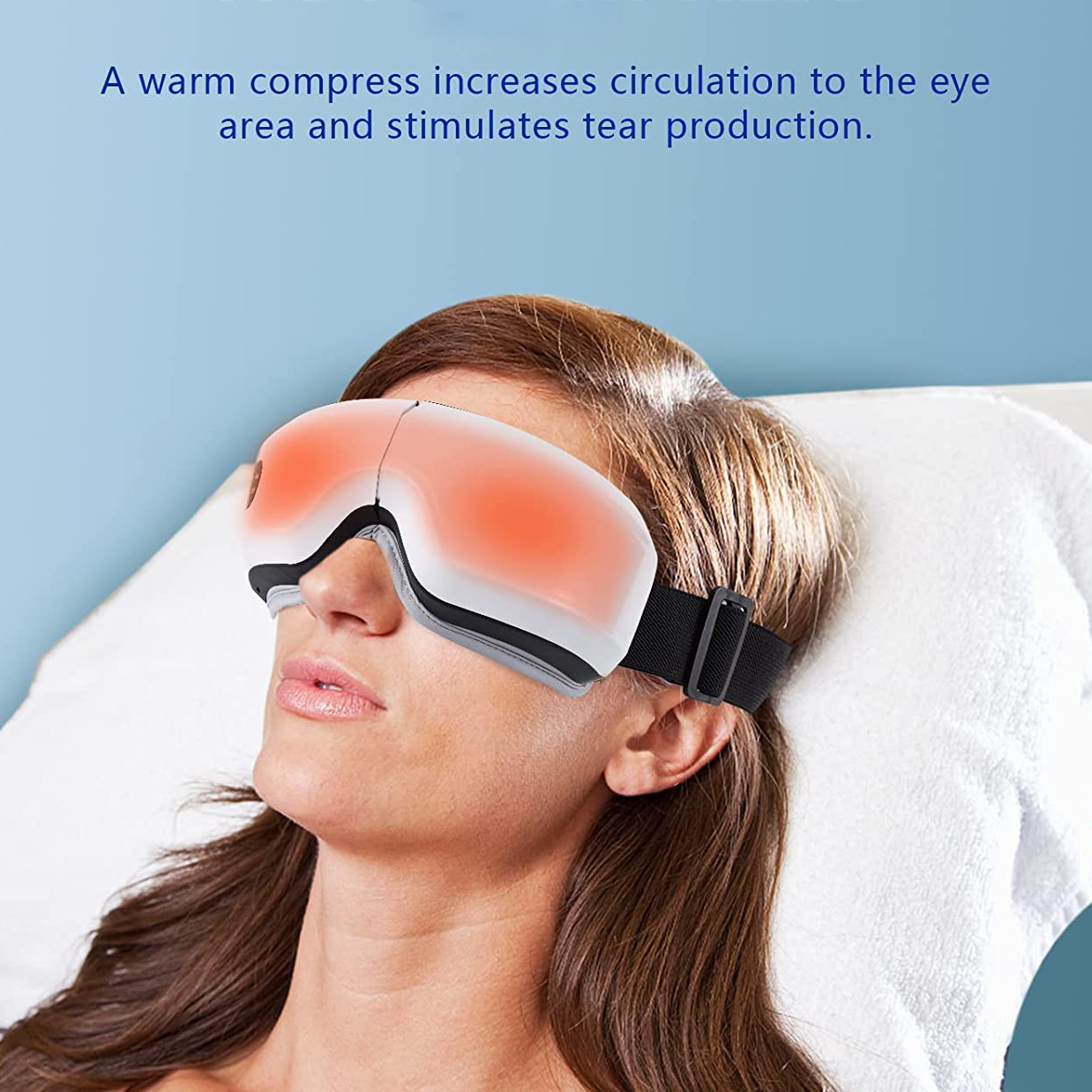 Soothing Comfort
Its soft, luxuriously velvety microfabric creates a peaceful and soothing effect. For a peaceful nap, the curved nose bridge cover efficiently hides light.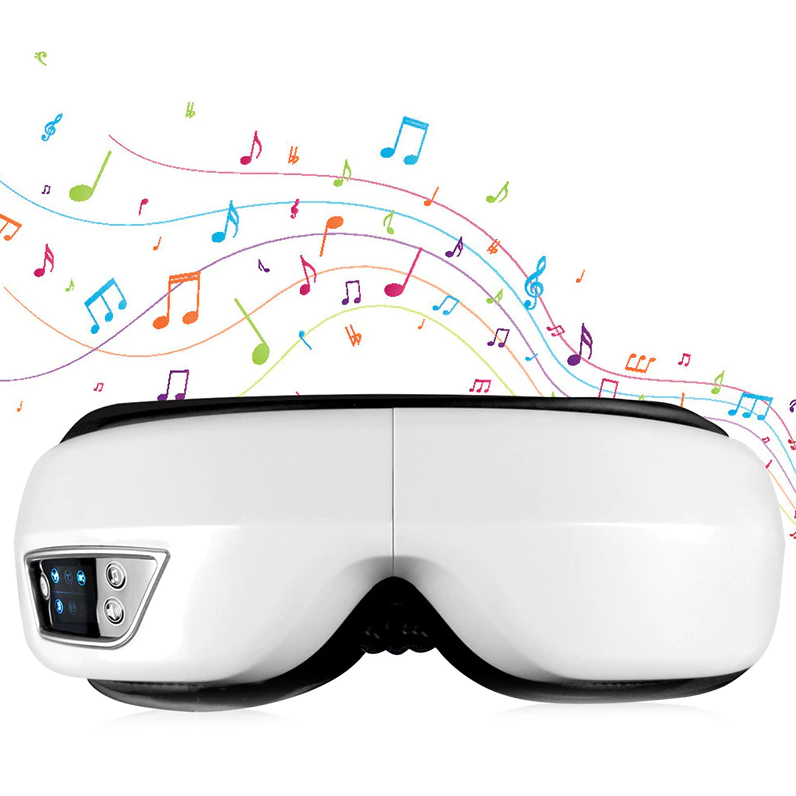 Listen to music while you relax
Our device allows you to play your own music through the device's speakers using Bluetooth.
Additionally, it has a voice broadcast function that informs you of the current function being used, even when your eyes are closed.
Main features
180 degree folding design, makes it easy to trasport anywhere
Long standby time (Fully charged, can be used about 7-10 times)
Multi-frequency vibration massage
Easy application, incredible results!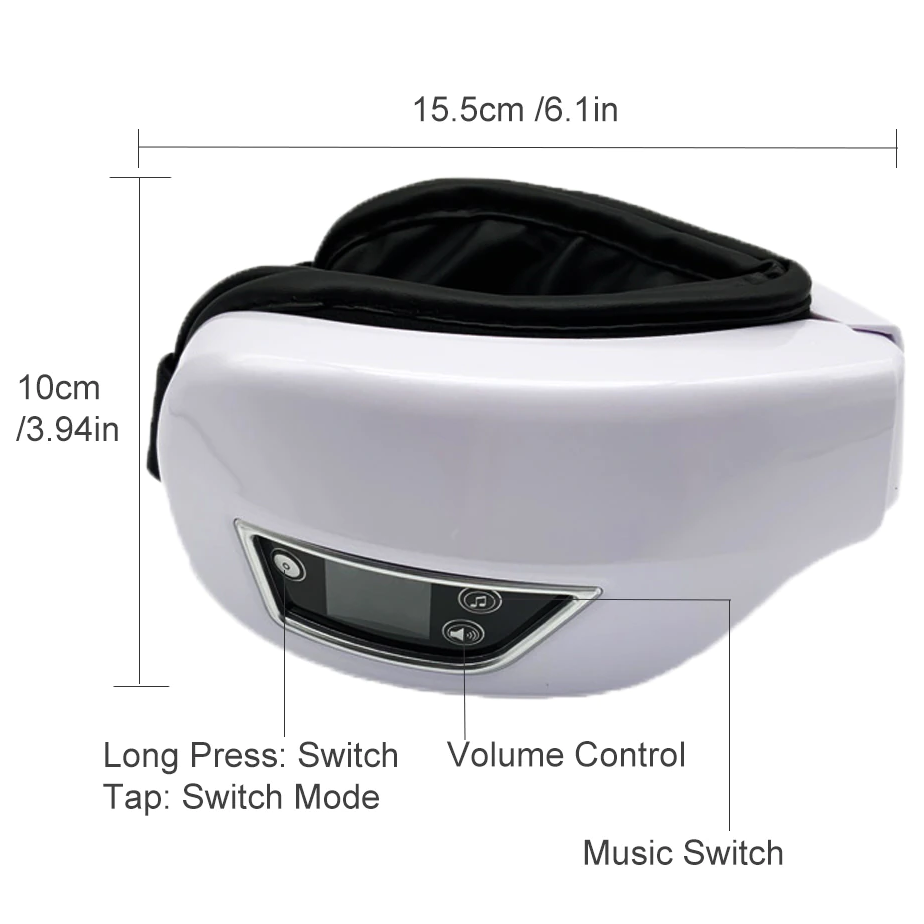 Four massage modes with one-button control
Eye Protection Mode: Offers massage function + music.
Nursing Mode: Offers massage function + music + hot compress function.
Strong Mode: Offers massage function + music + hot compress function + vibration massage.
Refreshing Mode: Offers hot compress function + music.
More info
Specifications

Product size: about 180*53*48mm
Input voltage: 5V
Use power: 5W
Battery capacity: 1200MAH
Charging time: 5 hours
Working time: 15 minutes(automatic shut-down)
Standby time: 30 days
Vibration power: 8000-10000
Compress temperature: about 28-50 degrees
What's in the box

Eye Massager *1
USB Cable *1
User Manual *1
2.5m Vision Monitor *1
Grey Gift Bag *1