Regular price
£49.99 GBP
Sale price
£34.99 GBP
Unit price
per
Sale
Sold out
Have you ever wondered whether there are any effective at-home remedies for getting rid of moles, warts, or skin tags? Well, the answer is yes. There is our Plasma Pen. With 9 levels of intensity, it will respond to your different needs.
How it works?
Our mole removal pen uses ionised carbonization technology to precisely manage the current, quickly dilute the melanin, and restore your beautiful skin without damaging the skin, causing bleeding, or having any negative side effects.
It has nine levels of adjustable scanning point power output that let it target different moles and areas. This makes it reliable and useful for a wider range of uses.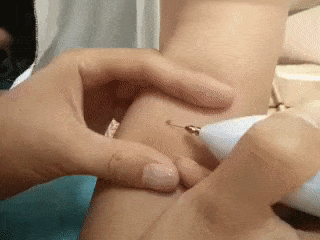 Have a clear face without pain
No pain no gain! Who said that?
With our 9 Level Plasma Pen, you can gain many benefits without hurting your skin. This Mole and Freckle Removal Pen can remove moles, warts, spots, freckles, tattoos, fleshy nevus and other unwanted blemishes without hurting the normal skin and without bleeding.
9 modes of use
For various treatment types, there are 9 levels of intensity. Spots and freckles are used at the lower level. The levels need to be high for skin tags and moles. Read the instruction book for further details (included). 
Level 1-2 (spots/freckles)




Level 2-3 (Birthmarks)




Level 3-4 (burns)




Level 5-6 (warts)




Level 7-9 (Tattoos)
Simple operation
The needle with light design and LCD screen make the operation easier and more convenient.
Note: this product comes with a user manual.
Key Benefits:
Simple to use at home
Dermatological testing demonstrates safety for use.
can be applied on your face, neck, and other body parts.

Moles, warts, granulation, freckles, age spots, tattoos, fat particles, and other skin tags can be effectively removed.

portable and practical.

No need to buy batteries because they are USB rechargeable.
Notes:
* If the diameter of the affected area is greater than 4mm, please consult a professional beautician or doctor.
* Do not touch the affected area with water for 15 days after use.
Specifications:
Material: ABS+copper needle
Color: white
Size: 15*2*2cm
Weight: 132g
Packing size: 19*8.1*3cm
Package includes:
1* Mole Removal Pen
1* USB Power Supply Line
5* Replace Needles
1* Thin Needle
1* Needle Head
1* User Manual
View full details