Regular price
£59.99 GBP
Sale price
£39.99 GBP
Unit price
per
Sale
Sold out
DO YOU WANT TO HAVE A CLEAN HEAD SHAVE EVERY DAY AND LOOK LIKE A MAN?
A rotary design razor is the greatest all-around solution in terms of simplicity of usage and efficiency.
View full details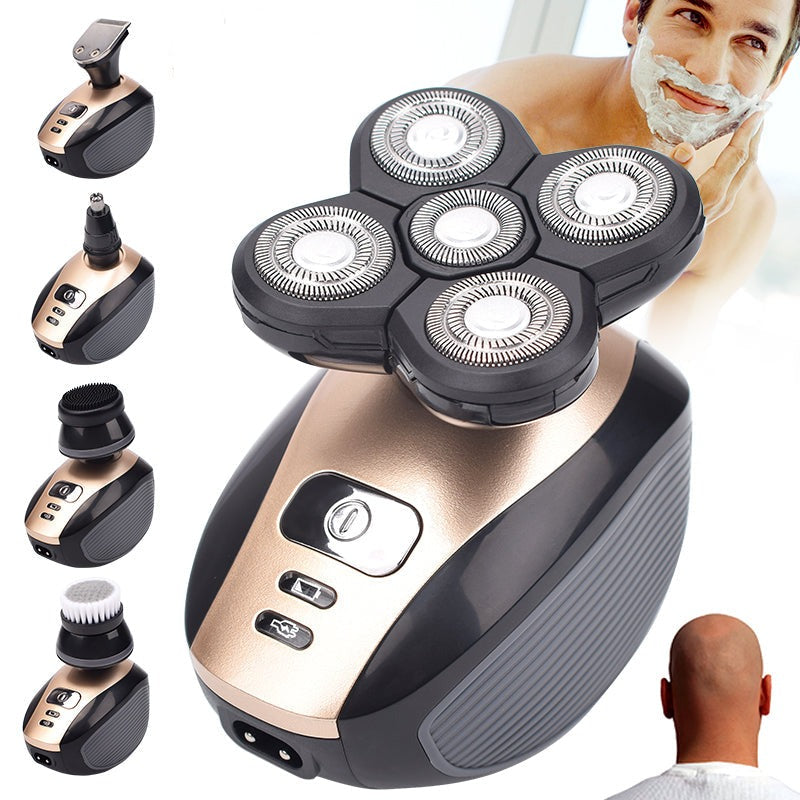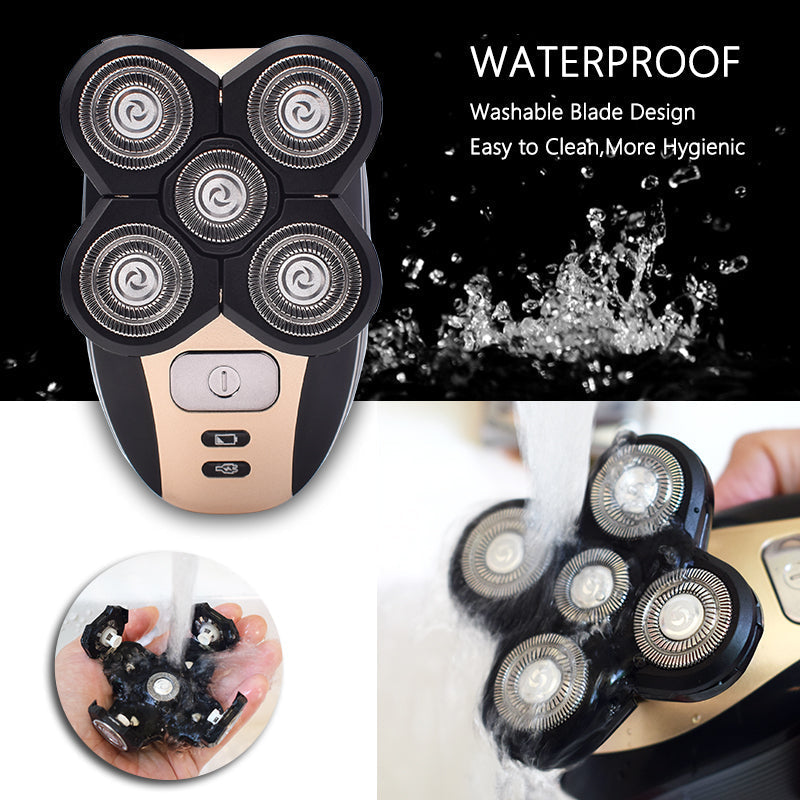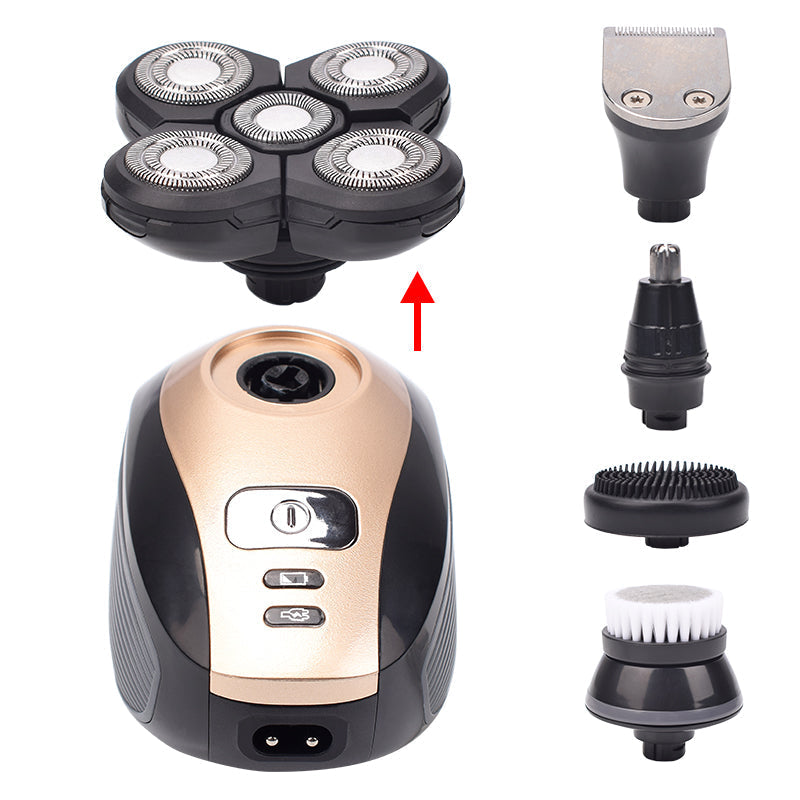 The 5 in 1 electric shaver provides a shave that is as similar to that of a safety razor without the scraped-skin sensation. The electric razor gives a clean and close shave, whether your hair lies flat, stands up, or grows in an unusual direction, thanks to its five floating head design.
Easy and quick shaving like a professional
Without the need of anyone, you will be able to shave all of your head in a quick and professional way. Even at the hard-to-reach back of the ears, it will remove every single hair thanks to its floating head design.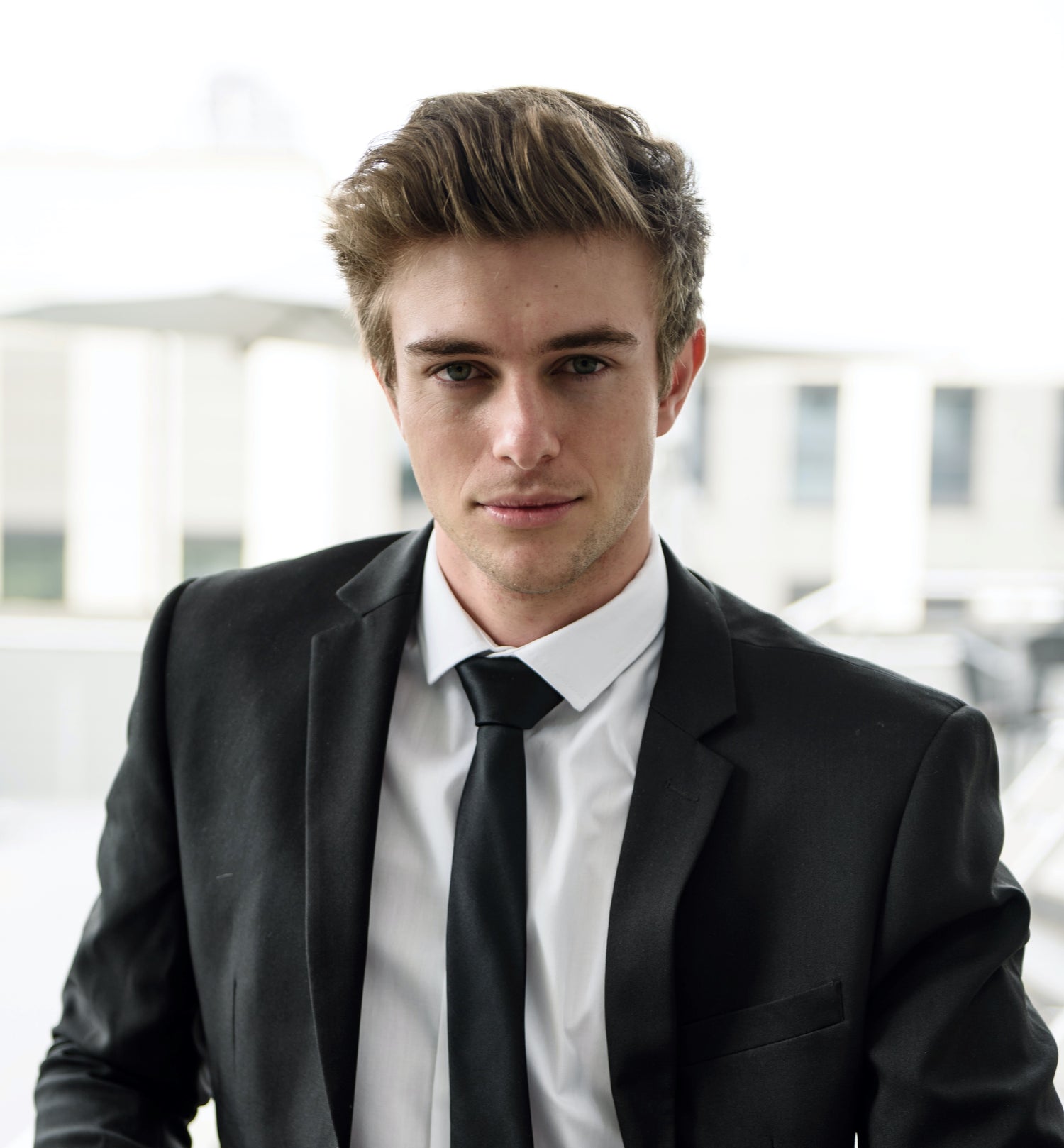 A good suit and, of course, good shaving is all you need!
We all agree that any professional man has to be well shaved every single day, this not only makes him look handsome but also gives the impression that he is a consistent and disciplined guy.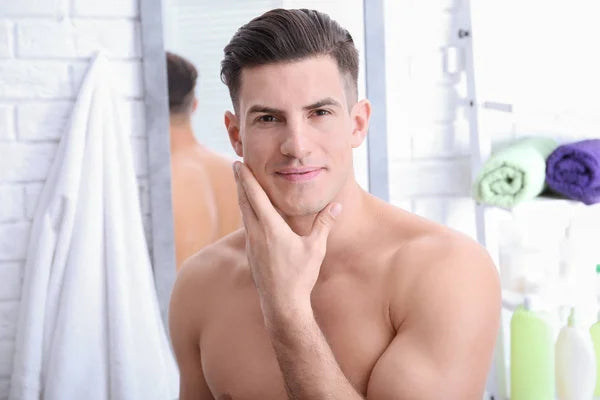 Feel the smooth touch of your chin with no more burns or skin irritations
Our 5 In 1 Electric Hair Razor makes shaving more enjoyable like never before! Owing to its revolutionary design, there will be no more annoying small bumps, redness or irritation after shaving.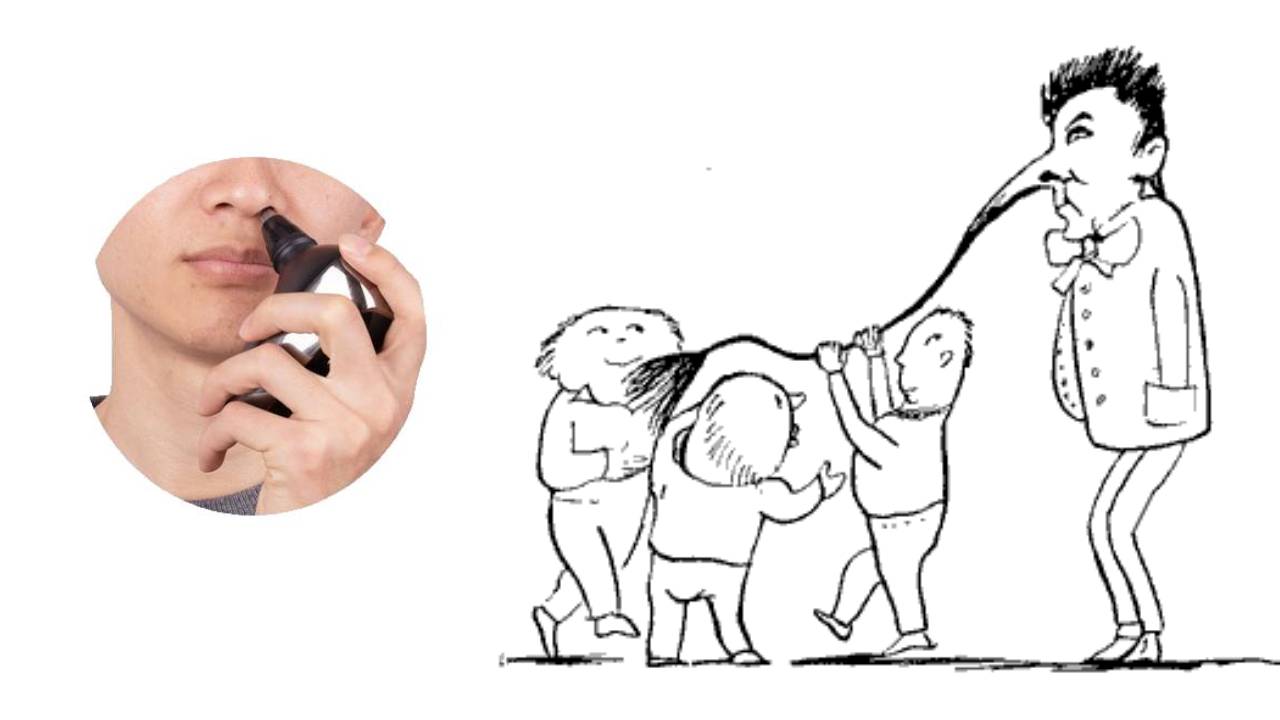 Removes long disturbing nose hair
Some people find it very irritating and embarrassing to have long nose hair. No worries! Our 5 In 1 Electric Hair Razor can do the job again safely and quickly.
WANT MORE OPTIONS?
Our 5 In 1 Electric Hair Razor is used also to take care of your hair and face.
Pre-shave massage brush

Softens stubble and prepares the skin for shaving.

Ergonomic Design

Trim, shape and style facial hair.

Deep clean facial brush

Removes, impurities and energies the skin.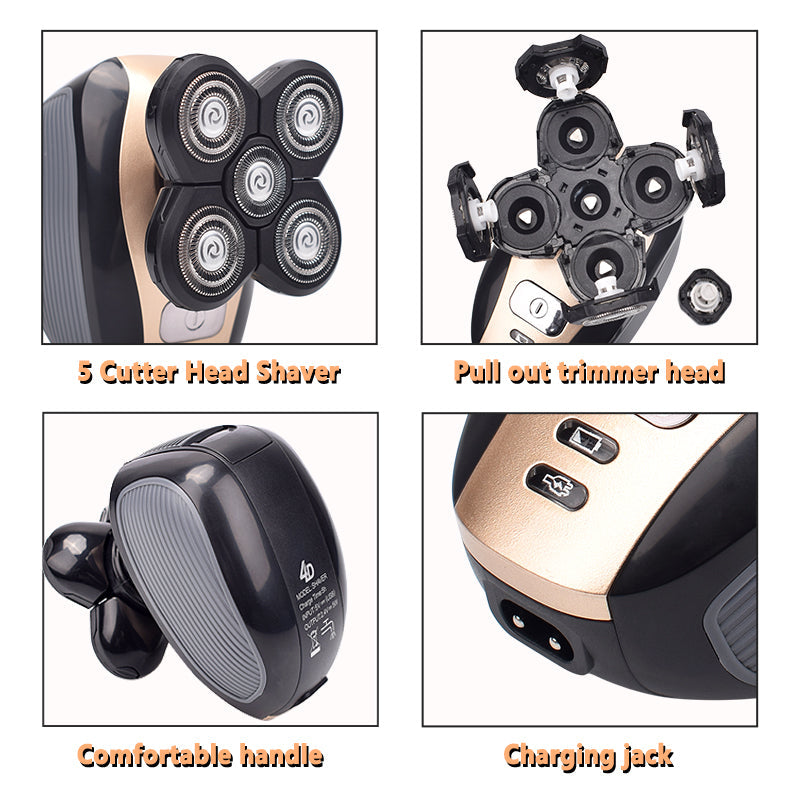 The small size makes it ideal for bringing along on vacation or while travelling.
Its special features include a strong lithium battery and multi-purpose shaver and grooming heads. Not forgetting to mention that our razor is waterproof so you can even use it in the shower!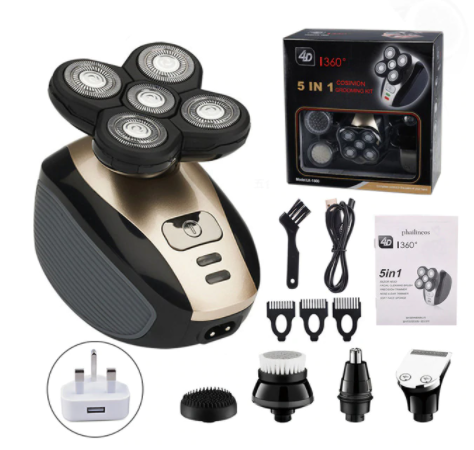 PACKAGE INCLUDES:
1 x 5-in-1 Electric Shaver & Grooming Kit
1 x Charger
1 x Nose and ear trimmer head (with protective cover)
1 x Precision trimmer head
1 x Soft sponge brush
1 x Facial cleaning brush (with protective cover)
3 x Limit comb (3,5,7mm)
1 x Cleaning brush1 x User manual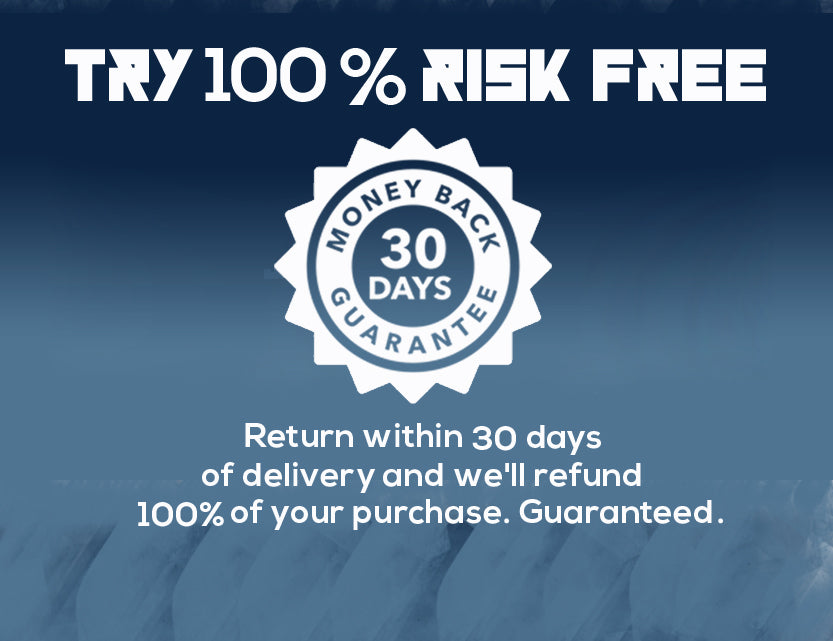 Didn't see the results you expected from The 5 In 1 Electric Hair Razor?
You're covered by our 30 day money back guarantee. If you are unhappy with your purchase, please return the merchandise and receive a full product refund for your order less any shipping and processing.
Common Questions
Does 5 In 1 Electric Hair Razor leave razor burns?

No, Either you use the 5 In 1 Electric Hair Razor on your head or face, wet or dry it leaves no burns.
How can I clean the centre blade?

To remove it, pull it out after opening the side blades and grabbing and twisting the central blade (there are little arrows). When you reinstall it, ensure sure the flat sides are aligned with the side blades when they are closed up (after it has been twisted back into place).
How can I open the 5-heads to clean it?

The main head twists off and the outside heads tops spring forth with the help of your fingers. Simple to do. Be kind, please.
Do I need to use oil or foaming shave for 5 In 1 Electric Hair Razor?

Not at all, it functions quite fine on its own.
What kind of material the blades are made of?

The blades are made of Skin-friendly and long-lasting stainless steel.
Is there a place where all the hair after shaving is collected?

Yes, the hair remains within the shaver, and after you're through shaving, you may rinse or brush the hair out.