Regular price
Sale price
£23.95 GBP
Unit price
per
Sale
Sold out
Experience Refreshed Skin Anywhere with the 2-in-1 Portable Facial Steamer and Skin Tester Nano Mister

Are you tired of dry, dull skin?
The 2-in-1 Portable Mini Facial Steamer and Skin Tester Nano Mister is here to provide you with a deep hydrating spa-like experience wherever you go. Its compact size makes it perfect for on-the-go skincare, while its dual functionality allows for both facial steaming and skin testing for personalized skincare.

View full details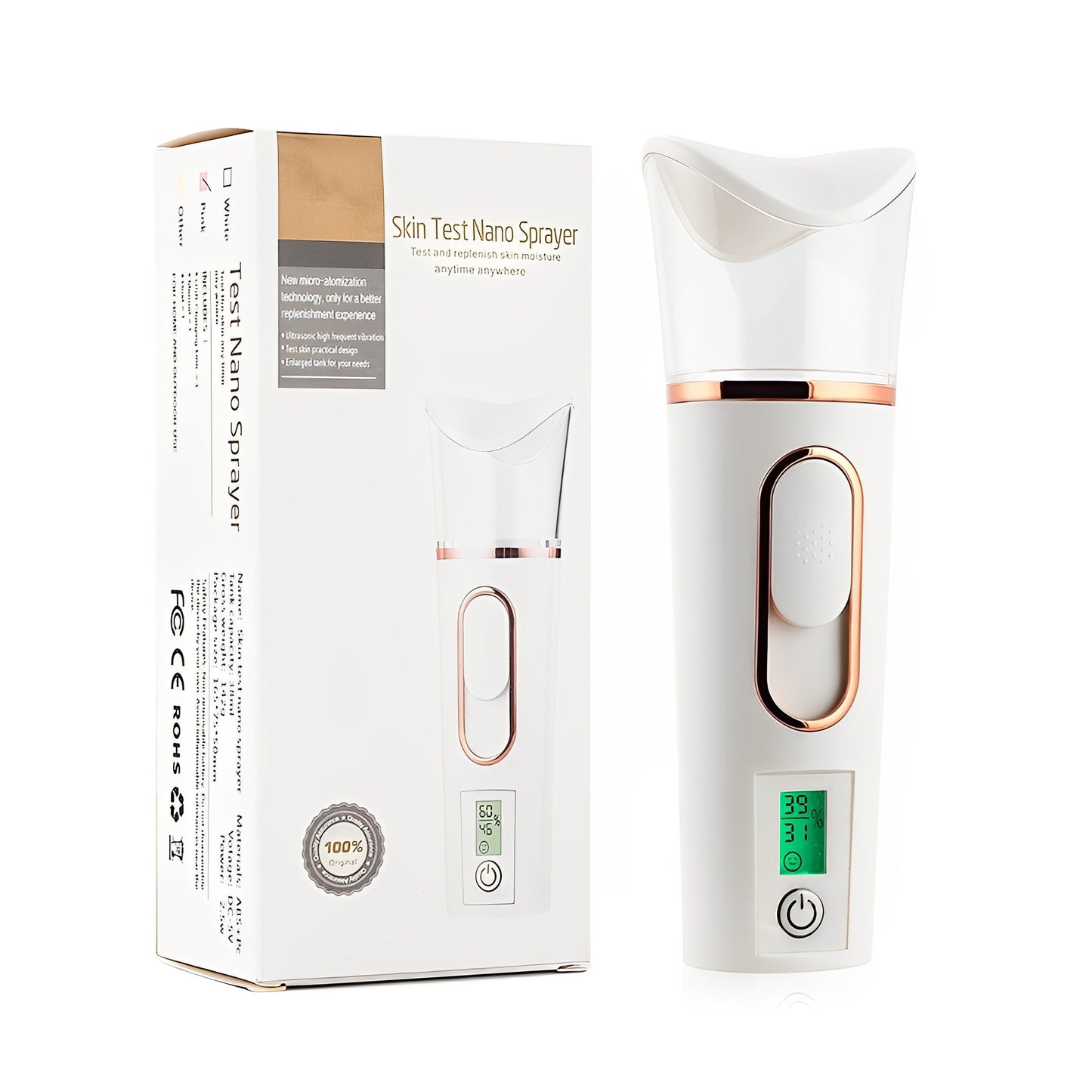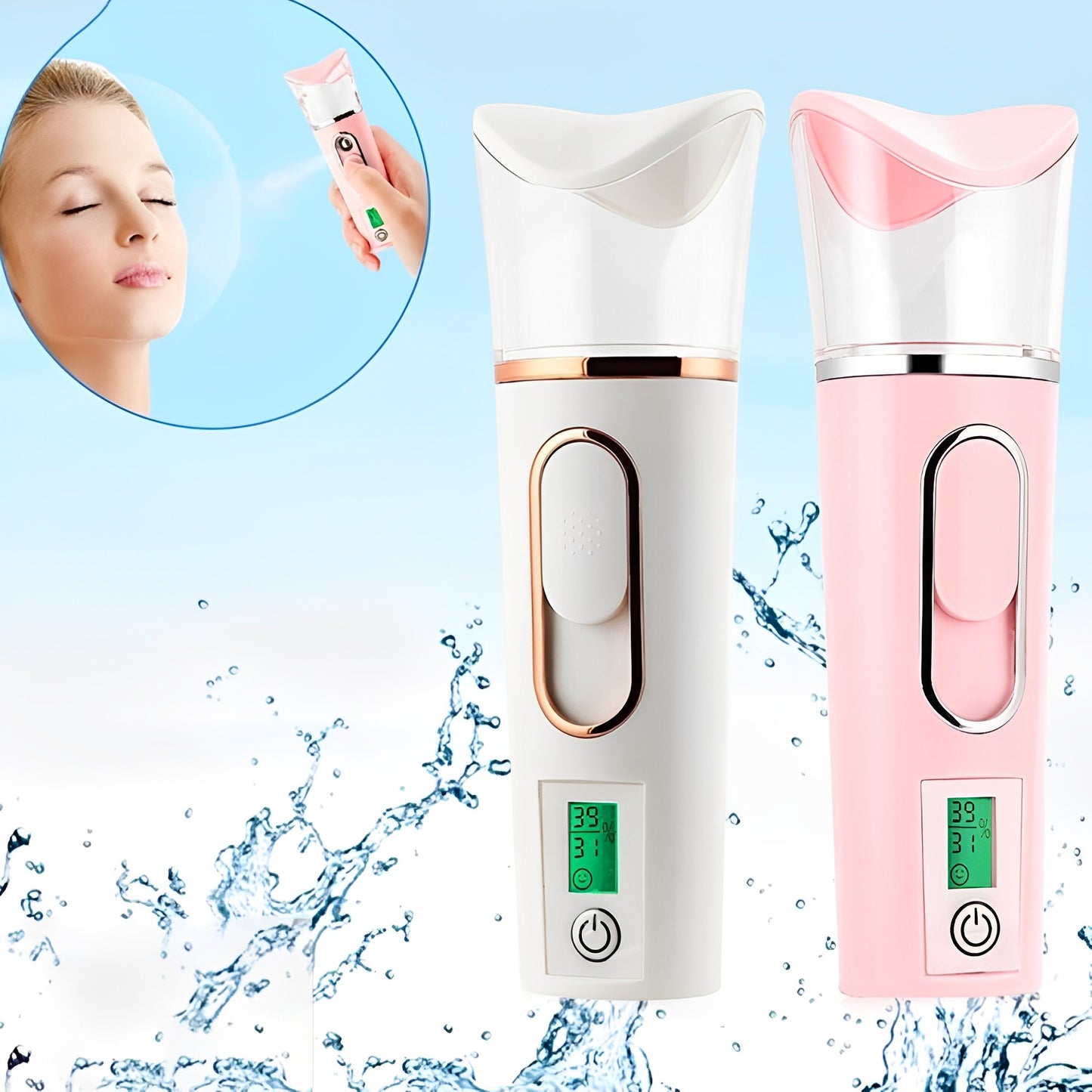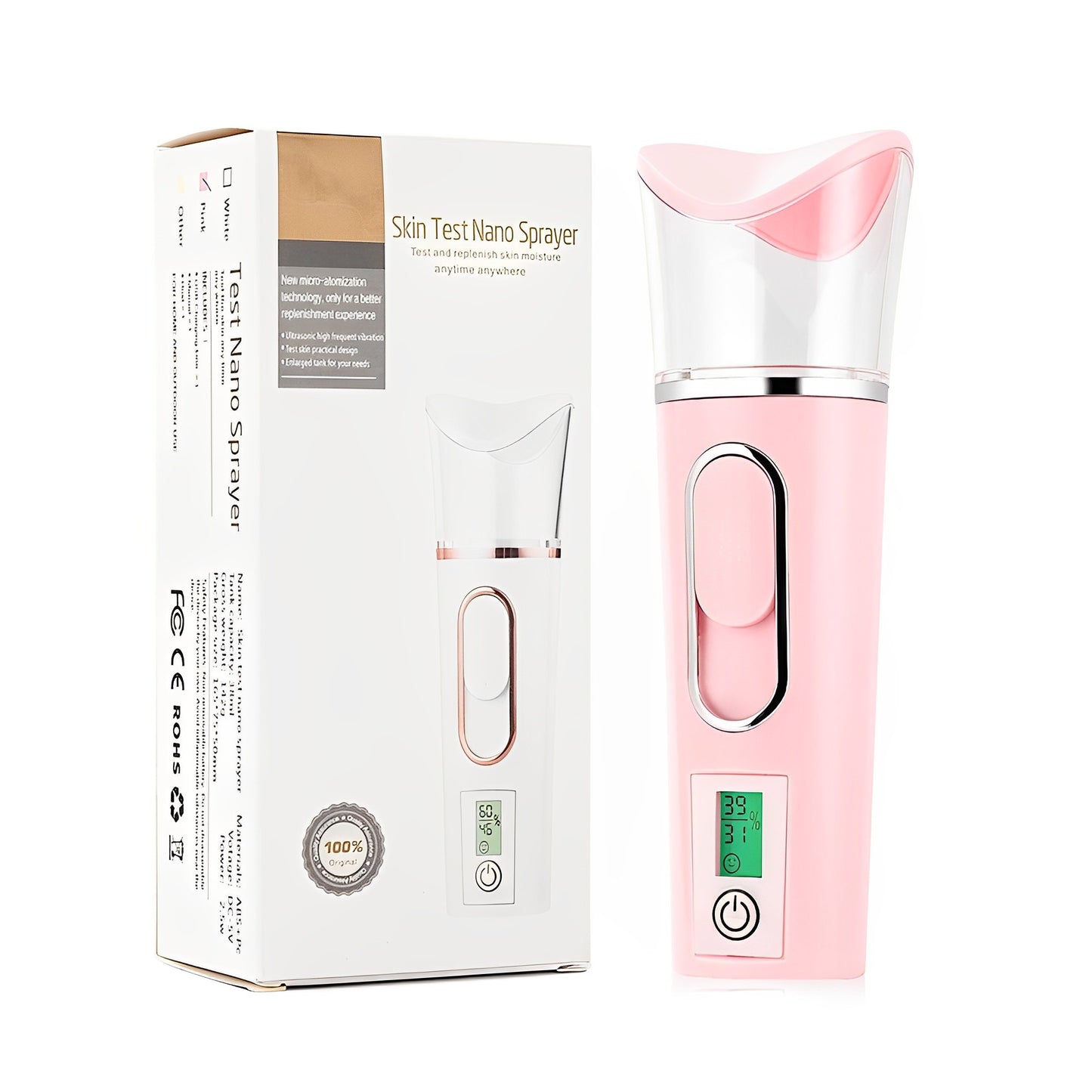 Experience the power of ultrasonic technology and skin detection in the palm of your hand
with the multifunctional mist sprayer that moisturizes, balances oil levels, and calms sunburned skin for a healthy and rejuvenated look!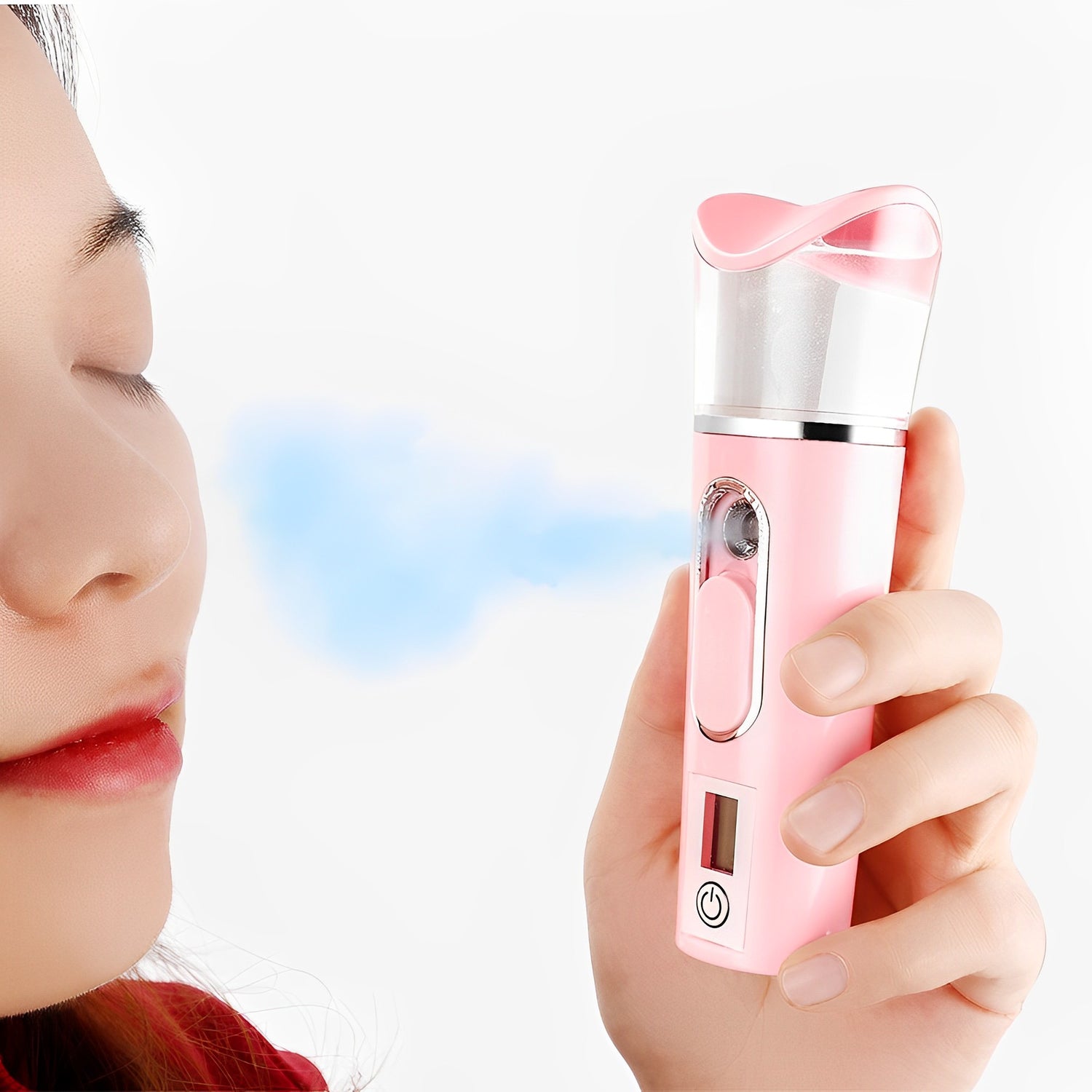 How does it work?
The 2-in-1 Portable Mini Facial Steamer uses ultrasonic nano technology to split water molecules or skincare lotion into tiny nanometer particles for deep skin penetration. It produces a fine mist that provides deep hydration, balances oil and moisture levels, and calms sunburned skin.
What benefits can you get from our product?
Deep hydration and moisturization
With its ultrasonic nano technology, the 2-in-1 Portable Mini Facial Steamer is able to penetrate the skin and effectively moisturize it, resulting in a refreshed and hydrated complexion.
Multifunctional mist sprayer
This product not only provides facial steaming but also has a skin detection function that measures oil and moisture levels, and a power bank function for charging devices. It can produce cool mist that can be used for moisturizing the skin without ruining makeup.
Calms sunburned skin
The steamer can be used to soothe sunburned skin and reduce redness and pain. It provides a gentle and cooling mist that can be sprayed on the face, neck, arms, and legs.
Balances oily skin
The 2-in-1 Portable Mini Facial Steamer can remove dirt, oil, and impurities, and control the oil-water balance of the skin. It can also reduce fine wrinkles and skin sensitivity, resulting in a brighter and fresher complexion.
Main Features
Portable convenience
Skin detection
Ultrasonic technology
Transform your skincare routine with the 2-in-1 Portable Mini Facial Steamer and Skin Tester Nano Mister
your ticket to hydrated, refreshed and glowing skin on-the-go!
Step 1

Turn counterclockwise to open the water tank.

Step 2

Put into mineral water or milk.

Dilute the pure milk, toner, pure dew and so on according to the ratio of 10% to 90% before adding and do not overfill.

Step 3

Rotate 90 degrees clockwise to tighten

Step 4

Double press the button to start spraying.

Before putting on makeup: the recommended distance is 9-11cm of the face.
After putting on makeup: the recommended distance is 13-15cm of the face.
More info
Specifications

Item Type: Facial Mister
Color: White/Pink
Material: ABS
Capacity: 38ML
Input: 5V
Weight: 105g
Size: 4.5*14cm/1.77*5.51in
What's in the box

1*Facial Mister
1*USB
1*Manual
1*Box

FAQs

Is the facial steamer portable?
Yes, the 2-in-1 Portable Mini Facial Steamer is compact and lightweight, making it easy to carry in your bag or purse.

How does the skin detection function work?
The skin detection function measures the moisture and oil levels of your skin and displays the results on the LCD screen. This helps you determine the best skincare routine for your skin type.

Can I use this product on other parts of my body besides my face?
Yes, the mist sprayer can be used on other parts of the body, such as the neck, arms, legs, and even hair. It provides all-around water replenishment for the entire body.

Does the mist sprayer ruin makeup?
No, the 2-in-1 Portable Mini Facial Steamer produces a fine cool mist that won't ruin your makeup. It refreshes the skin while keeping your makeup intact.

How often should I use the facial steamer?
It is recommended to use the facial steamer once or twice a week, or as needed. Overuse can cause skin irritation, so it's important to follow the recommended usage instructions.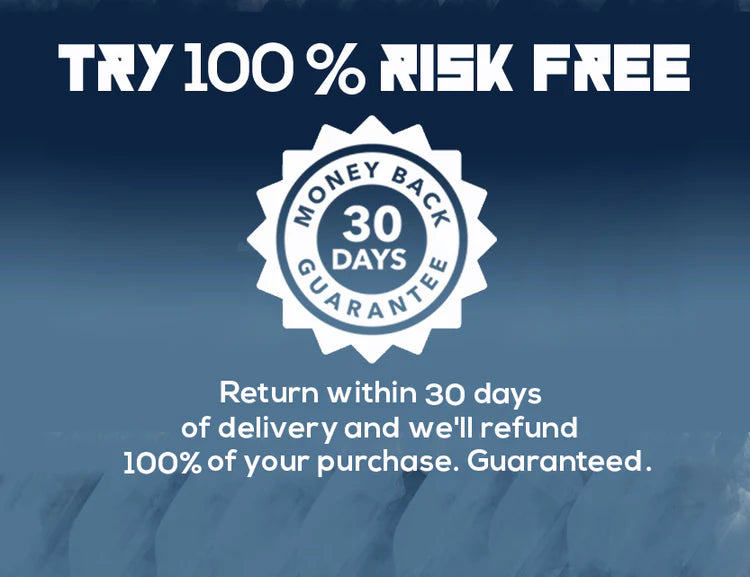 Didn't see the results you expected from our product?
You're covered by our 30 day money back guarantee. If you are unhappy with your purchase, please return merchandise and receive a full product refund for your order less any shipping and processing.