Regular price
£39.99 GBP
Sale price
£23.45 GBP
Unit price
per
Sale
Sold out
If you have to stand for 8 hours or more at work or you regularly exercise, recovery is crucial to include in your daily routine. This EMS foot massager might be helpful since it aims to reduce tension and ease knots and sore arches.
You can achieve progressively higher levels of well-being thanks to its several different levels of intensity. This will make you heal faster and perform better.
Your sore feet and lower leg muscles may be soothed easily, and blood circulation will be improved thanks to EMS innovation.
View full details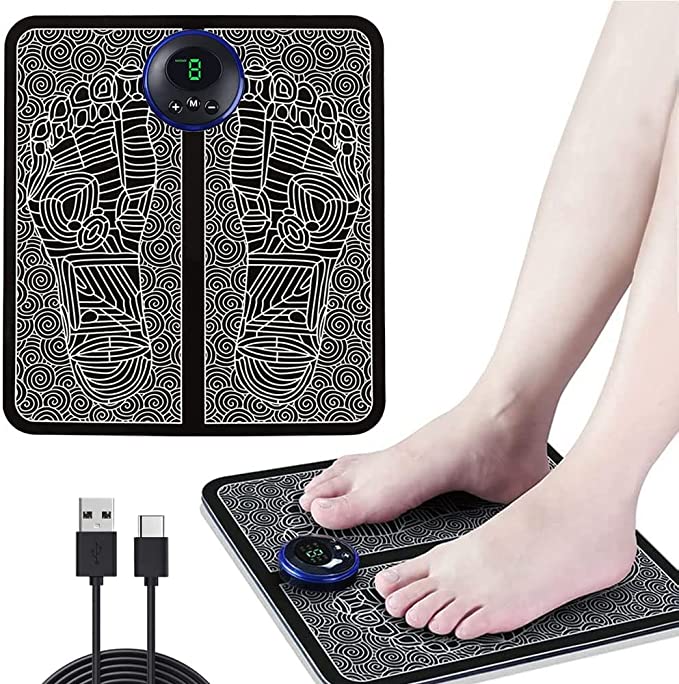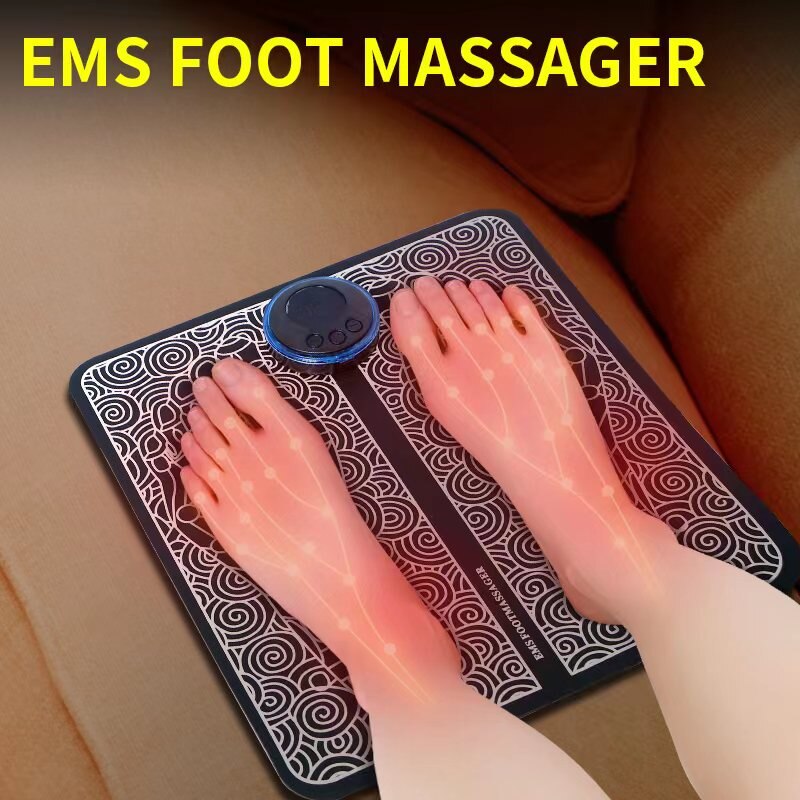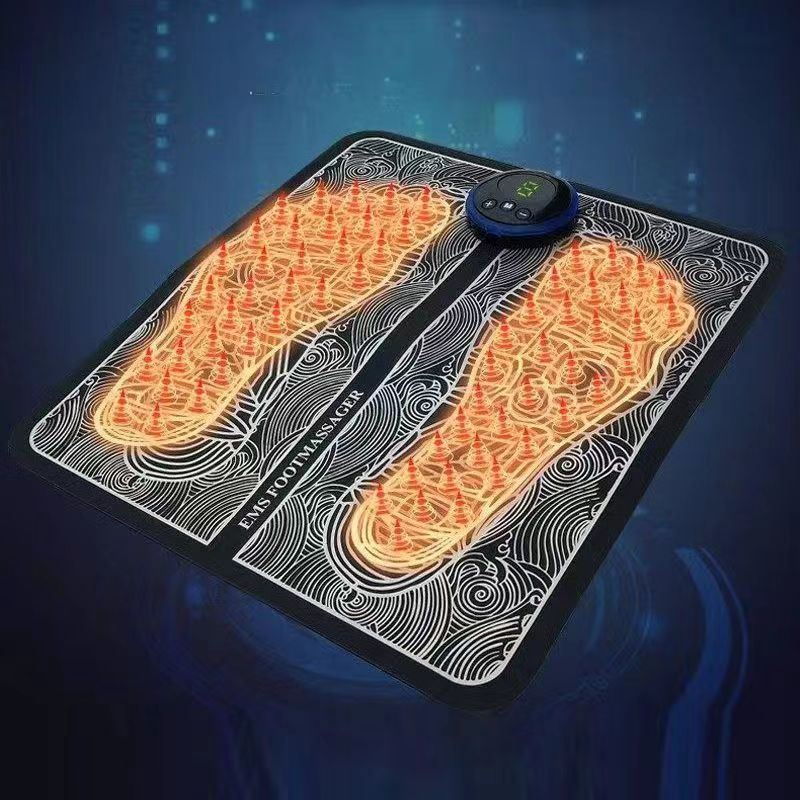 With EMS, this travel-friendly foot massager targets pressure areas on the bottoms of your feet (electrical muscle stimulation). It has the ability to energise worn-out muscles and ease sore legs. EMS is suggested by physicians and docters since it helps enhance circulation and vascular health. This foot massager is great for providing a wonderful respite after exhausting touring or shopping excursions since it is so portable and light.
Our Ems Foot Massager restarts blood flow and relaxes tense foot muscles
Using EMS pulse technology, this foot massager imitates a real foot massage. Both bigger and smaller feet may benefit from the broad flat foot mat design. Your heels, arches, soles, and toes benefit from electric pulses by having more blood flow there.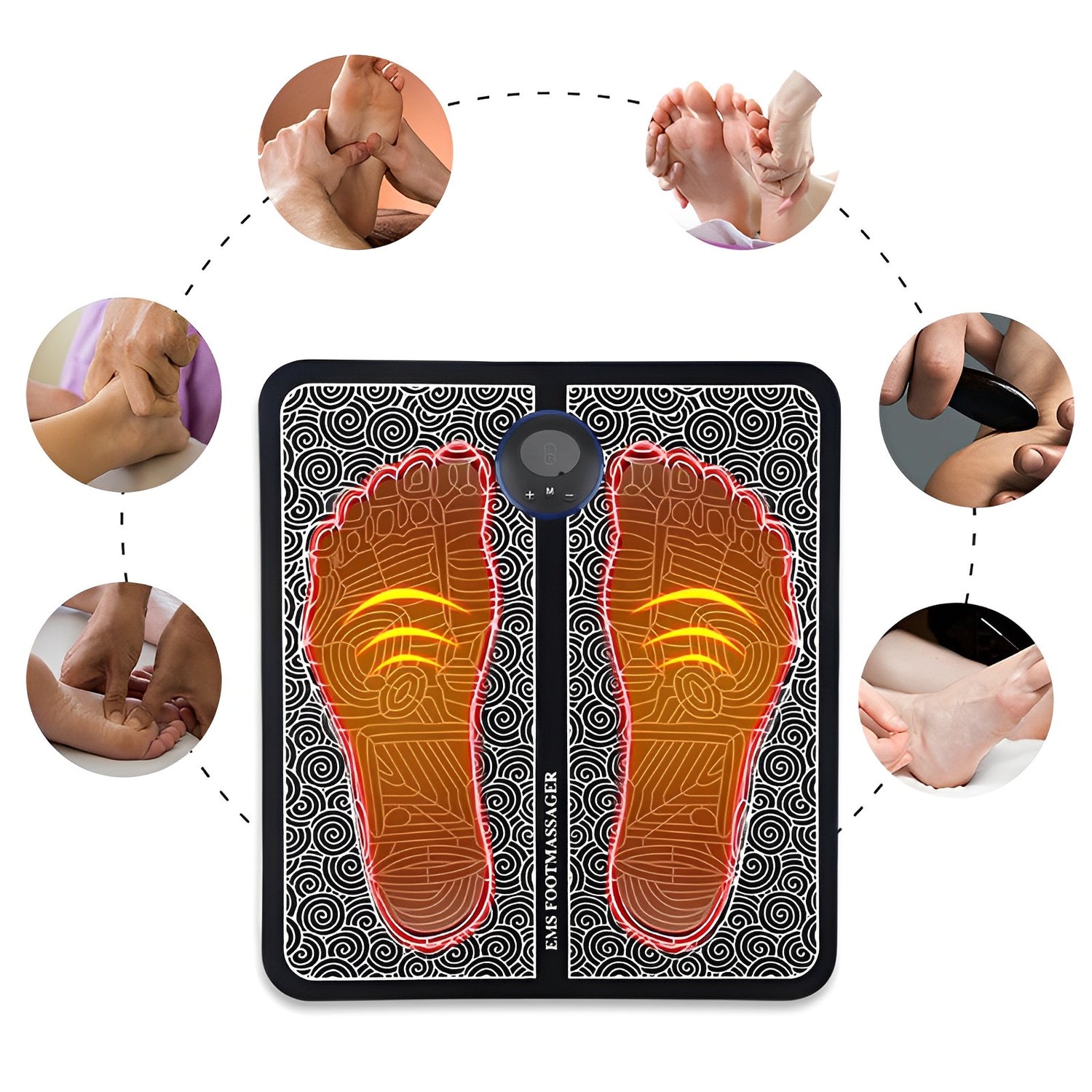 Relieves foot and leg pain
The low frequency used by this electric foot massager helps patients manage their pain until it completely vanishes.
It will aid in relieving your foot's muscles of tension and relax your toes, ankle, feet, and calves.
Improves blood circulation
The circulation foot massager is an EMS (electrical stimulation treatment) foot circulation gadget that employs electrical stimulation therapy to provide microcurrent pulses to neuromuscular muscles and enhance circulation in the feet. The acupuncture points on the legs correspond to various regions of the body. To achieve the greatest level of relaxation, this foot massage circulation will operate deeply and efficiently.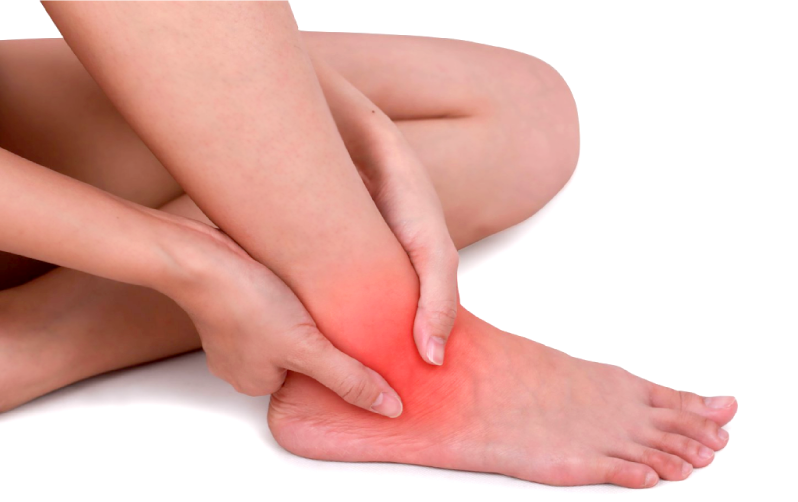 All in one solution
In addition to improving blood circulation our Ems Foot Massager traits all these problems :
-Tendinitis
- Bursitis
- Types of Arthritis
- Difficulty standing or being active on one's feet for long periods of time
- Arch pain from wearing heeled shoes
- Acute injuries

Helps You Become Beautiful and Healthy
The use of electrical impulses to increase muscular contraction, decrease edoema, and provide a more ideal appearance are all benefits of using an EMS leg reshaping foot massager.
The foot massage mat also promotes muscle development, giving rise to an attractive and healthy physique.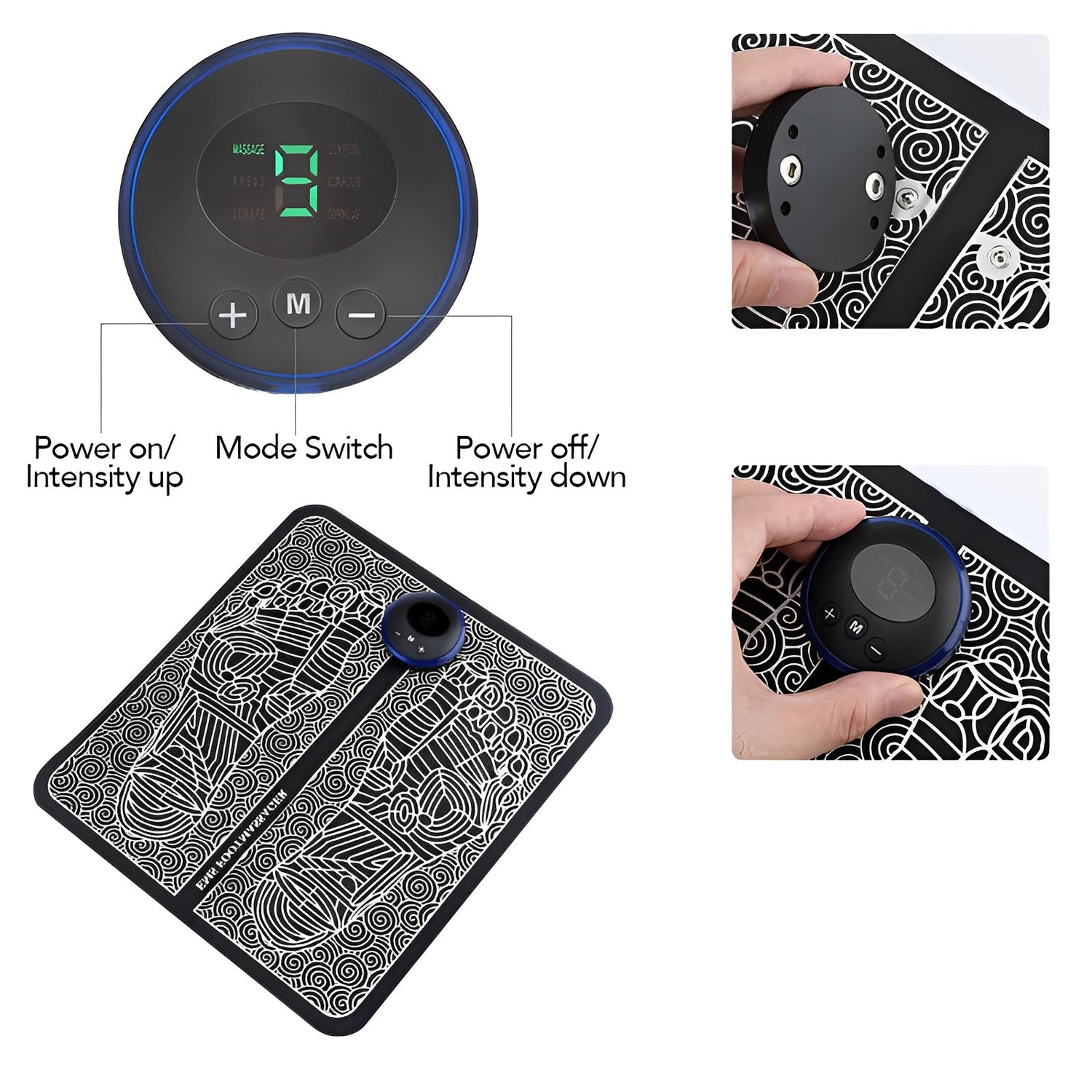 Works like a professional foot massage
With 6 massage modes and 9 intensity settings, this foot massager offers comfort for both your feet and your body. To suit individual tastes, the intensities may be changed.
6 Vibration modes:
Mode 1 - Massage
Mode 2 - Knead
Mode 3 - Scrape
Mode 4 - Elbow Pressing
Mode 5 - Acupuncture
Mode 6 - Cupping Jar

Easy and Gentle to Clean
The foot massager machine is composed of a supple yoga mat with a leather surface, and it is simply cleaned with a damp cloth. You may use the foot spa massager while watching TV, reading a book, or working in the office since it operates quietly and efficiently. The foot massager should not be washed or submerged in water.
Leaving behind foot discomfort and bringing in strong, healthy feet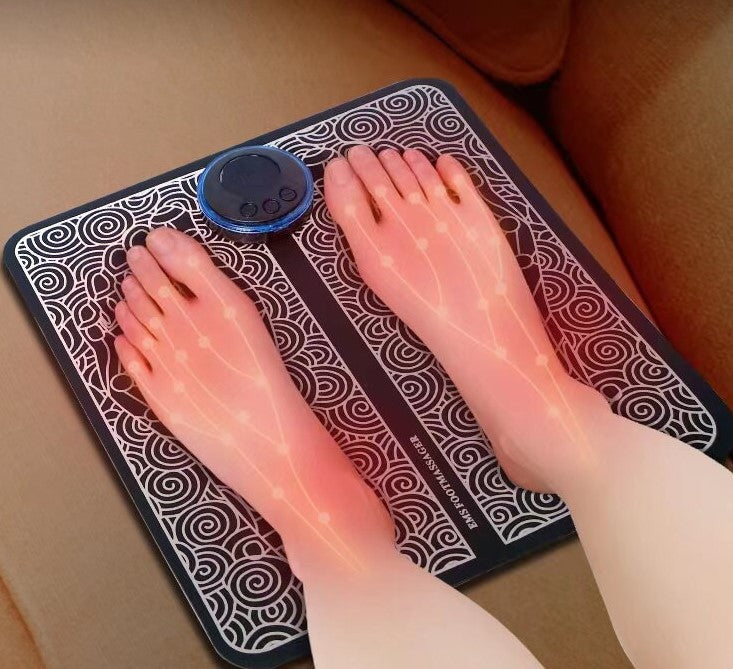 Easy and simple to use.
Step 1: secure the gadget to the foot mat.
Step 2: Put both of your feet on the mat.
Step 3: To change intensity and turn on/off power, use the "+" or "-" buttons.
Step 4: Press "M" to cycle between the six modes.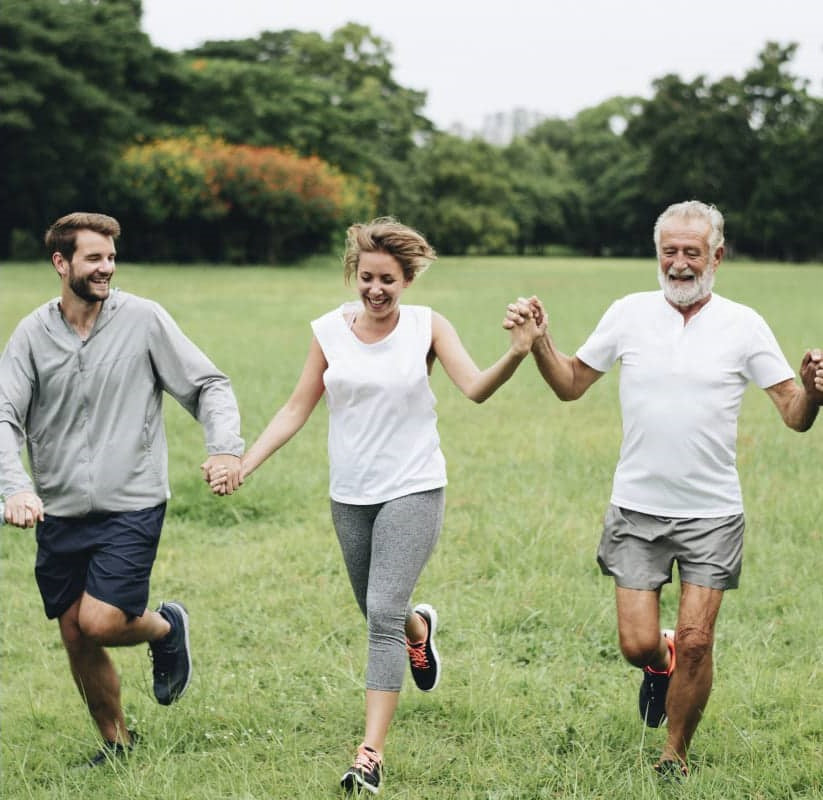 Enjoy a normal, pain-free life again
Join the thousands who have used our Ems Regenerating Foot Massager today.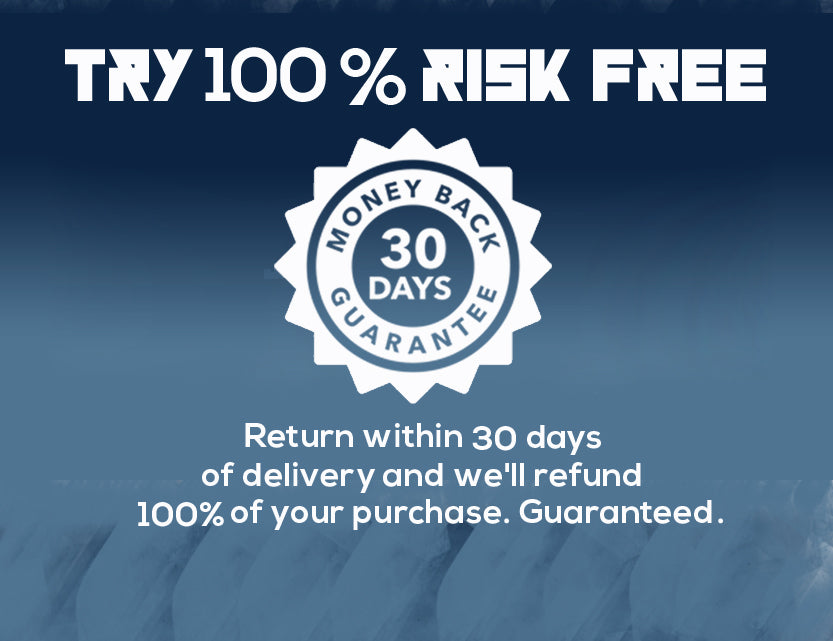 Didn't see the results you expected from The Ems Foot Massager?
You're covered by our 30 day money back guarantee. If you are unhappy with your purchase, please return merchandise and receive a full product refund for your order less any shipping and processing.
Common Questions
What is Ems Therapy?

EMS (or electrical muscle stimulationis) is an organic pain management technique. EMS works by gently stimulating healthy muscles, causing them to contract and relax, momentarily increasing local blood flow and relieving pain. Muscle performance is enhanced and facilitated by stimulating healthy muscles.
What Does Ems Feel Like?

EMS technology is used in foot massagers. You'll experience brief, jarring tremors. You may simply change the intensity level using the remote if you think the shocks are too strong.
Does Ems foot massager have any side effects?

Given that EMS devices operate by using safe, low-level electrical pulses, the adverse effects of their usage are quite low. Some undesirable outcomes include:
- Skin sensitivity at the application location
- A sense of exhaustion in wasting muscles (muscles that are not regularly used)
How sticky are these? Do you put a gel on them or a dry foot on them?

They are not sticky.

You may use a dry foot on them.
How long should I use the Ems foot massager?

Every day, we prescribe a 15-minute treatment period, after which the device turns itself off. After using the medication regularly for two to three weeks, you ought to see a noticeable difference.
Does this come with a charging cable?

Yes it comes with a USB charging cable.
How long till it fully charges?

It takes about 30 minutes to fully charge.